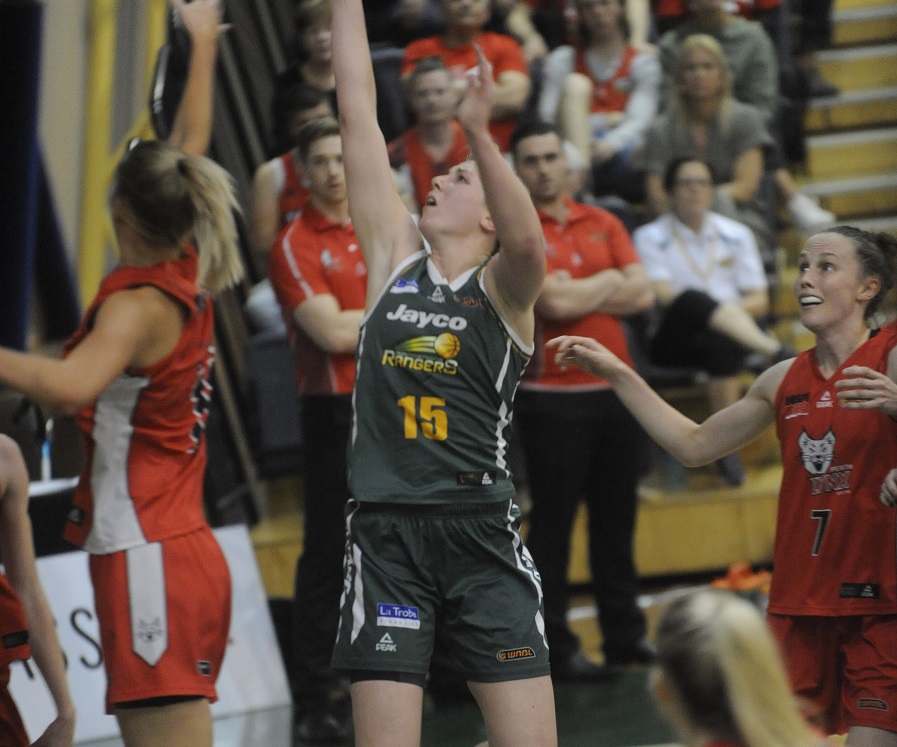 January 24, 2017 | WNBL news
Round 16 Game of the Week
Perth Lynx v Jayco Dandenong Rangers, Bendat Basketball Centre, Sunday, 2.00pm (local time)
Perhaps the best game of the round has been saved for last as the Rangers get an early preview of how a potential road final could play out against Perth.
Last yearÕs Runners-Up are still searching for form while the Rangers jumped back to their best in Adelaide last round.
Both clubs have games earlier in the round which should mitigate either team being more fatigued than the other while the key questions will be which star tandems rise to the moment.
Sami Whitcomb and Carley Mijovic put up big numbers against Melbourne last round while Sara Blicavs and Steph Cumming also came up trumps in their win over Adelaide.
All four are enjoying outstanding seasons so expect them to contribute but whoever can get the upper hand at both ends on Sunday should lead their team to victory.
Whitcomb said her side was hitting their peak as the final rounds arrived.
ÒWe feel like we didnÕt have the preseason we really wanted,Ó Whitcomb said.
ÒInstead we have had it in the middle of the season so now this could potentially work out really well for us if we are hitting our peak right at playoffs time.Ó
Rangers coach Larissa Anderson hopes her side has turned the corner after a slow restart to the season and, unless anyone is hurt in the Australia Day Eve game, they will have a full side to face the Lynx.
ÒThe girls know our first two games after Christmas were not anywhere near their best,Ó Anderson said.
ÒBut in Adelaide we were able to get it done and get back to where we were- we have trained well and have a big week ahead.
ÒWe hope we have turned the corner now and can put the same intensity and endeavour into all our games.Ó
Tickets: http://www.ticketmaster.com.au/Perth-Lynx-tickets/artist/2165336
Live Stats: http://www.fibalivestats.com/u/wnbl/311889/
Deakin Melbourne Boomers v Jayco Dandenong Rangers, State Basketball Centre, Wednesday, 7.30pm (local time)
The Boomers will be out to dent the RangersÕ hopes of finishing on top while also atoning for their overtime loss at home early in the season.
But the Rangers look a re-focused force after their big win over Adelaide last round and the Boomers will most likely be without point guard Brittany Smart who hurt her ankle last round.
There will be clashes to watch all over the court but the rebounding and drive to the basket battles between both sidesÕ forwards should be instructive as will the guard battles.
Maddie Garrick has been superb for the Boomers while Cumming may have played herself into the MVP conversation this season so the contest at shooting guard should be a ripper.
Any child who wears their club basketball singlet to tonightÕs game will get free admission; parents and families are advised by the Boomers to book those free tickets ASAP to avoid disappointment on the night.
Tickets: https://www.trybooking.com/Booking/BookingEventSummary.aspx?eid=211556
Live stats: http://www.fibalivestats.com/u/wnbl/311884/
Live Stream: http://boomers.cmsaustralasia.com/
University of Canberra Capitals v Brydens Sydney University Flames, Southern Cross Stadium, Thursday, 3.00pm (local time)
The Capitals want to send out retiring great Carly Wilson with a finals campaign and that has to start this weekend against a red-hot Flames.
Canberra can still make the top four but need wins and very few slip-ups while the Flames want to maintain the outstanding play of Leilani Mitchell, Asia Taylor and Jennifer Hamson as they fight for a top-two finish.
Both these clubs have had some brilliant battles this season, this one could be the best of them.
Tickets: https://www.ticketbooth.com.au/s/?se=uc+capitals
Live stats: http://www.fibalivestats.com/u/wnbl/311885/
Live Stream:Êhttps://www.youtube.com/watch?v=O2LCn3FFKGE
MAC Adelaide Lightning v Perth Lynx, Adelaide Arena, Friday, 7.30pm (local time)
The feisty Lightning side stand in the way of the Lynx as they attempt to lock down a top four spot while the top two is certainly still within reach as well.
Anneli Maley, Colleen Planeta and Tayla Roberts will all ask questions of the LynxÕs defence but Carley Mijovic, Ruth Hamblin and the tireless Sami Whitcomb should be too accomplished for the home side.
Laura Hodges is still looking to get back to 100% health-wise after a hamstring strain and more court time for the Opal could also throw a spanner in the works for the visitors.
FREE ENTRY.
Live stats: http://www.fibalivestats.com/u/wnbl/311886/
Live Stream: https://www.youtube.com/channel/UCC4MIJY0OzQUTlVEm57TGFQ
JCU Townsville Fire v Brydens Sydney University Flames, Townsville Stadium, Saturday, 7.00pm (local time)
This game provides another marquee test of the FireÕs late season resurgence.
Fresh from beating Bendigo comfortably in Townsville last round, the Fire now face an in-form but potentially tired Flames who will have already played in Canberra on Thursday night.
Asia Taylor vs. Suzy Batkovic is as good an individual battle as you will see in Australian sport this week while Flames' guard Leilani Mitchell will back herself in the back court battle despite the Fire welcoming backÊKelly Wilson into the line-up after an extended injury.
Tickets: https://au.patronbase.com/_TVCC/Productions/1059/Performances
Live stats: http://www.fibalivestats.com/u/wnbl/311887/
Bendigo Bank Spirit v Deakin Melbourne Boomers, Bendigo Stadium, Saturday, 7.30pm (local time)
Bendigo had a horror weekend last round and now are on the outside looking in when it comes to top four positions, a game away from fourth-placed Townsville.
But all is not lost and a big win over the Boomers could boost their confidence and belief as they enter the final rounds of the season.
The Spirit cannot afford any slips while the Boomers would love a late scalp but a weekÕs break should have the home side refreshed.
Tickets: https://www.trybooking.com/Booking/BookingEventSummary.aspx?eid=211355
Live stats: http://www.fibalivestats.com/u/wnbl/311888/
Listen Live: http://tunein.com/radio/Fresh-FM-1015-s154495/