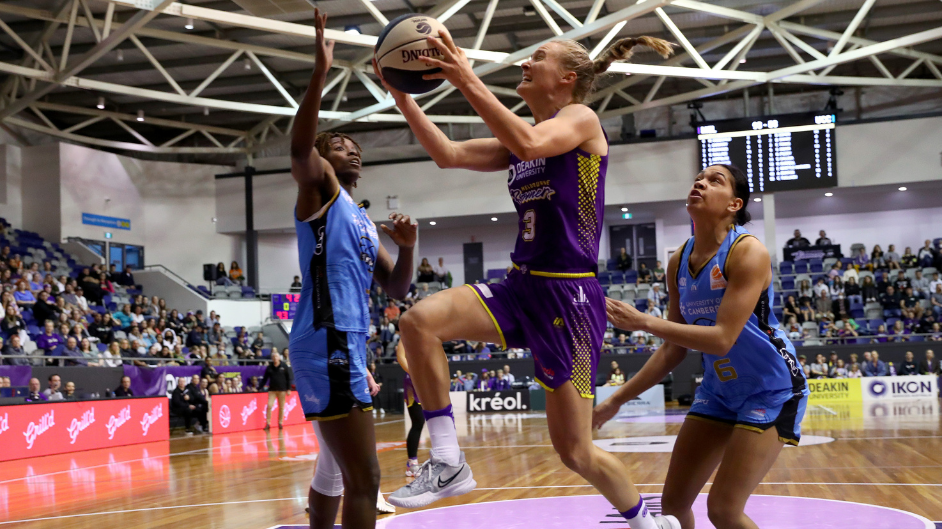 November 21, 2022 | WNBL news
Despite Round 3 having fewer games than usual, fans were still treated to some high-quality games and tight contests. 
The 'Lauren' Show
Lauren Nicholson and Lauren Jackson tipped the round off with a blistering start. Nicholson built on her brilliant form this season, scoring 25 points in her 40 minutes of play in Townsville's win over Southside on Wednesday night.
Although Southside were unable to get the dub over the Fire, Jackson produced a stellar performance herself, knocking down 21 points.
Lauren Scherf finished with a double-double of 14 points and 13 rebounds in Perth's second win of the season against the Sydney Flames.
Mansfield on fire
Lauren Mansfield was in the zone on Saturday night, hitting a massive 7/7 three pointers! Mansfield top-scored with 23 points. The point guard has been playing with confidence this season and has deservedly earnt the Cygnett Player of the Round.
Team effort
Perth Lynx produced a full team performance to get the win over the Flames, with five players hitting double digits on the scoreboard. Amy Atwell and Chloe Bibby were the top scorers for the Lynx, hitting 15 points each.
Lightning finally strikes
Adelaide Lightning finally got win one of the season in the books on Saturday night, defeating Sydney 87-67. Mansfield was on song, but Kierstan Bell was not far behind with 22 points and 6 rebounds.
Boomers go boom
The Melbourne Boomers scored in the triple digits for the second time this season in their dominant win over the UC Capitals in front of a sold-out crowd. Seven players hit double figures, led by Tiffany Mitchell with 21 points. But it was Penina Davidson off the bench who really impressed, hitting 19 points with 100% field goal percentage.
Cygnett Player of the Round
Lauren Mansfield (ADL) – 23pts, 4ass, 7/7 3P's vs Syd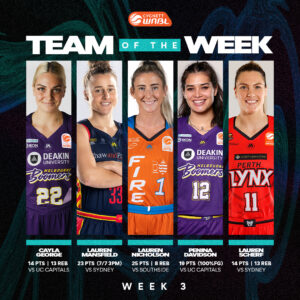 Team of the Week
Cayla George (MEL) – 14pts, 13rebs vs UCC
Lauren Mansfield (ADL) – 23pts, 7/7 3P's vs SYD
Lauren Nicholson (TSV) – 25pts, 8rebs vs STH
Penina Davidson (MEL) – 19pts, 100%FG vs UCC
Lauren Scherf (PER) – 14pts, 13rebs vs SYD
IMPORTANT STUFF