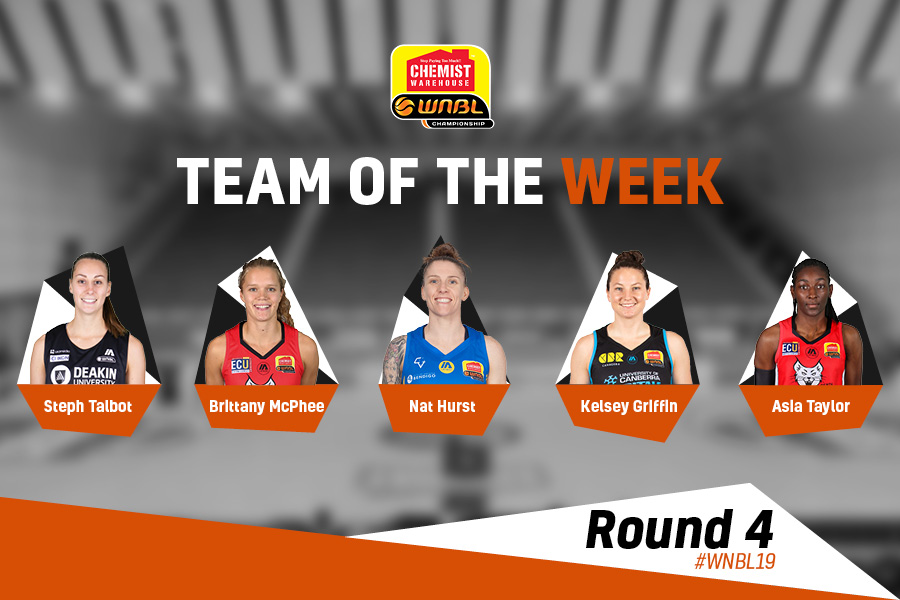 November 6, 2018 | WNBL news
Four teams are represented in the Round 4 Team of the Week, made up from the teams currently sitting in a playoff position for the 2018/19 season.
Player of the Week Nat Hurst earns her place after averaging 19.5 points, 7.5 rebounds and 1.5 steals per game while shooting 57% from the field and 50% from beyond the arc as the Bendigo Bank Spirit swept the weekend.
The other team to claim two victories in Round 4 was the Perth Lynx and they are represented by Brittany McPhee and Asia Taylor.
Both players make their second appearance for the season after they stuffed the stat-sheet at both ends of the court.
Taylor averaged 15.5 points, nine rebounds, four assists, 2.5 steals and a block while McPhee recorded 14 points, nine boards, 2.5 assists, 1.5 steals and 2.5 blocks in the wins to help Perth cement their spot on top of the ladder.
Steph Talbot was the standout for the Deakin Melbourne Boomers in Round 4, scoring 24 points per game as they split their results for the weekend.
She added four rebounds, 4.5 assists and 1.5 blocks while shooting 7-17 from the three-point line.
Rounding out the Team of the Week is Kelsey Griffin of the University of Canberra Capitals.
The forward tallied another double-double in a close win over the Flames, finishing with 15 points, 13 rebounds, three assists and three blocks.
Honourable Mentions: Becca Tobin (Bendigo), Suzy Batkovic (Townsville).