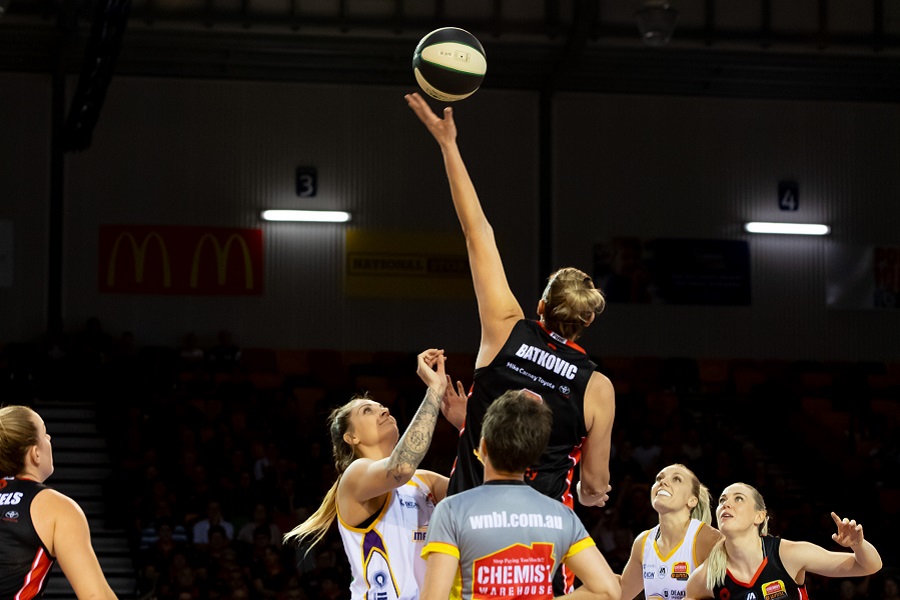 November 16, 2018 | WNBL news
Broadcast Game of the Week
Deakin Melbourne Boomers vs. JCU Townsville Fire at State Basketball Centre, Sunday, 1pm (Local time)
Last year's grand-finalists will meet again for the second time in a week after the Boomers prevailed 78-70 last Sunday.
Lindsay Allen is fresh off being named the WNBL Player of the Week, having averaged 22.5 points across her two games in Round 5. She was especially dominant against the Fire, scoring 13 points in the fourth quarter to finish with 29 and carry Melbourne over the line.
Townsville's starting back court of Tess Madgen and Micaela Cocks have experience on their side and they will have worked on ways to shut her down ahead of this weekend but Allen's explosiveness and sweet stroke proved very damaging last weekend.
Sunday's contest also marks Steph Talbot's 100th WNBL game and she is currently enjoying a career-best season after a two-year hiatus from the league with 15 points per game and a developing three-point shot.
The Fire were hampered by an injury to Suzy Batkovic last week as she scored just two points in 21 minutes. That back and neck soreness remains an issue and could keep her out of this week's clash although she has travelled with the team and is currently a game-day decision.
Townsville need a strong weekend and while coach Claudia Brassard is not hitting the panic button yet, her team sits at 2-4 and are two and a half games outside the top four.
They will take confidence from Melbourne's 1-3 home record although the Boomers did claim that solitary victory last round and they now boast the highest scoring offence in the league, averaging five points more per game than Townsville.
Watch: Fox Sports Australia Channel 507 and SBS.
Tickets: http://bit.ly/2RT3GCW
Livestats: http://www.fibalivestats.com/u/wnbl/913506/
Perth Lynx vs. Deakin Melbourne Boomers at Bendat Basketball Centre, Friday, 6:30pm (Local time)
The Perth Lynx are rolling right now, sitting atop the WNBL ladder after riding a six-game win-streak that included arguably their biggest test last weekend when they defeated the UC Capitals in a first vs. second match-up.
A stunning second-half performance from Brittany McPhee helped the Lynx prevail over the valiant Caps and with an average of 17 points per game, her performances alongside Asia Taylor (18.3 points per game) have been a major part of their streak.
Talbot could have the job on McPhee but the front court battle looms as game-defining with Taylor and Steindl coming up against Cayla George and Jenna O'Hea.
George should have an advantage in the paint with her size advantage against Taylor but the athletic Lynx forward will aim to attack in the open court or in isolation while Steindl and O'Hea will go shot-for-shot from beyond the arc.
With Perth riding a six-game winning streak and the Boomers rounding into their best form of the year, this could prove to be a Grand Final dress rehearsal.
Tickets: http://bit.ly/2QL2pxX
Livestats: http://www.fibalivestats.com/u/wnbl/913501/
Bendigo Bank Spirit vs. Jayco Rangers at Bendigo Stadium, Friday, 7pm (Local time)
Bendigo are on fire at the moment, making the league stand up and recognise they are a legitimate playoff threat while the Rangers come into this match-up desperate for a win.
Dandenong have had a rough start to the season and currently sit last in two major statistical categories, averaging only 69.7 points per game and conceding 85 while also allowing teams to shoot 49% from the field.
Bendigo own the best defence in the competition, surrendering 68 points per contest but the Rangers will be buoyed by the possibility of out-scoring them if they can penetrate their defences with the Spirit only scoring two points more than Dandenong on average.
Becca Tobin has been instrumental in Bendigo's defensive structure and is an early front-runner for the Robyn Maher Defensive Player of the Year award. This weekend, she comes up against last year's winner of that award in Kayla Pedersen.
Both players are rim protectors and have a strong presence in the paint and, combined with their rebounding, will have a major influence on the result of Friday night's game.
Watch: https://www.foxsports.com.au/live
Tickets: http://bit.ly/2DjW0Wq
Livestats: http://www.fibalivestats.com/u/wnbl/913502/
Adelaide Lightning vs JCU Townsville Fire at Titanium Security Arena, Friday, 7pm (Local time)
Prior to their clash with Melbourne on Sunday, the Fire visit Adelaide in an important clash for top-four placings as the Lightning sit a spot above them with one more win at the start of Round 6.
The Lightning's front court has been where the team has fallen down at times this season but if Batkovic's injury lingers, that opens the door for Adelaide to level the playing field although they cannot take the likes of Darcee Garbin and Zitina Aokuso lightly.
Adelaide showed how damaging they can be last weekend though, smashing the Rangers by 25 points as Lauren Nicholson shot 6-6 from the three-point line for 20 points and Nicole Seekamp had 17 points, seven rebounds and seven assists.
With the Fire struggling to contain Lindsay Allen last weekend, their guards will again be tested on Friday night.
FREE entry.
Livestats: http://www.fibalivestats.com/u/wnbl/913503/
University of Canberra Capitals vs. Jayco Rangers at National Convention Centre, Sunday, 2pm (Local time)
Coming off a tough loss last weekend against Perth, the Caps will be looking to rebound against the Rangers on their home floor.
While not at their best in Round 5, the Caps still fell by just six points to the ladder-leaders thanks to an incredible performance from Kelsey Griffin (30 points and 18 rebounds including ten offensive).
Kia Nurse was also relentless, scoring 22 points, but aside from those two players, the Caps shot 6-31 (19%) from the field.
It is unlikely that they will struggle in a similar vein this weekend and with a greater all-round team performance, Dandenong will be hard-pressed to lock down the home side.
However, Betnijah Laney has the capabilities to match-up with either Griffin or Nurse and if another player can step up for the Rangers, an upset will be on the cards.
Tickets: http://bit.ly/2DBHZEx
Livestats: http://www.fibalivestats.com/u/wnbl/913505/
Brydens Sydney Uni Flames vs Bendigo Bank Spirit at Qudos Bank Arena, Sunday, 2:30pm (Local time)
The Flames are now dwindling at the bottom of the ladder with an 0-8 record but half of those losses have come by five points or less including last weekend's heart-breaker to Bendigo.
After Sarah Graham tied things up with a big three-pointer, Tobin found a slashing Nadeen Payne who scored the game-winning lay-up before Tobin collected a steal on Sydney Uni's final possession to clinch the victory.
The Flames now need to pick themselves up after another demoralising game but with Alex Bunton out due to injury, Tobin could be set for another impactful game.
The hosts give up 82 points per contest which could be magnified in the absence of Bunton but they need the likes of Ally Wilson and Belinda Snell to fire if they are going to reverse last week's result.
Playing at Qudos Bank Arena as a curtain-raiser to the Kings, Sydney Uni could have a big crowd behind them to spur them towards a maiden victory with Bendigo also playing their second game of a double-header.
Tickets: https://premier.ticketek.com.au/shows/show.aspx?sh=KINGS0419
Livestats: http://www.fibalivestats.com/u/wnbl/913504/