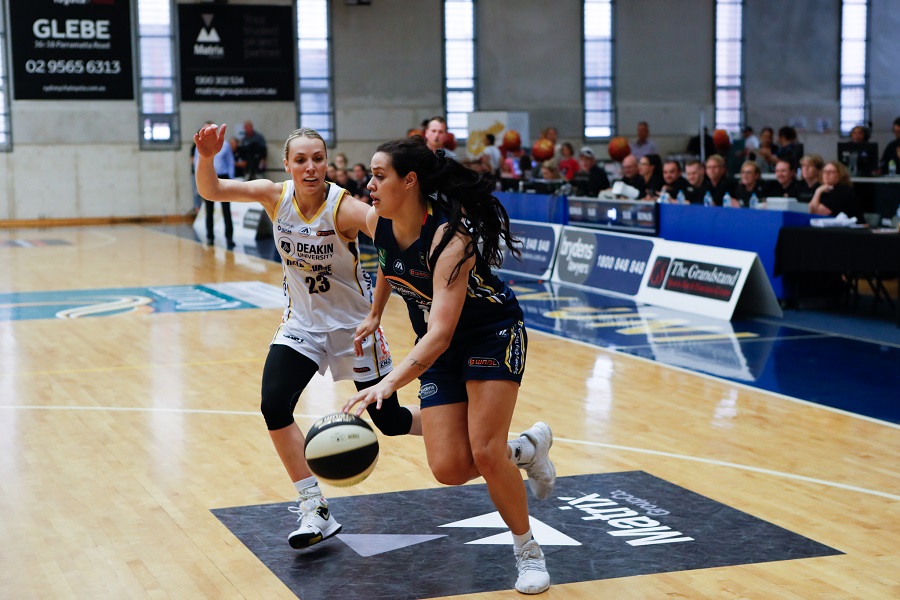 November 13, 2017 | WNBL news
Photo courtesy of Geoff Tripp.
With two victories against fellow top four teams, the Deakin Melbourne Boomers excelled in Round 6 but the Brydens Sydney Uni Flames remain on top of the ladder thanks to a split of the weekend.
Bendigo Bank Spirit 75 def. by Brydens Sydney Uni Flames 105
While the Spirit stuck with the Flames for most of the first half, a 56-29 second half gave Sydney Uni a convincing win in the end behind Katie Ebzery (26 points), Belinda Snell (20 points), Jen Hamson (14 points, 11 rebounds) and Carly Boag who recorded 18 points on 7-9 shooting off the bench. The hosts were paced by Rachel Banham's 21 points while Gabe Richards became just the ninth player in WNBL history to tally 2,000 rebounds.
Boxscore: http://www.fibalivestats.com/u/wnbl/681934/
Cheryl Chambers, Flames coach: "The first half we were diabolical. No one had energy, we were pretty flat. But they came out in the second half fortunately. I'm pretty pleased with them all."
Jayco Dandenong Rangers 63 def. by MAC Adelaide Lightning 69
Despite a strong run from the Rangers, who cut an 11-point deficit at three-quarter time down to five, the Lightning held on to get revenge for a loss to Dandenong a week ago. Abby Bishop and Colleen Planeta tallied double-doubles, combining for 27 points and 22 rebounds while Nicole Seekamp (14 points) and Aimie Clydesdale (12 points) also impressed. The Rangers were led by Carley Mijovic (17 points) and Kayla Pedersen (13 points, 12 rebounds, six assists) but a potential serious injury to Sara Blicavs was the biggest concern out of the game.
Boxscore: http://www.fibalivestats.com/u/wnbl/681935/
Larissa Anderson, Rangers coach: "To keep a full-strength Adelaide to 69 points is a pretty solid job but we don't reward ourselves at the other end. We had more shots, way more offensive rebounds and forced 14 turnovers – we missed seven free throws and lost by six – that is the ball game there."
Brydens Sydney Uni Flames 65 def. by Deakin Melbourne Boomers 88
An incredible offensive display from Melbourne saw them tally 27 assists and shoot 11-20 from deep against the ladder leaders as Jenna O'Hea (22 points on 6-8 three-point shooting), Brittany Smart (19 points off the bench) and Maddie Garrick (14 points) sizzled. Liz Cambage and Kalani Purcell also combined for 22 points, 18 rebounds, 11 assists and two blocks while only Asia Taylor (23 points, eight boards) could get it going for the Flames.
Boxscore: http://www.fibalivestats.com/u/wnbl/681936/
Cheryl Chambers, Flames coach: "It was awful. It was painful watching that spectacle. I certainly let them know how disappointed I was at halftime but it definitely didn't work this time. We just have to make sure this works as a wake up call."
JCU Townsville Fire 94 def. Bendigo Bank Spirit 59
The Fire took control of the contest early and never surrendered a lead after opening up a 15-point edge at quarter-time, finishing with their highest ever score against Bendigo as well as their greatest ever margin. Suzy Batkovic (18 points, ten rebounds) and Cayla George (eight points, 11 boards) dominated inside against the undermanned Spirit team while Micaela Cocks punished them with 16 points off the bench as ten Townsville players hit the scoreboard. Betnijah Laney had 17 points and ten rebounds for Bendigo who were able to see their entire roster score.
Boxscore: http://www.fibalivestats.com/u/wnbl/681938/
Claudia Brassard, Fire coach: "We did a great job of sharing the ball. We spoke about backing up last week's performance, and to our credit, the girls did just that. We found our shooters, I thought we made some great decisions and we were good on the glass."
Perth Lynx 85 def. University of Canberra Capitals 67
A Courtney Williams special got Perth over the line as she shot 6-6 from the field in a 26-13 final term to help the home side see off a feisty Caps team after the lead changed hands six times in the first half. Williams finished with 26 points, nine rebounds, two assists and three steals while Alice Kunek and Sami Whitcomb added 28 points and eight assists combined. The Caps slumped to an eighth straight defeat despite Kate Gaze, Lauren Scherf and Ezi Magbegor all hitting double-figures off the bench.
Boxscore: http://www.fibalivestats.com/u/wnbl/681937/
Andy Stewart, Lynx coach: "That was a good fighting game. It wasn't pretty, but we fought hard, and then we found a couple of advantages and milked them."
Paul Goriss, Caps coach: "We've changed starting line-ups, we've done different things but we're still getting the same result. The girls are happy with the plays, happy with the structure, happy with the things that we're doing. It's just that when we do them they work, but when we go away from them we have these patches and it doesn't replicate what we are as a team."
Deakin Melbourne Boomers 77 def. MAC Adelaide Lightning 74
A late charge from the Lightning almost pulled off the comeback win after they trailed by ten points at half-time but clutch free throws from O'Hea (12 points) sealed the sweep of Round 6. The Boomers have Cambage to thank though, putting on a masterclass to collect 44 points on 18-23 shooting with 12 rebounds, three assists and two blocks. Purcell also impressed with her defensive job on Abby Bishop as only Natalie Novosel (19 points, five boards, four assists) could get free for the Lightning.
Boxscore: http://www.fibalivestats.com/u/wnbl/681939/
Jenna O'Hea, Boomers: "I couldn't be more impressed, proud, there is just not enough words to describe [Liz's] game today. She had 44, I thought she had 60 so I wasn't that far off. You keep going to the well until it dries up and she did not dry up at all."
Chris Lucas, Lightning coach: "We had a little patch where we weren't playing well and found a way to get back into the game. Lizzie's form is coming up and she has shot the ball well today."
Media Links
Amanda Lulham covered the Flames' Thursday night victory for Swoop: http://www.dailytelegraph.com.au/sport/swoop/wnbl-sydney-uni-flames-thrash-bendigo-10575/news-story/83f78a81ff5531a9bb9c2d9e22ea345e
Lulham then analysed Sydney Uni's loss to Melbourne on Saturday: http://www.dailytelegraph.com.au/sport/swoop/wnbl-melbourne-boomers-beat-sydne-uni-flames-8865/news-story/798b72f4bc3b3d27c765e0bb437b4f26
Roy Ward reported on Adelaide's victory in Dandenong as well as Sara Blicavs' injury: http://www.theage.com.au/sport/basketball/wnbl-double-blow-for-dandenong-rangers-in-loss-to-adelaide-lightning-20171110-gzj8fy.html
Ward also looked at the Boomers' big win on Sunday over the Lightning: http://www.theage.com.au/sport/basketball/liz-cambage-scores-44-points-as-melbourne-boomers-claim-gutsy-win-over-adelaide-lightning-20171112-gzjryb.html
Luke West filed this ahead of Bendigo Spirit's 250th game over the weekend for the Bendigo Advertiser: http://www.bendigoadvertiser.com.au/story/5049652/road-to-250-games-in-wnbl-a-bendigo-spirit-roller-coaster/
Trent Slatter covered Townsville's impressive victory over the Spirit for the Townsville Bulletin: http://www.townsvillebulletin.com.au/sport/points-flowing-for-townsville-fire-after-9459-victory-over-bendigo/news-story/701205f0142c9a0872b2cecfc5ac0549
Craig O'Donoghue wrote about Perth's Courtney Williams' performance for the West Australian: http://www.townsvillebulletin.com.au/sport/points-flowing-for-townsville-fire-after-9459-victory-over-bendigo/news-story/701205f0142c9a0872b2cecfc5ac0549
The Caps are searching for answers of mental lapses reports Caden Helmers of the Canberra Times: http://www.canberratimes.com.au/sport/act-sport/wnbl-canberra-capitals-coach-paul-goriss-searching-for-answers-to-save-season-20171112-gzjjr6.html
Catch up on all the news around the league via the Basket Case podcast here: https://www.spreaker.com/show/basket-case
You can also listen to Megan Hustwaite's WNBL podcast here: https://itunes.apple.com/au/podcast/the-wnbl-show/id1292447514?mt=2#episodeGuid=85fa7997-cdbf-463a-ba63-6880c78e48f9