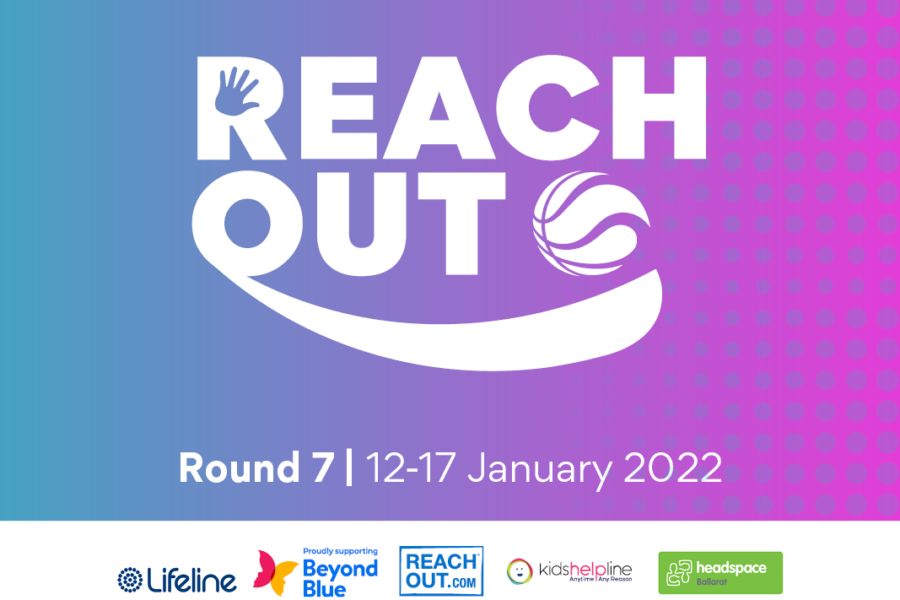 January 12, 2022 | WNBL news
Round 7 marks the launch of the WNBL Reach Out round, as the league aims to raise mental health awareness and encourage people to Reach Out in times of need.
Proudly supported by Lifeline, Beyond Blue, Headspace Ballarat, Kids Helpline and Reach Out Australia, the WNBL would like to shine a light on continuing the conversation that it's ok to not be ok and use this round as a reminder to check in regularly with loved ones.
A condensed round will see the Perth Lynx featured in three of the four games as they play catch up to the rest of the competition.
WNBL Media preview the round:
Southside Flyers v Perth Lynx.
Selkirk Stadium. Wednesday 6:30 pm local. Kayo.
Coming off their two-point season-opening loss, the Lynx will be itching to get back on the court and hit the winners list. Despite a round five bye, the Flyers will be riding a wave of confidence after their round four comeback as they host the first Ballarat game. Perth's Marina Mabrey stole the show in her first WNBL appearance, playing a 30 point, six rebound and five assist game however will come up against the likes of Abby Bishop and Bec Cole who both have had stellar starts to the season.
Note: The Lynx are still fresh to the 2021/22 season however already look to be gelling nicely. Will Southside's season experience get the better of them or will the Lynx fresh legs prevail?
UC Capitals v Perth Lynx.
National Convention Centre. Friday 7:30 pm. Kayo Freebies.
WNBL games record holder Kelly Wilson will finally get to play her 400th game for the UC Capitals after three games had been postponed and kept her sitting on 399. A battle of WNBA imports will be one to watch, as Brittney Sykes and Marina Mabrey go head to head for the first time on Australian shores. The Caps will put some work into reducing Darcee Garbin's impact while Jade Melbourne will reunite with fellow FIBA Asia Cup Opals on the court.
Note: Lauren Scherf's defensive strength could be the difference in the game.
Melbourne Boomers v Southside Flyers.  
Melbourne Sports Centre. Saturday 5 pm. Fox and ABC.
The third Melbourne derby match-up for the season is set and the Flyers will be looking for redemption after the Boomers claimed the first two games along with the Michelle Timms Cup. The Flyers are currently sitting on a 2-2 record and will need to halter the flow of the Boomers (4-2) if they want to go back to back. The Boomers are coming off a fourth-quarter loss to the Lightning that they'd rather forget and will turn to the likes of their experienced players in Cayla George, Ezi Magbegor and Tiffany Mitchell to get them back on the winners' list.
Note: The last time they met, the Flyers got off to a strong start however couldn't hold off a Boomers comeback.
Perth Lynx v Melbourne Boomers.
Selkirk Stadium. Monday 6:30 pm. Kayo Freebies.
Sami Whitcomb and Lauren Scherf verse Tiffany Mitchell and Cayla George will be fascinating to watch. These like for like hard nut players will put on a show for Ballarat fans and will lock in a high-intensity match. It'll be a test of agility and determination as both teams will have some tired bodies as they play multiple games this round, which will make the contest even more entertaining. Lynx will hope for a 3 from 3 weekend to soar up the ladder while the Boomers continue to float around the top.
Note: Tess Madgen and Darcee Garbin will provide a player match-up to keep an eye out for.