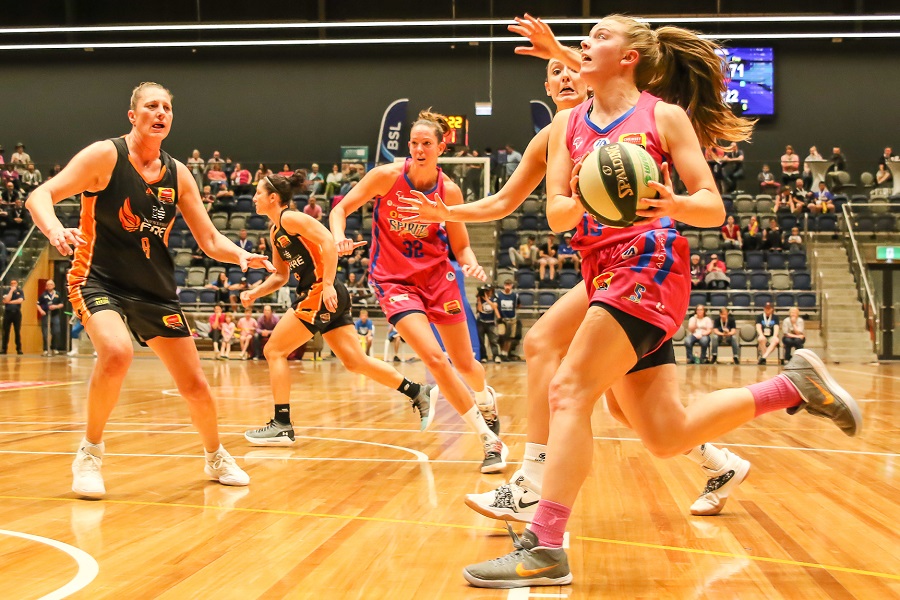 November 26, 2018 | WNBL news
Perth remain on top of the ladder, Melbourne have successfully completed their toughest stretch of the season, Townsville escaped Bendigo with an overtime thriller while the Flames' campaign has gone from bad to worse.
University of Canberra Capitals 72 def. Deakin Melbourne Boomers 70
A clash between second and third on the ladder lived up to the hype as Kia Nurse (16 points) drilled the go-ahead basket with 18 seconds remaining to win the game for the UC Caps. After a slow start, the Boomers moved in front on the back of a 26-11 second term and still held a six-point advantage inside the final quarter. They scored just two points in the last five minutes though as the Caps clamped down and Kelsey Griffin (16 points, 18 rebounds) and Lauren Scherf (nine points, seven boards) hit big baskets before Nurse clinched the victory. Lindsay Allen (24 points, five assists) had a great back-court battle against Maddi Rocci (16 points) and Leilani Mitchell (11 points, two assists).
Boxscore: http://www.fibalivestats.com/u/wnbl/913507/
Kia Nurse, Capitals: "It was lucky. I'm not going to lie, it was just a lucky shot. At the end of the game what I think is really special about our team here is that at any given time we have five, six, seven players who could take that last shot. It was that defence that we had in that last 17 seconds that really put us over the edge."
Guy Molloy, Boomers head coach: "Sometimes we live by the three, sometimes we die by it. We went 0-9 from the three in the fourth and some of our own questionable decisions got us into trouble. We had the game in the palm of our hand and then gave it back late."
Jayco Rangers 70 def. Adelaide Lightning 60
In Traralgon, the Rangers paid tribute to their country Victoria fans with a victory over Adelaide to keep themselves in the top-four conversation. Dandenong controlled the first half and then looked set after a 17-9 third quarter but the Lightning began the final term with a 9-1 run behind the play of Nia Coffey (20 points, nine boards) and Nicole Seekamp (14 points, seven rebounds, six assists, five steals). It proved too much of a mountain to climb though as Bec Cole (20 points, four steals), Betnijah Laney (15 points) and Rachel Jarry (12 points, 13 rebounds) held firm. The Rangers' impressive defence restricted Adelaide to 39 points less than they scored against them in a meeting only two weeks ago.
Boxscore: http://www.fibalivestats.com/u/wnbl/913508/
Bendigo Bank Spirit 82 def. by JCU Townsville Fire 89 in OT
In a game that saw ten lead changes and 11 ties, nothing could separate the sides in regulation. Trailing by a point, Ally Malott (13 points) hit a baseline jumper with 20 seconds left to put Townsville in front but Nadeen Payne (17 points, eight rebounds) responded, picking up the crumbs of a broken play to give Bendigo a one-point lead with under three seconds on the clock. On the Fire's final possession, Suzy Batkovic was fouled but could only hit one free-throw to send the game into overtime. From there, the reigning Champions took over though thanks to Tess Madgen (15 points, 14 assists) and Micaela Cocks (12 points, six assists). In a classic match-up, Batkovic (25 points, 16 rebounds, four blocks) and Becca Tobin (26 points, 19 rebounds, four blocks) battled all day.
Boxscore: http://www.fibalivestats.com/u/wnbl/913509/
Simon Pritchard, Spirit head coach: "It's obviously really disappointing to lose in those circumstances but we've just got to deal with it and move on."
Claudia Brassard, Fire head coach: "I think we did a better job on the defensive glass – we didn't give up many extra possessions – and we were good down the stretch. We also had multiple contributors which we've been talking about for weeks."
Brydens Sydney Uni Flames 67 def. by Perth Lynx 113
A horror season and horror evening got even worse for Sydney Uni as they suffered the biggest defeat of the season and lost Ally Wilson to what looked like a serious knee injury. Already missing starting centre Alex Bunton and with Belinda Snell and Tahlia Tupaea fighting to stay fit, the Flames had no answer for Asia Taylor (27 points), Brittany McPhee (21 points), Alison Schwagmeyer (19 points) or Kayla Steindl (16 points) as every Perth Lynx player got on the scoreboard. The final margin was the biggest since Townsville beat Bendigo by 58 points late last season.
Boxscore: http://www.fibalivestats.com/u/wnbl/913510/
Deakin Melbourne Boomers 82 def. Adelaide Lightning 80
After a two-point loss on Friday night, the Boomers bounced back to defeat Adelaide by a basket, courtesy of Jenna O'Hea's game winner inside the final 30 seconds. She finished with 24 points, five assists and two steals, Lindsay Allen had 18 points, seven rebounds and six assists while Steph Talbot recorded 16 points in her 100th game to answer Nia Coffey (25 points, 19 rebounds) and Lauren Nicholson (18 points).
Boxscore: http://www.fibalivestats.com/u/wnbl/913511/
Jenna O'Hea, Boomers: "I'm proud of our girls for pulling out a gutsy win like that."
Chris Lucas, Lightning head coach: "The players played their butts off and that's all I can ask of them, against the most talented and loaded team in the league. But the reality is we've lost two games by two points, one game by four points and one game by 10 points and that's the difference."
Media Links
David Polkinghorne of the Canberra Times reported on the Caps' thrilling victory over Melbourne on Friday night: https://www.canberratimes.com.au/sport/basketball/nurse-sharks-canberra-capitals-win-over-melbourne-boomers-20181123-p50hxm.html
Roy Ward of The Age analysed the game from the other side as Melbourne's three-point shooting dried up late: https://www.theage.com.au/sport/basketball/melbourne-boomers-lightning-clash-wnbl-capitals-20181124-p50i2y.html
Reece Homfray of the Adelaide Advertiser wrote about Dandenong's quick turnaround in their win over the Lightning on Saturday: https://www.adelaidenow.com.au/sport/basketball/dandenong-produces-35point-turnaround-in-two-weeks-to-topple-adelaide-lightning/news-story/c7fc8e7688961a6b856f735537a34bf4
Luke West of the Bendigo Advertiser recapped the Spirit's overtime loss: https://www.bendigoadvertiser.com.au/story/5775768/wnbl-spirit-suffers-overtime-defeat-at-hands-of-defending-champions/?cs=81
Reece Homfray of the Adelaide Advertiser broke the news of the Lightning's uncertain future: https://www.adelaidenow.com.au/sport/basketball/adelaide-lightnings-future-in-doubt-beyond-this-season-unless-investor-can-step-in-to-save-them/news-story/b9ca2e236766253545def4d2d0ae42ee
Homfray was then on call for Adelaide's clash with the Boomers on Sunday: https://www.adelaidenow.com.au/sport/basketball/adelaide-lightning-coach-chris-lucas-lauds-his-players-after-tough-loss-to-melbourne/news-story/b3d22e27892408444f095b19ff8c0064
And Ward reported from the other side for The Age: https://www.theage.com.au/sport/basketball/boomers-take-2-point-win-as-lightning-fight-for-their-wnbl-future-20181125-p50i97.html