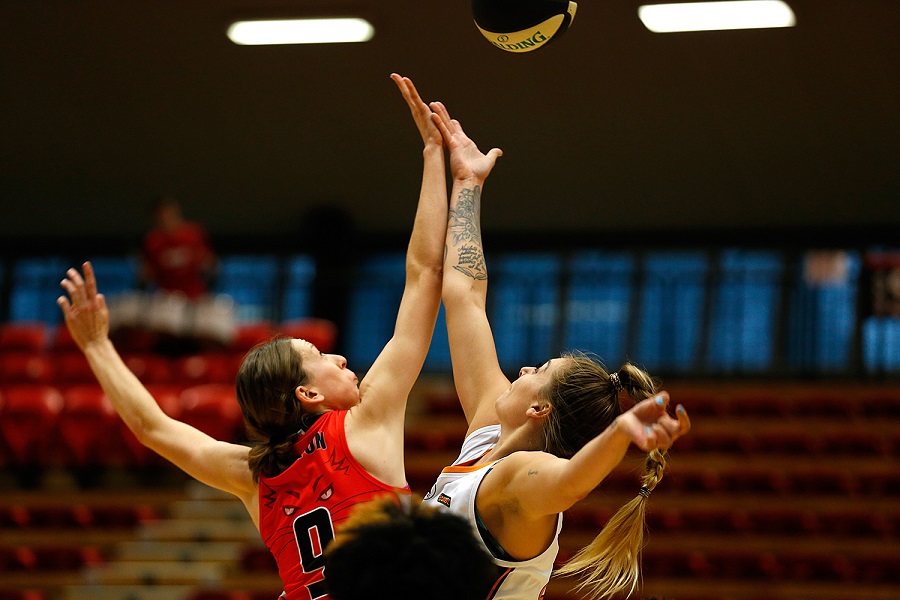 November 23, 2017 | WNBL news
Photo courtesy of Perth Lynx.
Game of the Week
Perth Lynx v JCU Townsville Fire at State Basketball Centre, Sunday, 1.30pm (local time)
Coming into Round 8, the Lynx and Fire have won five and three games in a row respectively although they will both be playing on Thursday night which could put their streaks in jeopoardy before they face off on Sunday.
After a slow start to the season, Perth have come alive and their recent form has seen them make their way back into the top four although just two of their past five victories have come against top-four teams.
The Fire will provide a true test for them but the Lynx did defeat Townsville in Round 5 by 19 points on the back of a 29-10 first quarter as four starters scored 14+.
Since that loss though, Townsville have been on a tear with three wins by an average margin of 33.3 points and their offence is now the fourth most productive in the league at 76.5 points per game.
Their bench has been a major factor in that increase in offence with Mia Murray and Darcee Garbin notching double-figures in two of those games while Micaela Cocks has averaged 12 points on 10-15 three-point shooting overall.
Perth's Alex Ciabattoni and Olivia Thompson will be important pieces of the puzzle as they aim to halt that production off the bench while Ciabattoni has the ability to light up the offensive end herself to counter their opponents.
Suzy Batkovic was unstoppable in the last meeting, scoring 24 points on 10-17 shooting but Perth made up for it with 11 fast break points as well as a +18 advantage from beyond the arc courtesy of Alice Kunek and Sami Whitcomb who combined for 43 points on eight three-pointers.
If they maintain that form, the Lynx should prove too strong for Townsville but in a neutral venue they may not find the going as easy this weekend.
Tickets: http://wnbl.basketball/cluster-round/
Live stats: http://www.fibalivestats.com/u/wnbl/681949/
Jayco Dandenong Rangers v Perth Lynx at Dandenong Stadium, Thursday, 7.30pm (local time)
Two days before they take on Townsville, Perth visit Dandenong in a re-match of their Round 4 clash.
The Rangers survived their first game without Sara Blicavs last weekend, beating Bendigo by scoring the last 16 points of the contest but coming up against the most in-form team of the league will stretch their resources.
They could not get past the Lynx when they met a month ago, falling by ten points as Whitcomb (22 points, 12 rebounds, seven assists) paced six Perth players in double-figures although Courtney Williams was not available for that clash.
The reigning Player of the Week's form is an ominous sign for the hosts and will put pressure on Steph Cumming who should have an entertaining battle with Williams as both players are comfortable from mid-range while still having the ability to get to the rim.
Tickets (Kids get free entry): https://rangersperth.in-tix.com/
Live stats: http://www.fibalivestats.com/u/wnbl/681946/
JCU Townsville Fire v Deakin Melbourne Boomers at Townsville Stadium, Thursday, 7.00pm (local time)
The second game of a Thursday night double-header will be the final meeting between these clubs with the Fire already owning the season series thanks to two previous victories.
We have already seen the Boomers struggle in the absence of Jenna O'Hea in 2017/18 and it will be interesting to see how they fare without their leading scorer Liz Cambage who will miss this game due to suspension.
That opens the door for Batkovic and Cayla George to dominate the paint but Louella Tomlinson is a more-than-handy replacement for Cambage in the starting line-up while Kalani Purcell impressed last weekend against the Caps, recording five points, 12 rebounds and five assists.
The Boomers must find a way to score against Townsville as they have averaged just 55.5 points across two meetings while being out-scored by the Fire's bench 40-18 overall.
Tickets: https://whatson.townsville.qld.gov.au/categories/ticketshop
Live stats: http://www.fibalivestats.com/u/wnbl/681945/
University of Canberra Capitals v Bendigo Bank Spirit at State Basketball Centre, Saturday, 5.30pm (local time)
Struggling at the bottom of the ladder, this game provides the perfect opportunity for one team to get on the winners list with Bendigo having dropped four in a row while the Caps have lost nine straight.
The Spirit looked promising last round against Dandenong, leading by five at three-quarter time but they managed just 2-10 shooting in the final term to lose by ten.
That inability to put 40 minutes of consistent basketball together is reflected by the Caps whose past two losses have been by an average margin of 24 points with Jordan Hooper's drop in production symptomatic of their issues.
Averaging 18.5 points in their two wins, Hooper has scored just 8.7 points during their losing streak but if she can re-find her form, Bendigo do not have a player to combat her combination of inside and outside shooting.
The Caps' front court need to be wary of Betnijah Laney though with the rim protection of Lauren Scherf and Ezi Magbegor to play a critical role while Rachel Banham has the potential to light them up, shooting 36% from deep this season.
Tickets: http://wnbl.basketball/cluster-round/
Live stats: http://www.fibalivestats.com/u/wnbl/681947/
Watch on FOX Sports Australia channel 503.
Jayco Dandenong Rangers v MAC Adelaide Lightning at State Basketball Centre, Saturday, 7.30pm (local time)
From a 5-1 record, Adelaide have tumbled all the way to fifth place with just one win from their past five games which positions this clash against Dandenong as a must-win.
It will be the second game televised on FOX Sports with both Saturday games during the Cluster Round to be broadcast on channel 503 and also the first time Adelaide have hit the screens this season.
Fans can expect a thriller with these teams meeting for the third and final time in 2017/18 after Dandenong took the first clash in overtime before Adelaide responded in Round 6 with a six-point win.
Abby Bishop and Colleen Planeta each collected double-doubles in that victory and without Sara Blicavs to help crash the glass, the Lightning should have control of the paint with Ruth Hamblin also providing support off the bench to combat Kayla Pedersen and Carley Mijovic.
A rough Round 7 for Adelaide's back court saw only Lauren Nicholson able to reach double-figures but against their old club, Aimie Clydesdale (11 points, four assists per game) and Natalie Novosel (seven points, 4.5 assists, 3.5 steals) have each starred and two more solid performances on Saturday night should be enough to get their club back on track.
Tickets: http://wnbl.basketball/cluster-round/
Live stats: http://www.fibalivestats.com/u/wnbl/681948/
Watch on FOX Sports Australia channel 503.
Deakin Melbourne Boomers v Brydens Sydney Uni Flames at State Basketball Centre, Sunday, 3.30pm (local time)
A huge weekend for Melbourne pits them against the ladder-leading Fire on Thursday night before returning home to host the third-placed Flames on Sunday and two victories would place them clear on top at round's end.
Having split two previous meetings, this contest will also decide the season series between the teams which could play an important role in the top-four standings at the business end of the season.
O'Hea was absent for their first meeting when Melbourne were held to just 56 points but she returned in Round 6 to knock down 6-8 from beyond the arc as the Boomers thrashed the defending Champs, 88-65.
Brittany Smart also shone in that game, scoring 19 points off the bench on 8-11 shooting but the Flames have found their own starring player off the bench with Carly Boag who has scored 18 points in two of her past three games, hitting 14-17 (83%) from the field.
Cambage will return in time to battle with Jennifer Hamson under the rim while Asia Taylor will enjoy the physical contest in the paint as well.
However, to combat the Boomers' array of scorers, Sydney Uni will be hoping Belinda Snell has recovered from a hamstring injury while Alex Wilson needs to re-find her form as she is averaging 4.7 points over her last three outings after scoring double-figures in her first eight games.
Tickets: http://wnbl.basketball/cluster-round/
Live stats: http://www.fibalivestats.com/u/wnbl/681950/