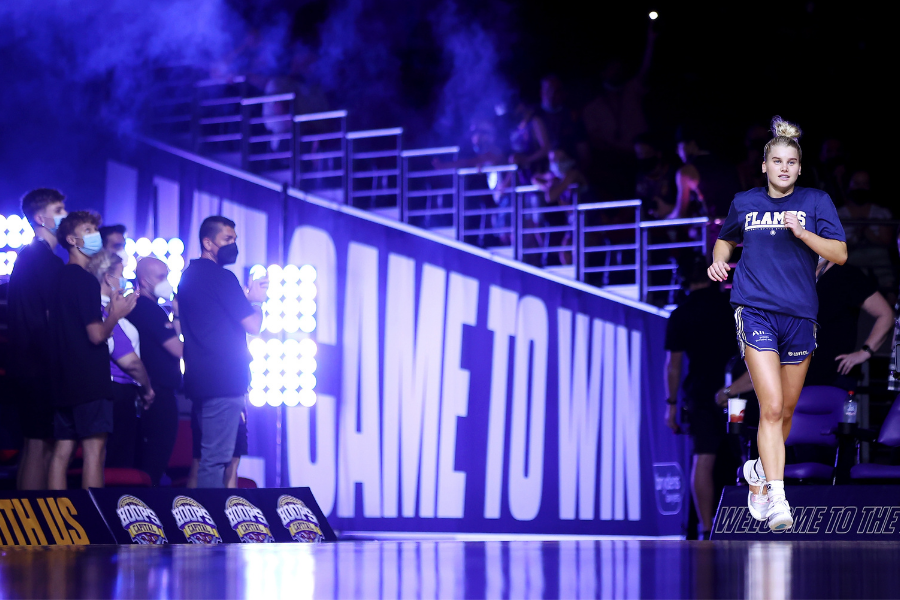 January 25, 2022 | WNBL news
Adelaide has extended its winning streak to four and retains the top spot on the ladder while making up the top four, Perth, Melbourne and Townsville are all tied on a 66% winning percentage. Round 9 will see a rematch of last weekend's top four thriller between the Fire and the Boomers and a clash between the bottom two as the Flames chase their first season victory.
WNBL Media previews the round.
Bendigo Spirit v Sydney Uni Flames
Bendigo Stadium. Tuesday, 7 pm local. Kayo Freebies.
Both the Spirit and the Flames are in desperate need of a win before their seasons start to slip away from them. Although winless, the Flames almost upset the in-form Perth Lynx as they let lost the game in the final two minutes, a cruel loss yet again but with positive signs. The Spirit returned for the first time since pre-Christmas with back-to-back games in round eight and now that they've got some game time into their rested legs, they'll look to bring back that physicality that they brought earlier in the season.
Note: Maddie Garrick and Shyla Heal's influence on the game will be detrimental to their respective teams achieving the win.
Southside Flyers v Perth Lynx
Dandenong Stadium. Thursday 7 pm local. Kayo.
The health and safety protocols got the better of Southside in round eight, so it'll be interesting to see how they can bounce back against the high-flying Perth team. They'll be counting on the likes of Abby Bishop and Maddy Rocci- who have been relatively unaffected by covid- to bring their strength and more to the court. Perth's Marina Mabrey has been unstoppable, again playing a 30+ point game in their narrow round eight win, and if the Flyers were to knock the Lynx off their high horse, they would have to halter her momentum.
Note: The Lynx's Lauren Scherf and Darcee Garbin have both been big contributors to the Lynx lineup. A dual match-up with Bec Cole and Abby Bishop has us intrigued.
UC Capitals v Sydney Uni Flames
National Convention Centre. Friday 6 pm local. Kayo.
It's the first time these two clubs battle it out since the integrity breach saga, so the Flames may have an extra fire in their belly and determination to claim their first win. The last time they met, they put on a round one thriller as the Caps claimed the three-point win and Alicia Froling racked up bragging rights over sister, Keely.
Note: This battle will be feisty and physical as both teams have something to prove. Keep an eye out for a subtle Shane Heal and Paul Gorris exchange.
Townsville Fire v Adelaide Lightning.
Townsville Entertainment Centre. Friday 7:30 pm local. Kayo.
Townsville is on fire and Adelaide's lightning has struck; this may be the game of the round. They first went head to head in their round two season opener, when Alanna Smith made her debut and Loz Nicholson achieved her first Player of the Week nomination for the season as she played a 24 point, four rebound and six assist game. Sug Sutton and Zitina Aokuso were heavy contributors in their comeback round eight win and will look to back that form up in front of their home crowd while the Lightning will be determined to extend their winning streak to five and set the 21/22 season record.  Townsville's Micaela Cocks will also become the Fire's all-time game record holder.
Note: Loz Nicholson and Steph Talbot will make for an elite match-up and then turn teammates when they rock up to the Opals camp on Monday morning.
Perth Lynx v Bendigo Spirit.
Selkirk Stadium. Saturday 5 pm local. FoxSports and ABC.
The Lynx will return to their home away from home on Saturday afternoon and the Spirit will hope to hit the court with some winning momentum. The Spirit will look to welcome back captain Tessa Lavey and work to regain the power that the Lavey, Maddie Garrick and Anneli Maley trio brought to the court earlier in the season. The more game time the Lynx's starting five play together, the stronger they seem to get, so coach Ryan Petrik will be eager to build on that winning formula.
Note: In the match-up of the round, league rebound leader Anneli Maley and league top scorer Marina Mabrey are set to go head-to-head.
Sydney Uni Flames v Southside Flyers.
Qudos Bank Arena. Sunday 12:30 pm local. Kayo.
The Flames could potentially go from winless to two consecutive wins if they can hold off a comeback opposition and seal a victory. Co-captains Keely Froling and Lauren Mansfield will need to bring their A-game to defeat the likes of Bec Cole and Abby Bishop while the Flyers welcome back tall Sara Blicavs to their lineup. If the Flyers are serious about backing up their 2020 championship, then this is one match they can't afford to lose.
Note: Can the dangerous trio of Bec Cole, Sara Blicavs and Abby Bishop return?
Adelaide Lightning v UC Capitals.
The Lights. Sunday 2:30 pm local. Kayo.
Adelaide has the chance to hold a six-game winning streak if they can get through round nine unbeaten however they'd be looking for a stronger contribution from their younger team members to spread the load from the likes of Steph Talbot and Alanna Smith. The Caps experienced duo in Kelly Wilson and Kelsey Griffin along with Britt Sykes and young gun Jade Melbourne will need to be at the top of their game to disrupt the Lightning's hot form.
Note: Cap Alex Bunton played a career-best game in round eight and has the potential to become a valuable asset for the Caps, she just needs to add consistency to her game.
Townsville Fire v Melbourne Boomers.
Townsville Entertainment Centre. Sunday 4:30 pm local. Kayo Freebies.
It was last week's game of the round, a top-four battle that put on a thrilling show and if we know these two line-ups at all, then we know that the rematch will be just as entertaining. The Boomers would be disappointed in their fourth-quarter efforts over the weekend as they let the Fire crawl back within contention because of inaccuracy and a few too many costly mistakes and will be fighting for redemption. Townsville will hit the court full of confidence, knowing that their game plan can overcome a deficit and can shift the momentum back their way.
Note: Boomer Cayla George was monumental in Melbourne's first-half domination in round eight however will look for some extra defensive coverage from someone like Ezi Magbegor if they're going to level up with the Fire.