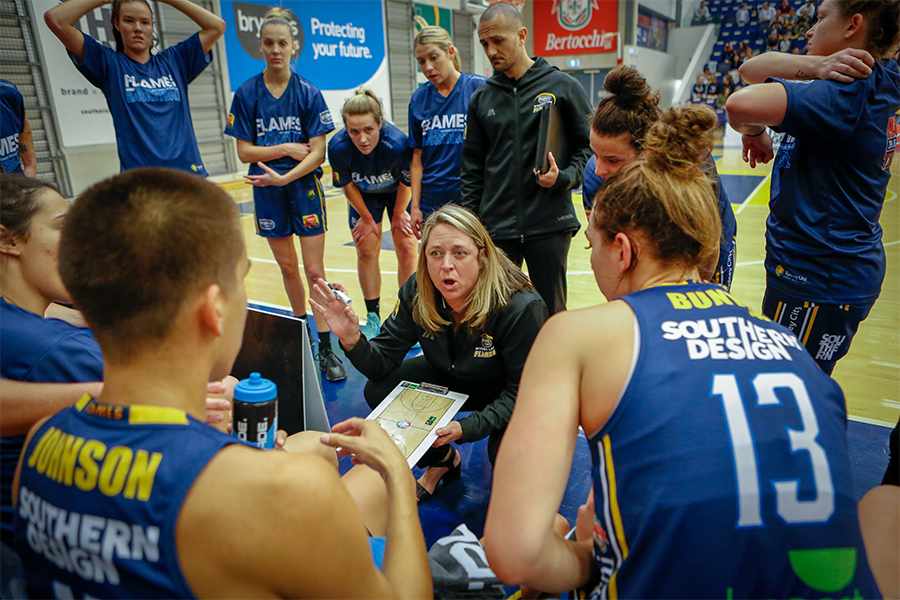 October 19, 2018 | WNBL news
BROADCAST GAME OF THE WEEK
Brydens Sydney Uni Flames v Deakin Melbourne Boomers at Brydens Stadium, Sunday, 1.00pm (local time)
Live on FOX SPORTS and SBS this weekend, two teams coming off disappointing losses will meet as the Flames host Melbourne on Sunday afternoon.
In the busiest round of the season, both sides will have played previously on the weekend with the Boomers travelling north after a clash on Friday night in Geelong while Sydney Uni visit Dandenong on Friday as well.
One of the Championship favourites coming into the season, Melbourne had an inauspicious debut last round as they lost to Bendigo after giving up a 19-1 run to start the second quarter.
They can almost fill out their starting five with Opals players but the downside to that is all four players came into the game with little preparation and it showed last Saturday night.
The Boomers will not be panicking though, the calibre of their roster means that Cayla George, Jenna O'Hea, Ezi Magbegor and Steph Talbot will all be better for the run coming into Round 2.
Import Lindsay Allen impressed early while Maddie Garrick may hit the court for her first minutes after missing the clash against Bendigo through an ankle injury.
Sydney Uni proved no match for the Caps on opening night, succumbing by 21 points after giving up 64 points in the first half and allowing their opponents to shoot 57% from the field overall.
The Flames were unable to slow down Kia Nurse and that opens the door for the likes of O'Hea or Talbot to again hurt them.
Alex Bunton bucked the trend of Opals misfiring in Round 1 though, scoring a league-high 27 points on 10-13 shooting and her battle with national team mates George and Magbegor will be one to watch.
Sydney Uni will also back QBL MVP Amanda Johnson to make an impact after she went scoreless in Round 1 while Brittany Smart will test the Boomers' bench after she out-scored them by herself 16-6.
Watch: FOX SPORTS Australia channel 503 and SBS, check your local guide for details.
Adelaide Lightning v JCU Townsville Fire at Titanium Security Arena, Friday, 5.00pm (local time)
Perhaps suffering the biggest upset of Round 1, Townsville were unable to truly celebrate the unveiling of their Championship banner when they fell to Dandenong.
Going scoreless for the final 3:30, the Fire will have been working on late-game situations throughout the week and while veteran Suzy Batkovic called for calm after the loss, things do not get any easier against Adelaide on Friday night.
The Lightning controlled their clash with Perth, leading by as much as 21 points before going on to secure a 12-point victory and their speed in transition will be a concern for the defending Champions.
The combination of Nicole Seekamp, Lauren Nicholson and newcomer Steph Blicavs worked well and Nia Coffey was spectacular with her mix of strength and athleticism.
Alongside Colleen Planeta, she may be required to help restrict the influence of Batkovic as Adelaide seem undersized in the paint.
That will also give Darcee Garbin confidence after she had a quiet start to the season. While Casey Samuels, coming off 16 points with three three-pointers and two blocks, will confound Adelaide's concerns in the front court.
Tickets at the door.
Jayco Rangers v Brydens Sydney Uni Flames at Dandenong Stadium, Friday, 6.30pm (local time)
Before they host Melbourne on Sunday, the Flames pay a visit to Dandenong who are coming off a confidence-building performance against the Fire in Round 1.
Trailing by ten points in the first half, the game seemed to be going to script but the Rangers dug deep to turn the deficit around and then Bec Cole came up with a huge final 30 seconds as she pulled down a defensive rebound and sunk two free-throws to officially clinch the win.
Cole top-scored for the Rangers with 18 points but four starters reached double-figures and while Kayla Pedersen could not find her range, she contributed with 11 rebounds (five offensive).
They were unable to keep Batkovic down though and that opens the door for Bunton to follow up her brilliant season opening performance of 27 points with another dominant game in the paint.
Where Dandenong could have an advantage is on the perimeter after they held Townsville to 5-24 three-point shooting and if they restrict the influence of Belinda Snell, Alex Wilson and Smart in a similar fashion, they should be able to make it a couple of wins in a row.
Deakin Melbourne Boomers v University of Canberra Capitals at Geelong Arena, Friday, 7.30pm (local time)
For a third consecutive season, the Boomers are heading to Geelong Arena as they continue to acknowledge their grassroot supporters around the state.
They will back up against the Flames on Sunday afternoon but their immediate focus will be bouncing back from the disappointment of their first home game in Round 1 when they were upstaged by Bendigo.
The Caps were also very impressive last weekend, notching a round-high 97 points against Sydney Uni with seven players scoring 7+ points as they shot 57% from the field.
Nurse earned Player of the Week honours on the back of 26 points including 4-8 three-point shooting and Kaili McLaren, who is filling in for the injured Marianna Tolo, knocked down 2-2 from distance.
That will give the Boomers back court enough to think about without worrying over Maddison Rocci who scored 11 points last weekend, Kelly Wilson who nearly had a triple-double with nine points, eight boards and 11 assists or Leilani Mitchell who is expected to make her return from injury.
George and Magbegor will also have to battle Lauren Scherf who will be riding high after recording a very efficient 22 points on 8-11 shooting while also adding four assists and two blocks.
Bendigo Bank Spirit v Jayco Rangers at Bendigo Stadium, Saturday, 7.00pm (local time)
The Spirit get the chance to officially christen the new Bendigo Stadium on Saturday night when they host the Rangers in their first home game of 2018/19.
Expanded to seat over 4,000 fans and already hosting an Australian Boomers FIBA World Cup qualifier as well as the NBL Blitz, Bendigo Stadium is now one of the premier arenas in the country.
Fans should be treated to a thriller as this contest offers a great opportunity for one team to get the 2018/19 season off to a rea positive start after they both succeeded in the opening round.
The Spirit were locked in a tight battle at quarter-time against Melbourne, trailing by six points but they turned the game on its head with a 29-5 second period.
Marena Whittle (21 points) had an answer for every Boomers shot, Nadeen Payne added 16 points and import Becca Tobin was outstanding at both ends of the floor with a stat-stuffing 15 points, nine rebounds, two assists, five steals and three blocks.
Her rim protection will make life tough for Pedersen while another efficient night from the Spirit starters could prove too much for Dandenong to handle.
Perth Lynx v JCU Townsville Fire at Bendat Basketball Centre, Sunday, 1.00pm (local time)
Perennial finals contenders in recent seasons, both Perth and Townsville will be keen to put Round 1 behind them and get back on the winners list where they have sat for a majority of the past few years.
The travel time from Adelaide to Perth compounded by the fact that Adelaide could run them ragged on Friday night means this weekend is a tough one for Townsville and that will give the Lynx confidence that they can defeat the visitors if they play the full 40 minutes.
Perth must improve their efforts from last week though when they fell to the Lightning by 12 points.
Featuring in the past two WNBL All-Star Five's, Asia Taylor had a strong debut for the Lynx and seemed determined to pull them over the line in last week's game, finishing with 16 points and three assists.
While she was ultimately unsuccessful, that determination combined with the confidence of Alison Schwagmeyer (15 points off the bench against Adelaide) and an improved performance from Katie Ebzery (who chalks up her 250-game milestone) will help immensely.
However, they must find a way to overcome the loss of Sami Whitcomb and the instant offence that she had provided the Lynx over the previous two seasons.
University of Canberra Capitals v Adelaide Lightning at National Convention Centre, Sunday, 2.00pm (local time)
The most jam-packed weekend of WNBL action in 2018/19 culminates in the nation's capital with both teams playing their second game of a double-header.
A fast team that wants to get out in transition, this contest will test Adelaide and truly show how effective that part of their game is while the Caps' depth will be tested as they host their first game of the season.
Their victory over Sydney Uni was a frightening prospect for the rest of the competition as they are still missing some key personnel in the likes of Kristy Wallace and Marianna Tolo.
The arrival of Mitchell will certainly help but it will be an intriguing prospect to see how coach Paul Goriss finds minutes for her and Wilson, who nearly had a triple-double in Round 1.
Adelaide's weakness seems to be their front court and they will have to contend with Scherf just two days after battling Batkovic in what can be expected to be a bruising weekend.