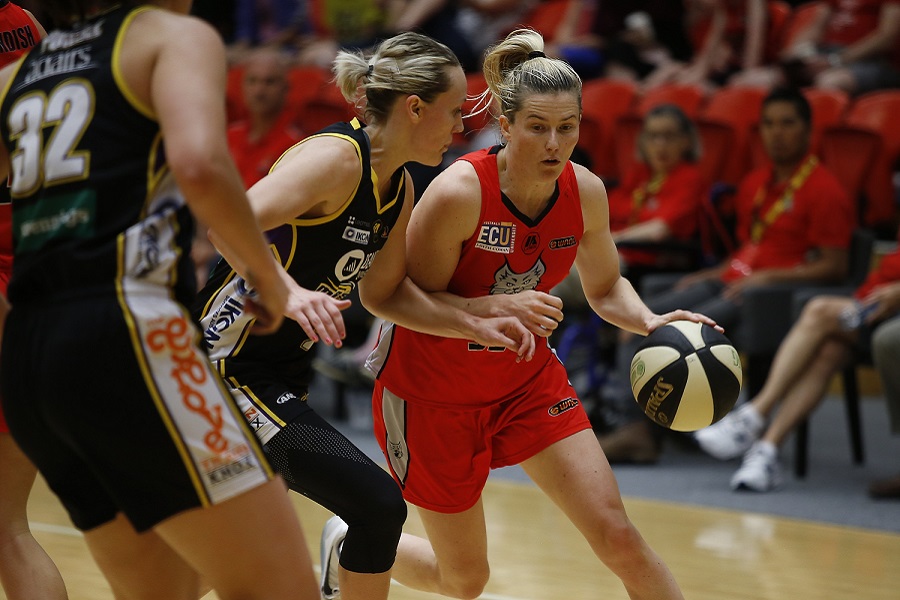 January 5, 2018 | WNBL news
Perth Lynx (15-6) v Deakin Melbourne Boomers (12-9), Bendat Basketball Centre, 6.30pm (local time), Friday, January 5
Game 1 Story
Perth have been known for their scintillating offence throughout this season but the Boomers beat them at their own game on Wednesday night, knocking down 51% from the field and 44% from beyond the arc on 12-27 shooting. Their total of 92 points was 14 above their average against Perth in 2017/18 as well as 17 points above their average overall.
Melbourne's ability to share the ball opened up those opportunities to score as they recorded 27 assists on their 33 field goals and Jenna O'Hea led the way with seven points, four rebounds, 11 assists and five steals. There are no qualms from Perth in their isolation game as Courtney Williams and Sami Whitcomb are two of the most potent scorers in the league but collecting only ten assists and 18 turnovers is not a recipe for success.
After missing their meeting in the final round of the season, Bec Cole proved she is a difference-maker as she came off the bench for a team-high 21 points. She was quicker than the Lynx in transition and just as effective defensively with three steals while her two three-pointers were in addition to Maddie Garrick's four, Brittany Smart's three and two from Kalani Purcell.
Lynx's Lair
A different animal at home this season, Perth will back themselves to get the series on level pegging tonight before then sealing a Grand Final spot on Sunday as they average 87.6 points per game at Bendat Basketball Centre compared to 76.9 points per contest on the road. Alice Kunek is the embodiment of that differential as she scores three more points when at home but she was the standout for the Lynx in Game 1, tallying a game-high 22 points and will be keen for another productive match against her old side.
So much of Perth's game relies on Whitcomb and Williams leading from the front and while Williams started by hitting her first four shots on Wednesday night, she only hit three of her next 19 to finish with 14 points. Smart's defence was very impressive and Williams will be working ferociously to combat that while Whitcomb did not seem too bothered by her wrist and was fired up all night in Game 1 which is sure to carry over into Game 2.
The Cambage Factor
Perhaps the most incredible aspect of Melbourne's Game 1 victory was Liz Cambage playing just 17 minutes as she struggled with foul trouble all night. In her limited game time, the Boomers were consistently looking for her and she still recorded 16 points and nine boards but without their centre on the floor, Melbourne were forced to look for other options and it worked out. If Cambage can stay out of foul trouble, expect the Boomers to revert back to their old style but if she can maintain her regular season averages against Perth of 30.5 points and 20 rebounds, Melbourne should still be in the box seat.
Key Stat
Melbourne were the second best team in terms of assists through the regular season with an average of 19.2 per game but that had improved to 24.6 when playing against the Lynx and on Wednesday night in Game 1, the Boomers recorded 27 assists on 33 field goals compared to Perth's tally of ten.
Overall:
The Lynx have been dominant at home this season and returning to the Bendat Basketball Centre will give them a lot of confidence but there are sure to be a few demons from Game 1 and their inability to stop Cambage remains a concern. It is unlikely the Boomers will shoot as well as they did on Wednesday night though and if Williams and Whitcomb can be more efficient offensively, that may be enough to turn the tide.