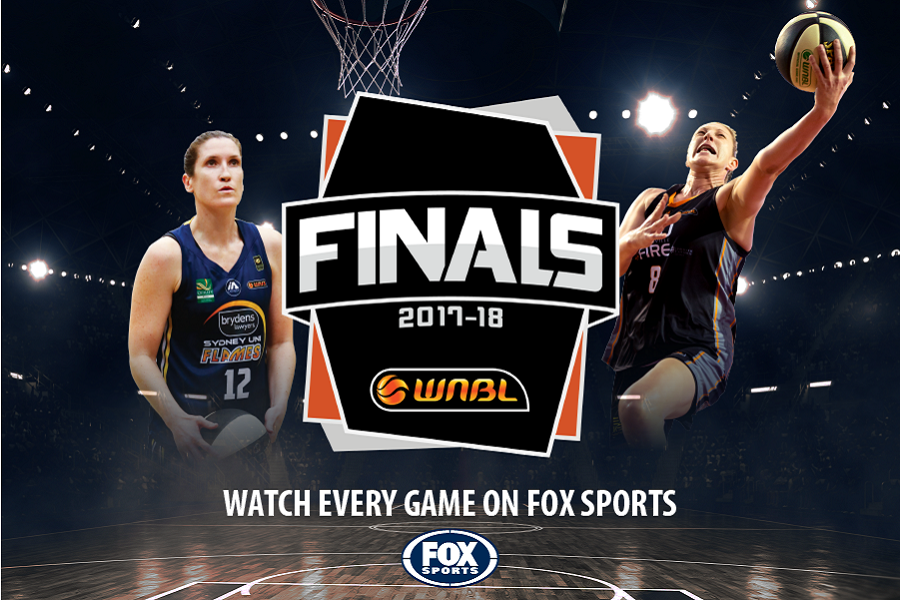 January 4, 2018 | WNBL news
JCU Townsville Fire (14-7) v Brydens Sydney Uni Flames (14-7), Townsville Stadium, 7.00pm Thursday, January 4 (delayed broadcast on Fox Sports channel 503 from 8.30pm local time)
Form
Taking on the Flames last weekend for second spot and home court advantage in the Semi-Finals, Townsville were blown out of the water in an 81-107 defeat. That will surely be playing on their minds heading into tonight but they bounced back with a strong performance against Perth two days later and have still won five of their past six games as they head into their seventh consecutive playoff series- a WNBL record amongst the current teams.
Sydney Uni most likely needed a sweep of Round 13 to move into second position on the ladder and they achieved the difficult task, thrashing Townsville to own the season series against them before taking care of Bendigo to cement second spot. The defending Champs were the hunted entering this season but now the real challenge begins as they aim to repeat the efforts of 2016/17 when they defeated Townsville 2-0 in the Semi-Finals.
The Battles
Front Court: The game will most likely be won and lost in the paint as Cayla George and Suzy Batkovic take on Asia Taylor and Jennifer Hamson. George has returned to Townsville this season and her on-court connection with the reigning MVP remains strong but Taylor and Hamson were Championship team mates last season and complement each other with a combination of speed, athleticism and length on the boards.
Taylor's ability to run the floor could prove to be a difference-maker and she has averaged 16 points and 7.7 rebounds across three meetings but getting into the paint is a struggle against Batkovic and George who have combined for eight blocks overall. Batkovic is also averaging a double-double of 19 points and 10.3 boards and George can stretch the floor with her three-point shooting but Sydney Uni become so much more dangerous when Hamson is an offensive threat. She hit 11-16 for 24 points last weekend and a similar performance should prove too much for the Fire to handle tonight.
Back Court: The hot shooting of Sydney Uni's back court was the main reason they were able to crack the century mark in Round 13 with Katie-Rae Ebzery, Alex Wilson and Belinda Snell all notching double-figures while combining for 10-13 shooting from the three-point line.
Townsville's guard line-up of Kelly Wilson and Mia Murray are capable of matching their long-range shooting and the point guard battle between experienced stars Wilson and Ebzery will be a highlight of the series. Laurin Mincy also has the length to bother Sydney Uni's shooters at the defensive end as does fellow import Sydney Wiese (averaging 11 points per game against the Flames) who has seen a few starts this season and her ability to catch fire may see coach Claudia Brassard change her line-ups around tonight.
Bench: The second unit is where Townsville will see themselves with a big advantage. Darcee Garbin is developing into a quality back-up for Batkovic and over her past four games, is averaging 20.5 points and seven boards while Micaela Cocks and Mikhaela Donnelly have also impressed in previous meetings against Sydney Uni. The Flames do not get much production out of their bench but Carly Boag has hit double-figures three times this season and Sarah Graham can get hot from distance while Shanae Greaves will have an important defensive role against players like Garbin.
Previous Meetings
These teams faced off for two thrilling contests through the season before Sydney Uni took the series with a huge 26-point win in Round 13. When they first met in Round 3, the Flames were three-point victors after leading by 12 at quarter-time and it was another 12-point lead at the first break last week for Sydney Uni. However, in Round 9, Townsville got the jump to move in front by eight at quarter-time and they then held off a furious Flames run to claim a three-point victory.
Overall:
The starts have obviously been critical in all three encounters for these sides and with the crowd behind them for the first game, Townsville will be hoping to spark them with a hot first quarter tonight. Sydney Uni know they need their starters to strike as the Fire run deeper and should be able to extend any lead they have when the sides head to their second units. The Flames were victorious in Townsville Stadium back in Round 3 though and they also clinched last year's Semi-Final up north which will mean they have no fears of heading there for Game 1.