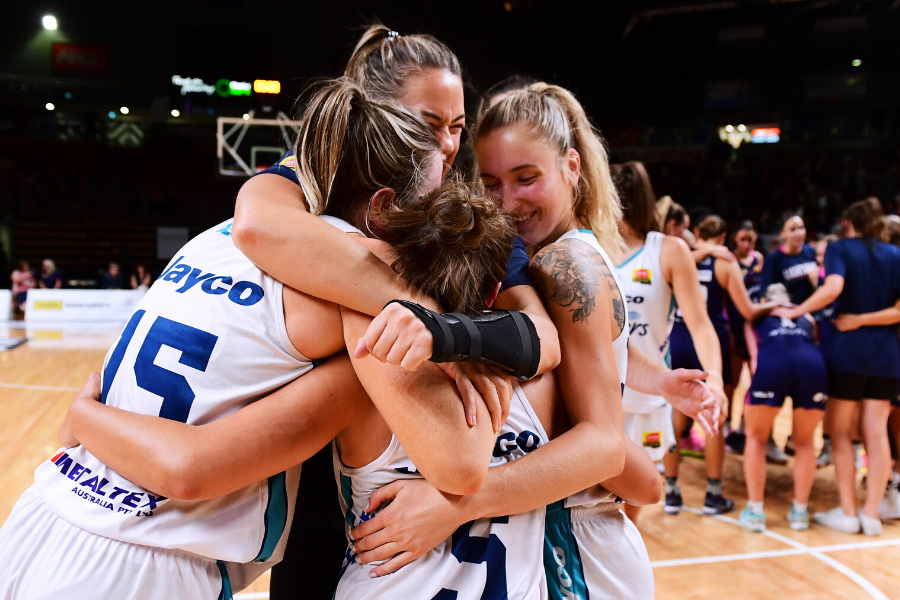 February 22, 2020 | WNBL news
The Jayco Southside Flyers held off another valiant late 4th quarter comeback by the Adelaide Lightning to sweep their best-of-three WNBL Semi-Finals series, 2-0, and advance to the 19/20 Chemist Warehouse WNBL Grand-Finals.
The Flyers were red hot from behind the arc, hitting nearly 50% of their three-point shots (12/25), with Aimie Clydesdale and Leilani Mitchell each going 3 for 4 for 12 points in the victory.
Rebecca Cole earned a double-double with 19 points and 10 rebounds to go with five assists, whilst teammate Clydesdale played a crucial role off a relatively shallow bench in the win against her former team, finishing the night with 18 points.
Brianna Turner, a member of the 2019 WNBA All-Rookie Team with the Phoenix Mercury, had a massive game to keep Adelaide in the mix, contributing 25 points, 18 rebounds and four blocks.
The first half was a frenetic offensive display, with the Flyers exchanging threes with the Lightning's inside drives as the momentum shifted back and forth.  At the end of the half, the Flyers would emerge with a 51-43 lead.
Adelaide closed the gap toward the end of the third down only by three, thanks to the outstanding effort by Turner.  The Flyers would seize momentum again in the first part of the 4th, but the Lightning would make one final run late in the final minutes, scoring seven straight points to climb within 3 in the last minute.
The Lightning had the ball in the final seconds, but missed a pair of desperate three-pointers that would have tied the game.
The Flyers will advance to the Grand-Finals, where they will hold homecourt advantage as the number one seed against either the UC Capitals or the Deakin Melbourne Boomers.
19/20 Chemist Warehouse WNBL Grand Finals Schedule:
Game 1:  Sunday, 1st March at 5pm EDT (Dandenong Stadium)
Game 2:  Wednesday, 4th March at 7:30pm EDT (TBC)
Game 3:   Sunday, 8th March at 1pm EDT (Dandenong Stadium if necessary)
Tickets available via the WNBL website.
-Ends-