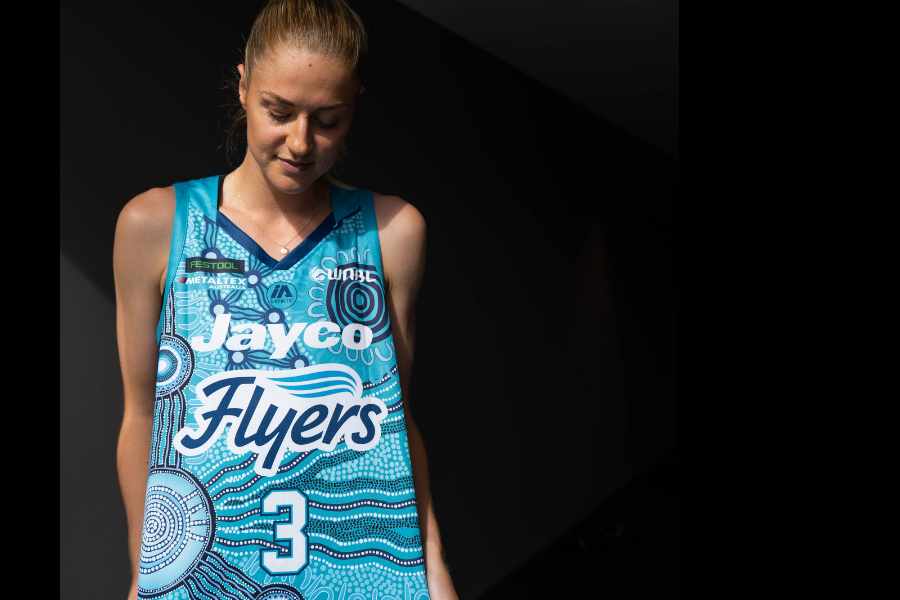 February 26, 2022 | WNBL news
The Southside Flyers and Bendigo Spirit will launch WNBL Indigenous Round celebrations at Saturday afternoon's match in Hobart.
Both teams will commemorate the occasion with Tasmanian fans, as they honour the round in both their round 12 and 13 matches down south.
Working with Indigenous artist and Ngarrindjeri woman, Emma Stenhouse, the Southside Flyers have unveiled their 2021/22 Indigenous jersey ahead of the round.
Southside Flyers- "Sisterhood" designed by Emma Stenhouse.
Representing the Jayco Southside Flyers, this artwork reflects the values the team holds from within.  The Unity, the care, support and nurturing they provide each other. Being Role models for girls and young women to aspire to, the women of the Southside Flyers influence us to chase our dreams, work hard and be positive role models for those around us – just as the women in the team do.
The artwork shows the journey of the team together, with the women lining the journey. The meeting place represents home – the stadium and the gathering place for the team and supporters. The group of circles on the top right represents a camp, with two rows of people surrounding – this reflects the teaching and sharing that team does with each other and the development of future players. Bottom left are 3 lines with waves in them representing the travel the team does, and their travel over to Tasmania. The circles with the 3 lines joining them show connection – to each other and to us. The colours used in this piece represent the Colours of the Southside Flyers.
Acknowledgement from Emma Stenhouse.
I am a proud Ngarrindjeri woman, with strong links to the Gunditjmara people of Warrnambool.
I would like to acknowledge the Traditional Owners of the land where this artwork was created, the Peek Whuurrong people of the Marr Nation, and pay my respects to their Elders, past, present and emerging.
I recognise them and respect their cultural heritage, beliefs and relationship with the land, which is important to all of the Marr Nation people living today.
I acknowledge the Elders of the Ngarrindjeri people who have given me support in my journey as I recognise who I am as a Ngarrindjeri woman and Artist.
View this post on Instagram