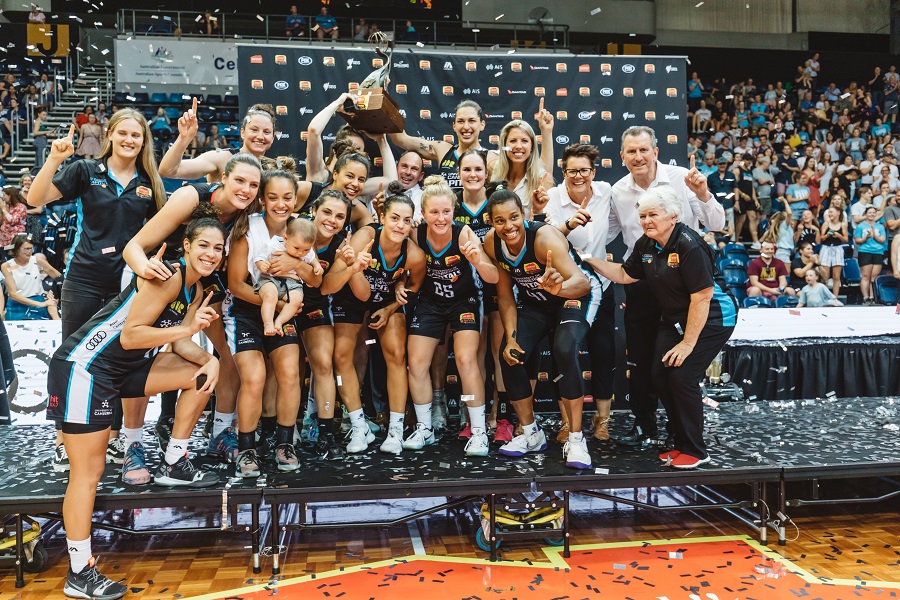 October 10, 2019 | WNBL news
I was attending the season launch of the Jayco Southside Flyers last Tuesday night when I saw star import, Mercedes Russell, walk through the door.
Although we have never met, my immediate reaction was warmth. I remember thinking, I know her, I felt connected to her and on reflection it was clear that my reaction was because she plays for the Seattle Storm, a franchise that means so much to me for so many reasons.
You may wonder where I'm going with this but bear with me, it will all come together soon enough.
This connection is how I feel about the current Opals players. It's how I feel about my WNBA alumni. It's how I feel when I see fans in the stands at stadiums who have been long-time supporters of our women's game who are as passionate about the progression of our sport as we are. It's how I feel when I see young girls arrive at the State Basketball Centre donning Ezi Magbegor's jersey.
We are a tight knit community who love seeing athletic and strong women reach their basketball potential, whether that be in Australia or across the world.
More importantly, it's why I took on this role heading up the WNBL.
This league has no option but to succeed, it has to continue to inspire and nurture the next generation of female basketball athletes and give these kids a goal, a dream, and something they can work toward.
That's our reality as Australian women playing basketball. That's the nature of our sport. Because once you reach the WNBL, the sky is the limit.
The WNBL is a vital step in the pathway to the greatest heights that you can reach in ANY sport, and it's ours.
WNBA players are beginning to join our league in numbers because it's respected internationally, it's viewed as a league they can compete in, that is competitive and tough and tests them against the best players in the world, where they can continue to develop and grow.
Off the court it's summertime, it's warm, the culture is free and easy, and I can personally guarantee that no other women's basketball league in the world is more inviting during these months than the WNBL for all of those reasons.
That to me is special and something I am proud of.
So, even before I took on this role, this is the pride I have for our WNBL. I'm proud of the last 39 seasons and the legacy that every individual has left our game, on and off the court.
The faces, the supporters, the partners, the players, the coaches, administrators and referees. We have all played a part in getting the WNBL here.
Now as we are starting to attract players who are of such high calibre from overseas, it's time to celebrate with the beginning of this very special season and we will continue to ensure the survival and sustainability of our league that gave me the opportunity to not only dream, but achieve things I never believed were possible.
With all that being said, let's journey together into the future.
We know where we need to get to. We understand the challenges and barriers.
With the passion and the strength of all the incredible people who love this sport and are propelling it forward (in any capacity) – our future looks brighter than ever!