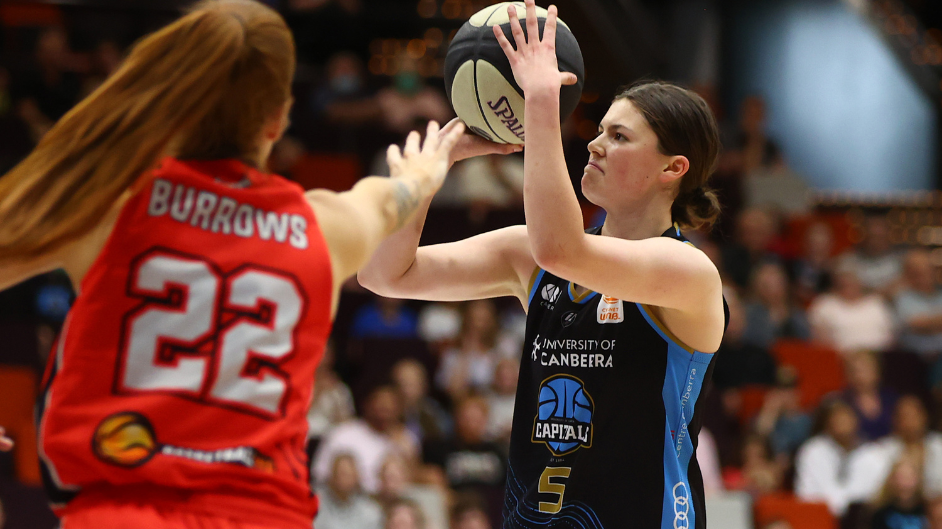 December 26, 2022 | WNBL news
The holiday festivities started early with Round 7 of the Cygnett WNBL providing some exceptional basketball. Here's some of the highlights.
Breakout game for Melbourne
Still searching for their first win of the season, the UC Capitals were hungry to upset the Lynx on Wednesday night. Jade Melbourne was fired up, having an unstoppable first half putting up 20 points, six rebounds and five assists. It was a massive 40-minute performance from the young-gun, finishing on 24 points, nine rebounds and seven assists.
View this post on Instagram
Whitcomb and Scherf combine for the win
At the half time break, it looked as though the Capitals were a chance to secure their first win of the season. But Sami Whitcomb and Lauren Scherf turned on the jets in the second half to pull the Lynx away. A 20-point second half performance from the Lynx Captain saw Whitcomb top score for the night with 26 points. While Scherf knocked down some important triples to finish on 18 points and nine rebounds.
First triple double in a decade
WNBL fans were treated to an EPIC matchup between the Boomers and Lightning on Thursday night with the first OT game of the season. Cayla George just keeps on getting better this season after being on triple double watch in Round 6, George backed it up again with the first triple double in the WNBL since 2012! George hit a massive 30 points, 11 rebounds and 10 assists to break the decade-long drought.
Murray goes boom!
Mia Murray is having an incredible season so far! Playing with confidence and experience, the veteran is unstoppable. Thursday night was no exception with Murray going superwoman mode and hitting a massive 34 points and making 7/9 threes.
View this post on Instagram
Another double double for LJ
The GOAT went next level on Friday night for Southside, securing her second double double for the season. Lauren Jackson was too strong, too good, top scoring with 20 points, 13 rebounds in a big upset victory over the undefeated Bendigo. Dishing the Spirit their first loss of the season took a full team effort from the Flyers, with six players finishing in the double digits. Carley Ernst was deadly from the arch, hitting 4/4 threes.
Maenpaa debuting in the WNBL at 38
Incredible story from the Flames, with Rachel Maenpaa debuting in the WNBL at age 38 against the UC Capitals!
Cygnett Player of the Round
Cayla George (MEL) – 30pts, 11reb, 10ast vs ADL
Team of the Week
Shyla Heal (SYD) – 22pts, 8reb, 6ast vs UCC
Sami Whitcomb (PER) – 26pts, 6reb, 7ast vs UCC
Mia Murray (MEL) – 34pts, 4reb vs ADL
Cayla George (MEL) – 30pts, 11reb, 10ast vs ADL
Lauren Jackson (STH) – 20pts, 13reb vs BEN
View this post on Instagram

IMPORTANT STUFF