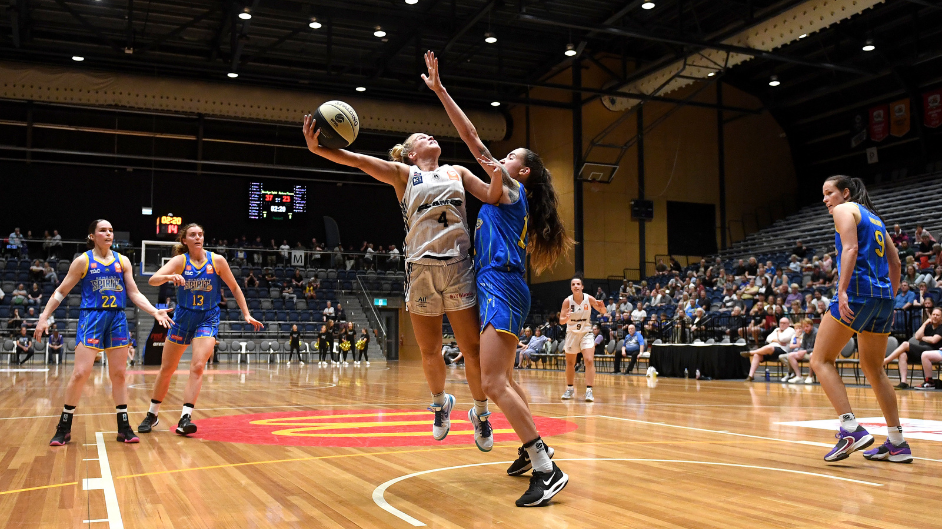 November 14, 2022 | WNBL news
Round Two of the Cygnett WNBL saw some thrilling games go down to the wire, with a few teams now beginning to pull away from the rest of the competition.
THREE TEAMS UNDEFEATED
The Fire, Flyers and Spirit remain undefeated after Round Two, with the Fire and Flyers still shooting above 50%.
Bendigo are 3-0, with Anneli Maley and Kelsey Griffin forming a formidable duo, aided by Kelly Wilson and Megan Mckay.  Maley finished with a double-double in the win over Sydney, 23 points 14 rebounds.
The Fire looked to be on the verge of a comfortable win over Adelaide, until a late fightback from the Lightning tightened up the contest. Townsville proved too strong in the end with import, Tianna Hawkins dominating with 33 points and 10 rebounds.
The Flyers bested the Boomers in a cross-town rival clash in front of a packed crowd on Wednesday night.  Kristy Wallace and Tiffany Mitchell top scored for the Boomers, but Southside proved too strong with import Kayla Thornton and Bec Cole starring with 15 points and 14 points respectively.
WINDING BACK THE CLOCK
Mia Murray put on a vintage performance in the Boomers' second win of the season. The veteran played just over 36 minutes and contributed 16 points, three rebounds and four assists in the closest game we've seen so far this season.
BORLASE IS HERE TO STAY
 It's easy to forget that Izzy Borlase is just 18 years old. But the young gun continues to impress in the WNBL.  Despite Adelaide being 0-3 after two rounds, there are promising signs with Adelaide having super tight contests in all three of their games so far.
Borlase finished Round Two with 10 points, 4 rebounds and 4 assists against Townsville and 17 points, 4 assists and 3 steals against Melbourne.
REBOUNDS FOR DAYS
 The calibre of talent we have in the WNBL this season has already been on full display.  Four players are averaging 10 or more rebounds per game- Anneli Maley (11.3), Tianna Hawkins (11), Dekeiya Cohen (10.7) and Cayla George (10.3).
 IT'S A SELL OUT
About an hour before the Boomers played the Lighting, they shared that they had SOLD OUT the State Sports Centre Parkville.  That's over 3,000 people.  The Boomers also unveiled the WNBL 21-22 Championship Banner in the stadium before the game.
Round Three tips off with a Wednesday night double-header. First up is the matchup between Townsville and Southside at 5:30pm AEST live on ESPN- who will be dealt their first loss of the season? Then Perth face-off against Sydney at 6:30pm AWST on 9Now.
IMPORTANT STUFF