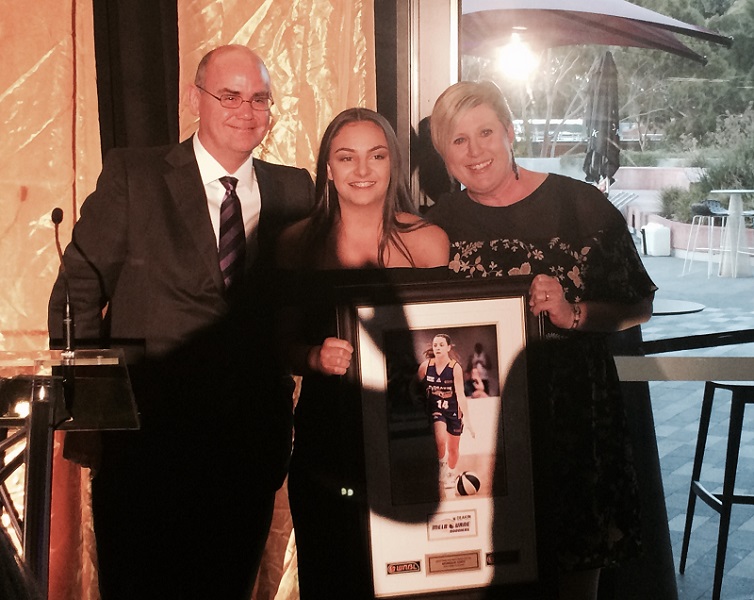 February 22, 2017 | WNBL news
The first of the end of season awards for 2016/17 have been announced with Monique Conti of the Deakin Melbourne Boomers winning the Betty Watson Rookie of the Year.
As voted on by the leagueÕs captains and coaches, Conti earned 25 votes out of a possible 48 including four maximum three-point ballots and was the only player to receive at least one vote from every club aside from her own.
Players who were eligible were in their first or second year of the league, under the age of 21 and were Australian citizens. Second year players must have played 50% or fewer games in their first season.
"This isÊgreat recognition for Monique whoÊjoins esteemed company including past winners Lauren Jackson, Laura Hodges and Trish Fallon who all went on to amazing Olympic careers," said Head of WNBL, Sally Phillips.
"After standout performances in last yearÕs World Championships with the Sapphires, Monique is a star guard in the making.
"I can see a long and successful WNBL career ahead for her and IÕm really looking forward to watching her develop over the coming seasons."
Arriving to the club following a 2016 gold medal with the Australian Under-17 Sapphires where she averaged 10.5 points and three assists per game, Conti brought a confident attitude and a desire to learn into the season.
She played 19 games in her debut year with the Boomers, averaging seven minutes per contest.
Conti shot 35% from the field and tallied a career-high in MelbourneÕs final match of the season last weekend with seven points and three steals while hitting an exciting three-pointer on the final siren.
Her boldness and tenacity on the court belied her 165cm stature as half of her total rebounds for the season came at the offensive end while she also finished fourth for the club in total steals off the bench, proving her ability to play at both ends of the court.
The top five vote-getters for the 2016/17 Betty Watson Rookie of the Year award:
Monique Conti (Deakin Melbourne Boomers)
Sarah Elsworthy (MAC Adelaide Lightning)
Keely Froling (University of Canberra Capitals)
Anneli Maley (MAC Adelaide Lightning)
Cassidy McLean (Brydens Sydney University Flames)
Media Contact:
Justin Nelson
General Manager, Deakin Melbourne Boomers
0413 453 257
justin@melbourneboomers.org.au