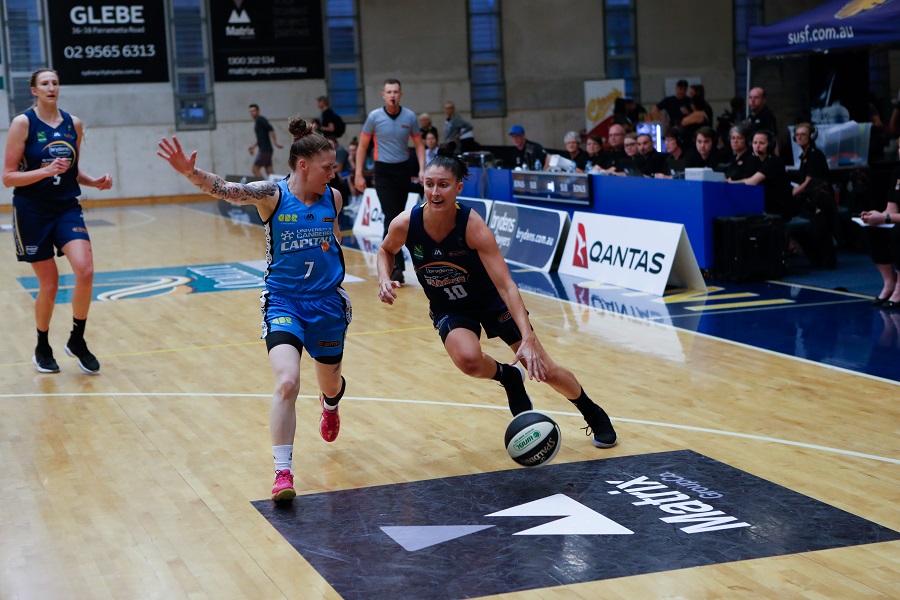 November 7, 2017 | WNBL news
The defending Champions have moved a game ahead on top of the ladder after consecutive wins in Round 5 while the Lightning, Fire and Boomers all sit a game clear inside the top four.
Brydens Sydney Uni Flames 81 def. University of Canberra Capitals 62
All five starters finished in double-figures and double-doubles for Belinda Snell (16 points, ten rebounds), Jennifer Hamson (13 and 10 with six blocks) and Asia Taylor (18 and 10) guided the Flames to victory on Thursday night. Jumping out to a 13-point lead at quarter-time, Sydney Uni controlled the contest as the Caps were only buoyed by Mistie Bass and Jordan Hooper off the bench who combined for 29 points and 18 rebounds.
Boxscore: http://www.fibalivestats.com/u/wnbl/681928/
Cheryl Chambers, Flames coach: "In a league this tough you can't afford to lose any advantage and playing at home and winning is important. We had a great first quarter but after that we were pretty scrappy. You get that sometimes."
Paul Goriss, Caps coach: "We couldn't make a shot in the first quarter … then we just ran out of legs in the fourth quarter."
MAC Adelaide Lightning 81 def. by Jayco Dandenong Rangers 83
The Rangers came from 17 points down in the third quarter to defeat Adelaide in overtime after the Lightning controlled most of the game thanks to a 29-7 run across the second and third terms. Tayla Roberts kept them in it early, finishing with 16 points while Sara Blicavs was outstanding with 15 points, nine rebounds, eight assists and six steals as Dandenong won their third straight game by two points or less. The Lightning were led by 18 points from Nicole Seekamp and Abby Bishop's 17 points and ten boards.
Boxscore: http://www.fibalivestats.com/u/wnbl/681929/
Larissa Anderson, Rangers coach: "I'm very proud of the girls and our bench played brilliantly. But the thing for me is we shouldn't be getting in those sort of positions. We were eight points up in the second quarter and then had some brain fades. But that's just a sign of the team still learning. The chemistry off the floor is great but the chemistry on the court needs work."
Perth Lynx 87 def. JCU Townsville Fire 68
A fast start from Perth saw them lead by 19 points at quarter-time and despite the best efforts of Suzy Batkovic (24 points, seven rebounds), Townsville could never claw their way back. Alice Kunek was consistent throughout the night with a game-high 25 points on 5-8 three-point shooting while Courtney Williams made a successful return to the side, combining with Sami Whitcomb for 34 points and six steals. Cayla George recorded a double-double in the loss, also becoming just the eighth player in WNBL history to tally 2000 career rebounds.
Boxscore: http://www.fibalivestats.com/u/wnbl/681927/
Andy Stewart, Lynx coach: "That was the product of an enormous amount of hard work and sacrifice. The girls are doing what we're asking; on the floor, off the floor, they're committed to everything and everyone is buying in."
Claudia Brassard, Fire coach: "Anytime you allow 29 points in a quarter, you're probably not going to win the game, especially when it is the first quarter. We didn't do a good job finding their shooters – they were hitting a lot of tough shots – but credit to them."
University of Canberra Capitals 72 def. by Brydens Sydney Uni Flames 81
Sydney Uni made it two wins over the Caps in three days, overcoming an eight-point deficit in the third quarter with a 21-6 run across the third and fourth terms. Asia Taylor had 29 points but left the game late with a sore shoulder while Jennifer Hamson (eight points, 14 rebounds, three blocks) and Belinda Snell (14 points, eight boards, eight assists) also starred. Nat Hurst had 13 points and eight assists in the loss while Jordan Hooper scored 12 off the bench but the Caps dropped a seventh consecutive game.
Boxscore: http://www.fibalivestats.com/u/wnbl/681930/
Paul Goriss, Caps coach: "There's no going back to the drawing board, throwing out the playbook. Once again we're a team of three quarters and we've just got to string that consistency together over four quarters. We get shots that we don't need and that we don't want, and we take early ones. Defensively at the same time, it just breaks down together."
Cheryl Chambers, Flames coach: "We just had no energy in the first half and I had a talk to them about that at half-time and they responded well. Asia responded really well as you can see. She was unbelievable. She really got us going. Jen and Snelly were also standouts."
Bendigo Bank Spirit 71 def. Deakin Melbourne Boomers 66
In a see-sawing affair, Bendigo snapped their losing streak in a thriller over Melbourne, scoring the last five points of the game. After trailing by 14 at half-time, the Boomers made several runs at the home team while holding them to 1-13 shooting in the third term but foul trouble hampered them as they continue to struggle in the absence of Jenna O'Hea. Maddie Garrick top-scored for Melbourne with 18 points but Rachel Banham had 17 points, Gabe Richards scored 13 off the bench and Kelsey Griffin recorded 11 of her 13 in the final term for the Spirit.
Boxscore: http://www.fibalivestats.com/u/wnbl/681931/
Simon Pritchard, Spirit coach: "The girls did a really good job in the first half and came out with exactly what we had asked them to. Then we had the same-old, same-old problem to start the third quarter. But we won't focus on that because at the same time while we weren't scoring they only scored 14 points. What we'd earned in the first half we leant on and we used, and that's what a lead is there for."
JCU Townsville Fire 84 def. MAC Adelaide Lightning 42
While both teams came into this game on the back of losses previously in the round, Townsville were able to atone against a tired Lightning outfit as they won every quarter convincingly in a rout. Suzy Batkovic's 20 points led five players in double-figures including Darcee Garbin (14 points) and Mia Murray (13 points) off the bench while Kelly Wilson tallied four points and ten assists to help the Fire shoot 59% from inside the arc. A bright spot for the visitors was another seven steals for Natalie Novosel.
Boxscore: http://www.fibalivestats.com/u/wnbl/681932/
Claudia Brassard, Fire coach: "We came out with much better energy – we executed our scout – and we played the brand of basketball that we want to play. I thought Kelly and Mik did a great job of sharing the ball and our shooters were able to knock down shots."
Deakin Melbourne Boomers 60 def. Jayco Dandenong Rangers 57
A Liz-Cambage led fightback saw the Boomers prevail on Melbourne Cup Eve, taking a 2-0 series lead in their head-to-head battle with the Rangers as well to claim the Michele Timms Cup for the first time in five years. Melbourne were in front for just the final 1:33 but earned the victory after overcoming an 11-point deficit at three-quarter time. A record crowd of 3,157 inspired Cambage to score 13 of her 27 points in the final term while also clinching the victory with a basket and block inside the last ten seconds. Bec Cole was also clutch down the stretch, finishing with 12 points to answer 25 points and 15 rebounds combined from Steph and Sara Blicavs of Dandenong.
Boxscore: http://www.fibalivestats.com/u/wnbl/681933/
Liz Cambage, Boomers: "I really want to win so you just do whatever you can do in crunch time. We were 4-4 and in this league can't afford to lose any games. Every game is so important."
Larissa Anderson, Rangers coach: "Our lack of execution offensively across the whole game was always going to hurt us. When we executed we looked really good but it was too few and far between. What we were doing defensively worked for the most part."
Media Links
Caden Helmers covered the Caps' sixth consecutive defeat when they fell to the Flames on Thursday night: http://www.canberratimes.com.au/sport/act-sport/wnbl-sydney-flames-consign-canberra-capitals-to-sixth-loss-in-a-row-20171102-gzdlui.html
Amanda Lulham then wrote about the Flames' second win over the Caps in just three days for Swoop: http://www.dailytelegraph.com.au/sport/swoop/asia-taylor-delivered-a-stellar-performance-to-help-the-flames-to-top-spot-in-the-wnbl/news-story/b0981c11f5e8a71359fdfbd5bf4c2703
Rob Greenwood reported on the Lightning's thrilling overtime loss to Dandenong for the Adelaide Advertiser: http://www.adelaidenow.com.au/sport/ladderleader-adelaide-lightning-suffers-thrilling-overtime-loss-to-dandenong-rangers/news-story/97e2db45b5cb64c47cf7d29482d2ac59
David Turner of the Greater Dandenong Leader talked to Larissa Anderson following the Rangers' win: http://www.heraldsun.com.au/leader/sport/womens-national-basketball-league-dandenong-rangers-throw-off-17point-deficit-to-beat-adelaide-lightning-in-overtime/news-story/13199c617efdfabf916b55f71aef3cbb
The Townsville Bulletin looked at Perth who purred past the Fire on Thursday night: http://www.townsvillebulletin.com.au/sport/lynx-purr-past-faltering-fire-in-perth/news-story/f47b2f32cf6d57eddb26f78bd7f115a2
Joel Peterson recapped the Spirit's losing-streak snapping win on Saturday night: http://www.bendigoweekly.com.au/news/spirit-withstand-dramatic-finish-for-second-win
However, Adam Bourke of the Bendigo Advertiser broke the news that Kelsey Griffin will miss the rest of the season following hip surgery: http://www.bendigoadvertiser.com.au/story/5036760/injury-sidelines-spirit-star-for-season/?cs=2443
Roy Ward then recapped an incredible finish to Round 5 on Melbourne Cup Eve for The Age: http://www.theage.com.au/sport/basketball/liz-cambage-leads-melbourne-boomers-to-a-comeback-win-over-dandenong-rangers-20171106-gzfvb3.html
Catch up on all the news around the league via the Basket Case podcast here: https://www.spreaker.com/show/basket-case
You can also listen to Megan Hustwaite's WNBL podcast here: https://itunes.apple.com/au/podcast/the-wnbl-show/id1292447514?mt=2#episodeGuid=85fa7997-cdbf-463a-ba63-6880c78e48f9