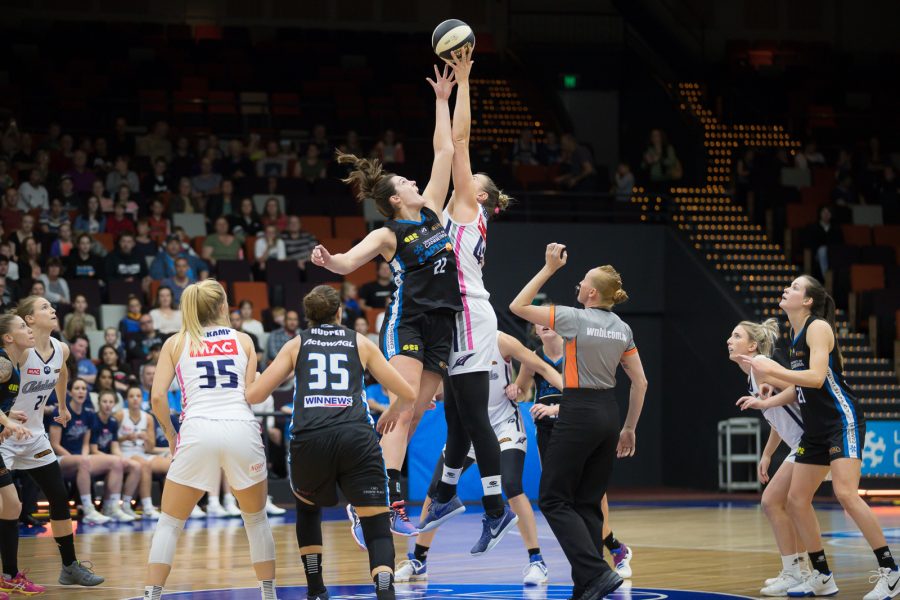 October 9, 2017 | WNBL news
Photo courtesy of Ben Southall.
The University of Canberra Capitals have swept their way to two victories while the JCU Townsville Fire also secured a win as the only other unbeaten side after Round 1.
Jayco Dandenong Rangers 61 def. by Deakin Melbourne Boomers 76
Sara Blicavs scored 17 points and Steph Blicavs had 16 points, six rebounds and six assists but Melbourne proved too good for the Rangers in the 2017/18 season opener behind Liz Cambage's 17 points and Jenna O'Hea's double-double of 11 points and 11 boards. That front court pressure was Dandenong's Achilles heel as they could not send their massive crowd home with a win.
Boxscore: http://www.fibalivestats.com/u/wnbl/681904/
MAC Adelaide Lightning 91 def. Brydens Sydney Uni Flames 80
Last year's eighth placed team knocked off the defending champions behind Natalie Novosel's near triple-double (21 points, eight rebounds, nine assists) and Vanessa Panousis' 11 points off the bench as five players hit double-figures. Katie Ebzery and Alex Wilson combined for 38 points as the Flames knocked down ten three-pointers but they could not overcome the Lightning who shot 53% from the field.
Boxscore: http://www.fibalivestats.com/u/wnbl/681902/
Marcus Wong, Lightning assistant coach: "The hard work the girls have put in over the last month really came together tonight. Our energy amongst the whole group and our starts to every quarter was really a key to the success."
Cheryl Chambers, Flames head coach: "I was pretty disappointed with our start but there were some positive signs. We have quality players and are always going to keep coming back but we certainly had problems at the defensive end."
University of Canberra Capitals 93 def. Bendigo Bank Spirit 80
The Caps used a 22-12 first quarter to grab the win while Abbey Wehrung and Jordan Hooper combined for 40 points, Nat Hurst tallied 13 assists and Ezi Magbegor had 14 points and eight boards to help her side score 44 off the bench. Despite the loss, Bendigo Spirit will be buoyed by Kelsey Griffin's 22 points while they won the battle in the paint and out-scored their opposition off turnovers.
Boxscore: http://www.fibalivestats.com/u/wnbl/681903/
Paul Goriss, Capitals head coach: "We want to make this a place where other teams don't want to come and play. We definitely set a standard in the first half, we lost our way in the third … that's what we want to be our hallmark this season, we want to get things done at the defensive end because we know we're going to be able to score."
Simon Pritchard, Spirit head coach: "We were down nine points five minutes into the game and only lost by 13 so our poor start led us to where we got to. We didn't play great defence, we'd normally win scoring 80 points so we need to go and work on our defence."
Deakin Melbourne Boomers 54 def. by JCU Townsville Fire 63
A monster game from Cayla George led the Fire to victory as she tallied 17 points, 22 rebounds, three steals and two blocks in a consummate performance at both ends of the floor. With Suzy Batkovic in foul trouble, every Fire player hit the scoreboard including Laurin Mincy who had eight points and four assists in her debut. For the Boomers, Jenna O'Hea notched a second consecutive double-double (ten points, 14 rebounds) and Liz Cambage had 15 points but they were doubled up in points off turnovers.
Boxscore: http://www.fibalivestats.com/u/wnbl/681905/
Guy Molloy, Boomers head coach: "We were four up at the half but almost right from the start of the third quarter the shooting percentage went south and we turned the ball over a lot. Credit to Townsville, they played a really good second half."
Claudia Brassard, Fire head coach: "I thought we did a good job over taking Melbourne out of their stuff in the second half – we got a lot of deflections and stops – and we were able to control the tempo which we wanted to do. Clearly, we have some things to work on, but it's great to be able to come away with a win."
University of Canberra Capitals 84 def. MAC Adelaide Lightning 77
An exciting and close last quarter saw the Caps hold on to defeat Adelaide by seven points as they swept Round 1 and moved to the top of the ladder with two victories. Jordan Hooper hit three three-pointers for 19 points while Rachel Jarry and Abbey Wehrung were also integral to the win. Abby Bishop kept the opposition on their toes with 21 points and was backed up well by her front court partner in Ruth Hamblin (13 rebounds) as the Lightning closed within three points late before just falling short.
Boxscore: http://www.fibalivestats.com/u/wnbl/681907/
Paul Goriss, Capitals head coach: "Adelaide made it a hell of a game, they have scorers all over the floor. We have to fix up our focus and third quarter efforts but keeping a team like that to 77 is pretty decent."
Marcus Wong, Lightning assistant coach: "Very disappointing for us, we gave up a big lead in the first half. It took us a big effort to come back and we probably expended too much energy doing that and unfortunately we didn't get the result we wanted."
Perth Lynx 80 def. by Brydens Sydney University Flames 93
A stellar performance from both Asia Taylor and Jennifer Hamson who collected 20 points apiece saw the Flames atone for their loss on Friday night and open their 2017/18 account. Belinda Snell knocked down five three-pointers as well to answer the efforts of Courtney Williams who put up 26 points and ten rebounds while Alice Kunek and Kayla Standish secured 15 points each.
Boxscore: http://www.fibalivestats.com/u/wnbl/681906/
Andy Stewart, Lynx head coach: "It's good to get the first game out of the way and see where we actually sit. We were very poor defensively and it cost us. You can't exist in this league with that sort of defence."
Cheryl Chambers, Flames head coach: "It's a tough season and there is a lot of talent so we're really happy to split the weekend. We had some adjustments and there was a lot of pressure after losing our first game but to our girls credit they were really tough."
Media Links
Caden Helmers reports on Jordan Hooper's return for the Caps in the Canberra Times: http://www.canberratimes.com.au/sport/act-sport/wnbl-jordan-hooper-stars-as-canberra-capitals-topple-adelaide-lightning-20171008-gywh9v.html
He also covered Abbey Wehrung's inspirational performance in a win over the Spirit: http://www.canberratimes.com.au/sport/act-sport/wnbl-abigail-wehrung-inspires-canberra-capitals-to-victory-over-bendigo-spirit-20171005-gyv6mh.html
Bridget Lacey wrote about Perth's season opening loss for the West Australian: https://thewest.com.au/sport/basketball/perth-lynx-go-down-93-80-to-sydney-uni-flames-in-their-wnbl-season-opener-ng-b88622672z
Kieran Iles covers the Spirit's slow start in their loss to the Caps for the Bendigo Advertiser: http://www.bendigoadvertiser.com.au/story/4972980/slow-start-costly-as-spirit-falls-to-capitals/
Trent Slatter looks at the red-hot return of Cayla George for the Townsville Bulletin: http://www.townsvillebulletin.com.au/sport/cayla-george-makes-redhot-return-as-townsville-takes-down-boomers/news-story/4cc69d707108be4c08648c4be6c1e995
The Pick and Roll's Alanna Jarry also covered George's impressive performance and recapped Round 1: https://pickandroll.com.au/wnbl-cayla-george-back-fire/
Rob Greenwood summarised the Lightning's debut victory in 2017/18 for the Adelaide Advertiser: http://www.adelaidenow.com.au/sport/adelaide-lightning-downs-reigning-premier-sydney-uni-flames-9180-in-wnbl-seasonopener/news-story/54fd230bfd2a19cc9dadddc2e5cc5c98
Prior to the round, Slatter also featured Mikhaela Donnelly's comeback following the birth of her daughter for the Bulletin: http://www.townsvillebulletin.com.au/sport/fires-super-mum-mikhaela-donnelly-ready-for-wnbl-return/news-story/8d56d6ccced7160101a74a9fd10f6462