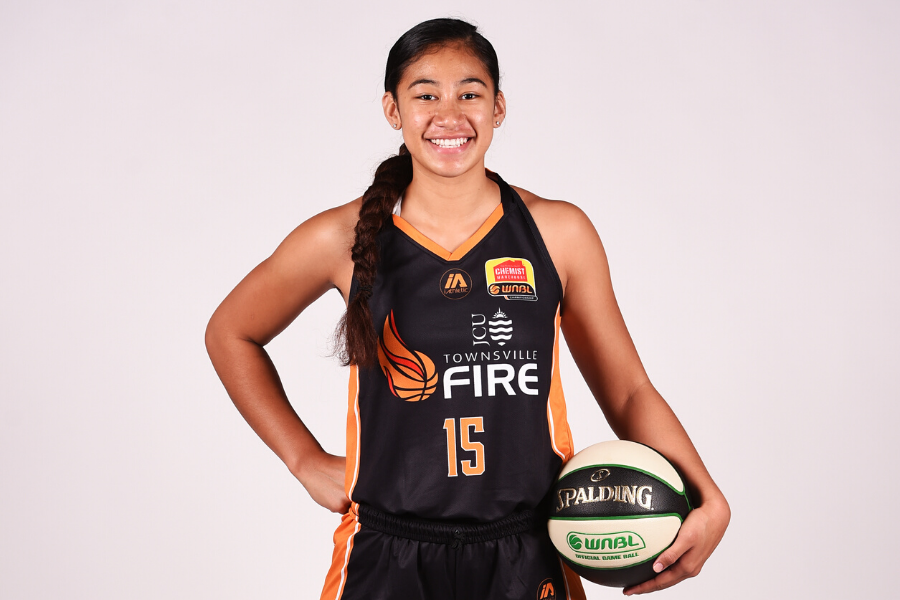 April 23, 2020 | WNBL news
With a heart of determination and strength, Zitina Aokuso is getting ready for her ultimate come-back to the WNBL courts.
After signing with the Townsville Fire for 2017-18, she was a part of a Championship winning team in her inaugural WNBL season. She then extended her contract for another two years with the Fire, a dream come true for the young gun.
However, it was the sudden and heartbreaking occurrence of an ACL injury in her pre-season training in 2019 which left the 21-year-old saddened and sidelined for the WNBL20 season.
"I've had my fair share of injuries, but nothing to this extent. I found myself just saying 'OMG this is the end of my basketball career', and I found that hard to accept.
"Being 21, I admit I was a bit dramatic but having some tough sisters in my corner telling me to toughen up everything will be ok, and to also have the love and support my family, friends and the Townsville fire family really pulled at the heartstrings," she said.
An ACL injury is a tear or sprain of the anterior cruciate ligament, one of the major ligaments in your knee. It can take anywhere from two to six months or longer to recover from physically, for Aokuso however the injury also took a mental toll.
"I felt lost; I mean I had a really good offseason playing in the NBL1. I really put myself in a position to be a better player and focused hard to take on pre-season training with Townsville fire."
"I was in the right headspace, had a positive mindset, and I felt like I had all the tools I needed to have a successful season. But the moment I hit the ground all that went away."
"It was crushing you know just preparing yourself and telling yourself this is your year, and to have my season end before it even started, it was really hard to accept. I don't think I would have been able to get through recovery and rehab without my faith in God, family, friends and the support from the Townsville Fire family.
However, leaving Townsville was not in the plans for Aokuso, as she continued her recovery, and wanted to stay connected to the club and the game.
"I was already doing well with my rehab and I had a routine already set in Townsville, so I wanted to stay during the off-season to continue. I had a chat with the club to let them know my plans and if there was anything that I could do during that time. That's when they asked if I was interested at all in being a school ambassador for a new program that they were introducing.
"I was all for it! It involves attending schools here in Townsville and teaching them some basic basketball skills, giving them nutritional advice and making healthy lifestyle choices.
"I love being around the younger generation, they are our future, and having programs like these will be great to have in our local schools allowing us to teach them while they are young so they can prosper and be great in the future.
"It's awesome to be given an opportunity like this, especially while on recovery mode. It honestly will make rehab go by like a breeze.
With a Samoan background, Aokuso has a strong connection with her culture and is proud of her roots and heritage.
"I am a proud Samoan. There's a word that I always try to remember 'Fa'a Samoa' meaning, the Samoan Way – trying to maintain the Samoa way everywhere I go is really important. It reminds me to seek God, that no matter where I am in this world, I'm connected to my family, to be humble, have respect, work hard, to love and be kind.
"My mums from a village called Faleasi'u & my dad Mataūtu Falealili. The last time I was in Samoa was back in 2012/13 and was there for six weeks in my dad's village. I experienced the island life where we slept in a Samoan fale under mosquito nets and woke up to the rooster's morning call and the smell of koko (cocoa hot drink) and fresh bread. I would definitely go back to see the family soon and just chill out."
Coming from a big Samoan family, Aokuso is one of eight with three brothers and four sisters. The Aokuso family have a bond tighter than most, and after experiencing hardships and loss, Zitina praises her family for where she is today.
"I'm the second youngest but the second tallest in the family. It's awesome being in a big family because if you have a fight with one sibling – all good just walk to the next bedroom and be besties with the other.
"I don't need to go shopping for clothes, because my sisters have got the goods in their closest when I go home. It is great fun!
"After losing my Brother Allan in 2008 to cancer, and then in 2009, my sister Va who was the oldest of us kids, it really tested my family. It was hard on my parents, so I was lucky to have my older sisters Hazel & Hilda around to let us know everything was going to be ok.
"Despite all that we've been through my family is the reason why I work hard, I don't take anything for granted, and I push through the bad times even though it may seem hard because I know I have been through a lot worse. I thank our heavenly father for being with me every step of the way."
While Aokuso has shown strong talent and strength in her basketball game, achieving a contract in the elite leagues at such a young age, she did not pursue the sport until later in her teen years, focusing on Volleyball at a younger age.
"My first sport was volleyball, which was honestly a neutral choice because my whole family played. We used to go down to the park down the road from our house, and we would put up the net, and everyone from church, friends, extended family would come down, and we'd be all playing volleyball until the lights came on.
"It's probably the most favourite sport for the Pacific Islanders apart from Rugby Union and league. My sister Va was the "baller" in the family, and I only came across basketball and became interested back when I was 15.
"My sports teacher at Runcorn High Mr Brown, said that I should try out for basketball, so I did! I made the team, then I made the rep teams, and I've been in love with the game since.
"My motivation to be great in this game we call basketball is my sister Va. I want to go as far as I can in the game for not only myself but for her and my family."
Aokuso is already back in Townsville and getting herself ready for the pre-season with the Fire.