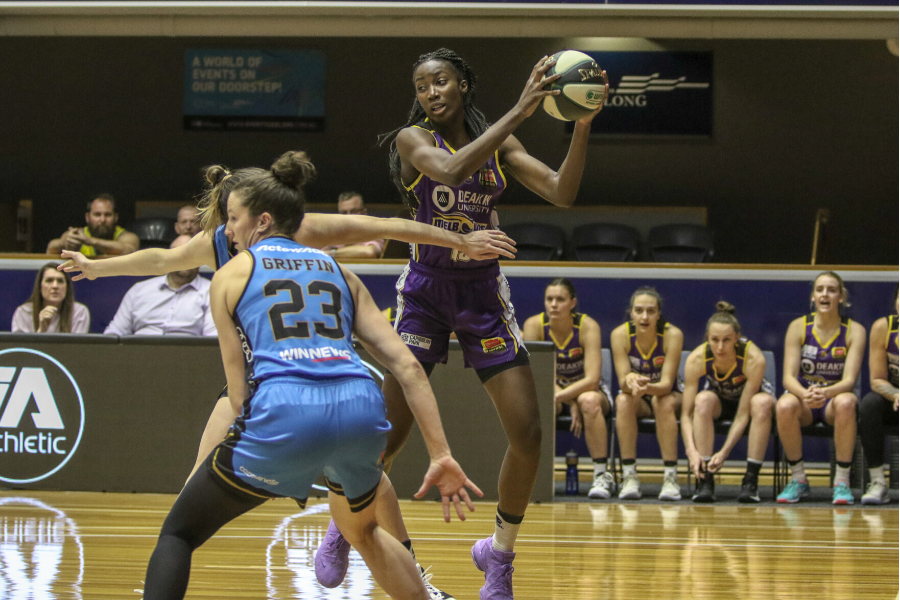 October 26, 2019 | Melbourne Boomers news
The Deakin Melbourne Boomers were unstoppable at Geelong Arena last night, completely dominating the UC Capitals, running away with a 35-point win, 107-72.
The Boomers were strong all over the court, shooting an astonishing 73% from two-point land for the game, to go with 26 team assists, eight steals and five blocks (two from the sterling defence of Stella Beck).
For the second consecutive game, co-captain Cayla George led from the front, with a double-double (18 points, 12 rebounds) to go with six assists. George dominated the paint on both ends of the floor, shutting down Caps stars Marianna Tolo (5 points) and Kelsey Griffin (12 points).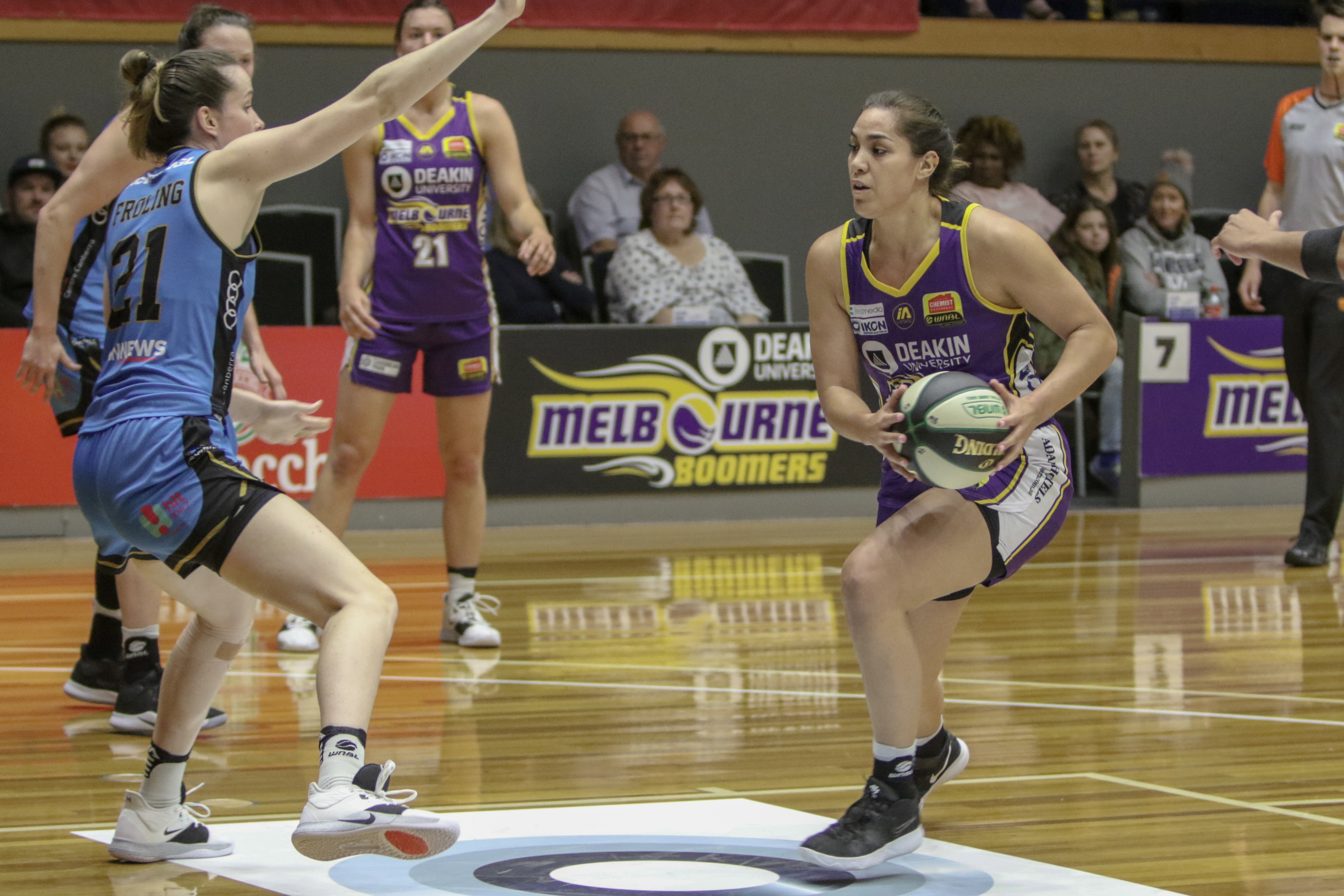 The Boomers were simply superb all over court, with five players in double figures, and 31 points coming from an impressive display from the bench.
In her fourth year in the WNBL, 19-year-old Monique Conti had her best game in the league to date, with 16 points in 16 minutes at an incredible 100% from the floor.
Despite a quieter outing last week in Round Two, Lindsay Allen was back to her best tonight, controlling the tempo, dishing out six assists, and top scoring for the Boomers with 23 points. She was well supported by Maddie Garrick (16 points) and local favourite, Ezi Magbegor (12 points).
It was evident from the moment the game started that the Boomers were here to play. US import Sophie Cunningham (7 points) opened the match with the five quick points, and the Boomers steadily increased their lead from that point onwards.
Hitting 100 on the scoreboard with minutes still to play, the Boomers offensive firepower was nothing short of sensational.
Whilst the Caps fought hard, it was clear it just wasn't their night. Keely Froling was impressive with a team high 14 points and 7 rebounds, supported by Kia Nurse (13 points) and Griffin. However it was not nearly enough to get close to the Boomers.
In the fourth quarter sixteen-year-old Paige Price took to the court to make her WNBL debut, and it was the perfect way to commence her Boomers career.
Head Coach Guy Molloy was impressed with the Boomers game, in particular the first half.
"To have a really good margin at the half is credit to the players for executing the game plan so well."
"It's a massive shot in the arm and a boost of confidence for our club against the reigning champs… particularly with the calibre of players that they've got"
"We're lucky that we got a lot of shots tonight that dropped and we played with a lot of energy."
Kalani Purcell also commented on the excitement of hitting three digits, giving credit to the team as a whole.
"It was really exciting, everyone was hitting shots," she said.
"Looking from this time last year we struggled a lot just as a team to gel together and so comparing from last year to this year it's so exciting. We've had three weeks properly as a full team and we've been able to get to 107 already, I feel like we can only build from here."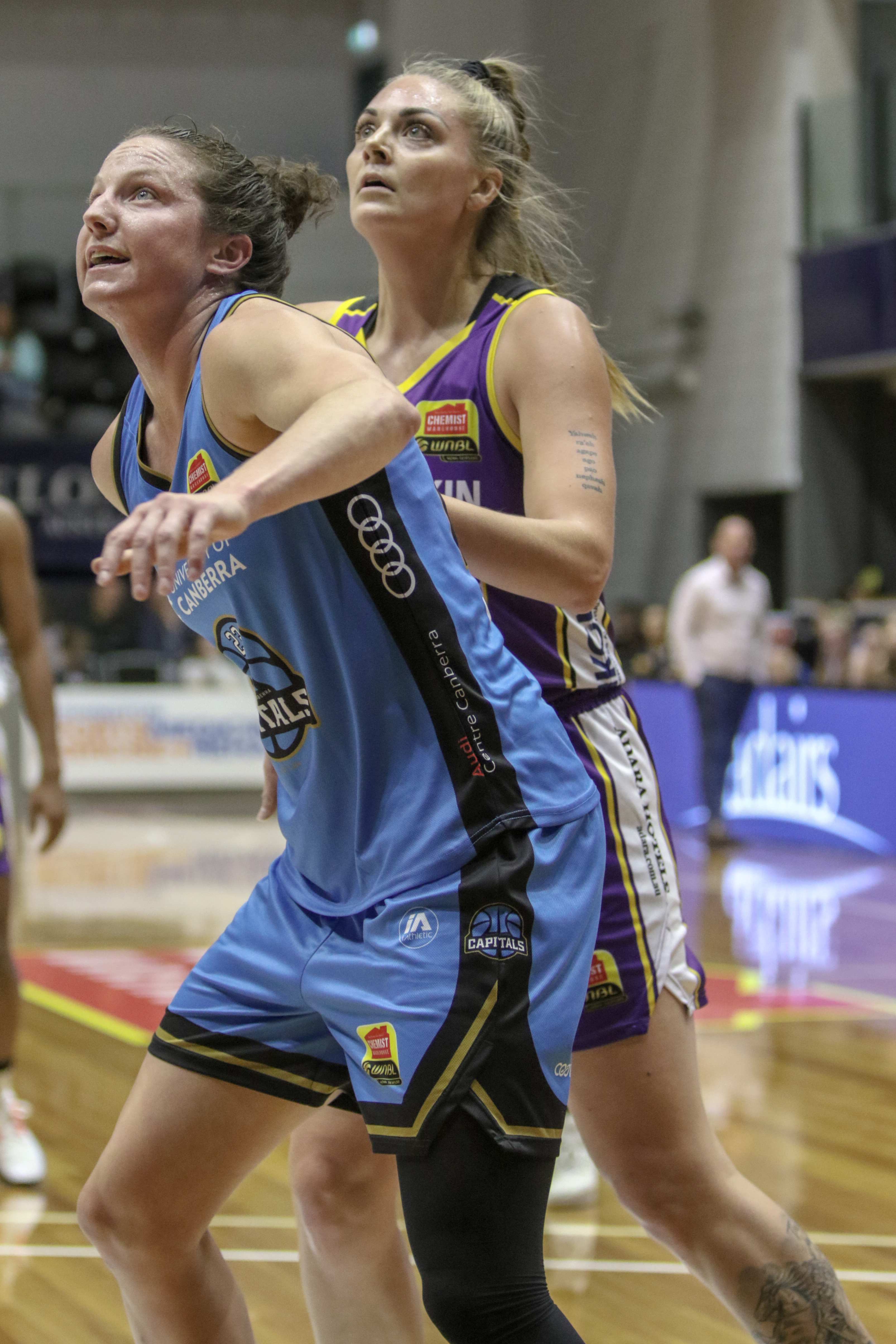 Deakin Melbourne Boomers – 107 (Lindsay Allen 23, Cayla George 18, Maddie Garrick 16, Monique Conti 16)
UC Capitals – 72 (Keely Froling 14, Kia Nurse 13, Kelsey Griffin 12)
Next Up
The Boomers take on Townsville Fire (in Townsville) tomorrow with tip off at 4pm local time. Tune into the game on Foxtel, Kayo, or the WNBL livestream.
Our next home game is our Cup Eve Derby against the Southside Flyers. Get your tickets here.