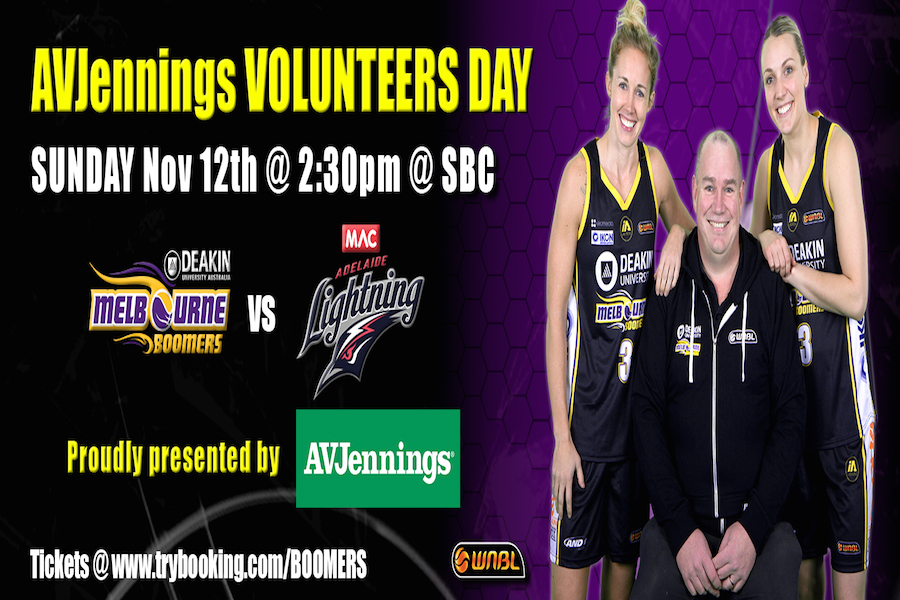 November 9, 2017 | Melbourne Boomers news
They are the most important people behind the scenes at any basketball club – loyal, faithful and tireless in their commitment to helping their club be the very best it can be.
It takes a very special kind of person to be a volunteer and no basketball club, no matter how great or small, would be the same without a band of dedicated volunteers.
The Deakin Melbourne Boomers are encouraging all grassroots basketball clubs and associations to reward their volunteers at this Sunday's AVJennings Volunteers Game.
The Volunteers Game against Adelaide Lightning aims to give local clubs and associations an opportunity to thank their tireless volunteers, by encouraging clubs to buy them a ticket and bring them along for an afternoon of WNBL action.
Melbourne's 33 partnering clubs and associations will also have the opportunity for their volunteers to be recognised on court prior to tip-off.
Sunday's match will see volunteers and Boomers fans alike treated to a high-quality game between two of the league's top teams with stars Abby Bishop and Melbourne's Liz Cambage set to lock horns.
It will be the first of three match-ups between the two teams this season.
Boomers General Manager Justin Nelson said the round was a great way for the local basketball community to recognise the invaluable efforts of volunteers.
"It's important that we remember to reward and thank our volunteers. It's often a thankless and tireless role, so this Sunday is a great way to thank them and treat them to some high-quality basketball."
Tip-off is set for 2:30pm. Book your tickets online HERE and save 20%.
WHAT: AVJennings Volunteers Game
WHO: The Deakin Melbourne Boomers v Adelaide Lightning
WHEN: Sunday 12th November, 2:30pm tip-off
WHERE: State Basketball Centre, 291 George St, Wantirna South. Parking is free.
TICKETS: trybooking.com/BOOMERS