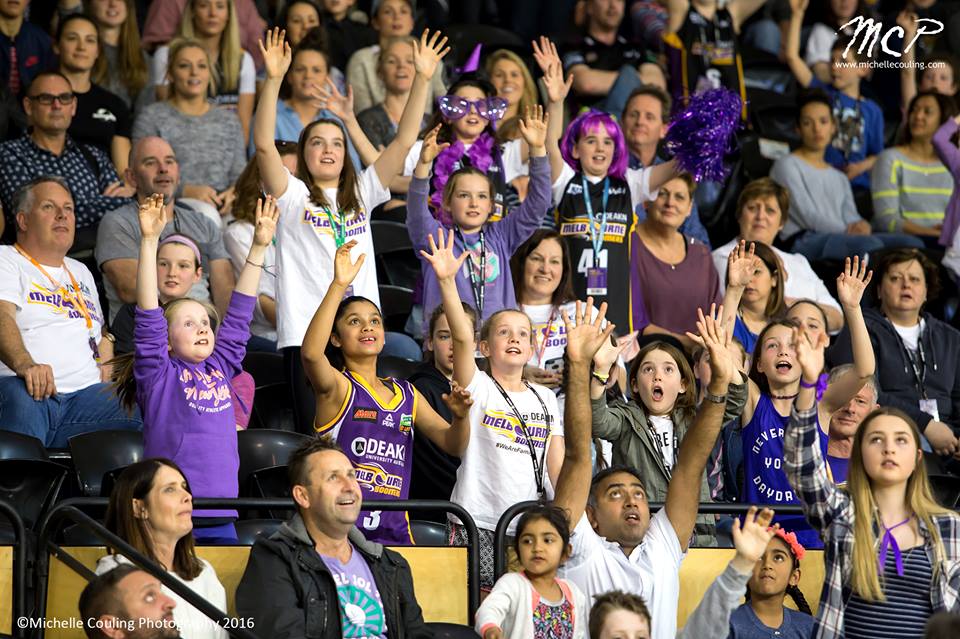 January 21, 2017 | Melbourne Boomers news
The Deakin Melbourne Boomers are calling on all basketball supporters to come together and make a statement at
AusDayEve 2
Êon Wednesday, January 25th. The second instalment of the big Melbourne derby between the Boomers and Dandenong Rangers on the eve of Australia Day is expected to set a new attendance record at the State Basketball Centre for a WNBL game, however Boomers GM Justin Nelson believes a big crowd will do far more than that. "We are seeing a rise in popularity for women's sport, which is a great thing, but for the WNBL and its 36-year history we need to make sure we continue to be a leader in the pathway we provide for young players and our ability to attract supporters to come and watch our top league," said Nelson. "I'm not sure how many fans other women's sports are attracting to games, but I do know that if we have a huge crowd next Wednesday night at the State Basketball Centre that it won't go unnoticed." Last year's first instalment of the Australia Day Eve showdown between the Boomers and Rangers attracted a crowd of 2,490. Not only was it a record WNBL crowd for the State Basketball Centre, it was also the biggest crowd of the WNBL season and the Boomers are keen to see that record beaten this season. "If you support girls and women in basketball you have to come out and support the WNBL on Wednesday night at AusDayEve 2. The statement a stadium filled with 3000 fans cheering for Melbourne and Dandenong is important for the league and for girls and women in basketball." "I know there's been plenty of talk over the last couple of years about the WNBL getting back on television, which we all want, but the fans need to show how passionate they are for that to happen and the easiest way to do that is to fill stadiums," urged Nelson. "You can't ignore numbers. ÊA capacity crowd on Wednesday night will send a very big statement that not only is the WNBL alive and well, but the supporters are passionate and connected to the league. That's the sort of thing that helps drive media coverage and sponsorship, which I'm sure everyone in basketball wants for the WNBL." Coupled with the support of Basketball Victoria, Wednesday night's game comes with the added incentive for all junior players who wear their own junior team/club colours to the game - free entry awaits them, along with the chance to proudly display who they play for. Ê
The promotion is a concept that is far greater than just another marketing angle according the Boomers GM. "The great thing about sport is you get the chance to represent, you belong to something that is special to you and for me there's no better feeling than wearing your team colours with pride. We want to reward that." "Every player in the WNBL started at a junior clubÊsomewhere. They all came from the grassroots level of our game and like the kids we will see in the stands on Wednesday night, our elite level players also represented their junior club with pride." "If the popularity and growth of girls and women in basketball is important to you, your family, your team, your club, here's your chance to make a statement. The Boomers and Rangers will entertain you for two hours on Wednesday night, but the impact a big crowd can make willÊbe far greater and wide-reaching than just this one game."
WHAT:
AusDayEve 2
WHEN:
Wednesday January 25
WHO:
Deakin Melbourne Boomers vs Dandenong Rangers
WHERE:
State Basketball Centre, Wantirna South (exit High Street Rd, Eastlink)
TIME:
7:30pm tip-off
PROMOTION:
All junior players (17yrs & under) will receive free entry if they wear their junior team/club colours (singlet, polo, hoodie, warm-up top)
TICKETS:
At the door or pre-purchase (advised) online
HERE
.