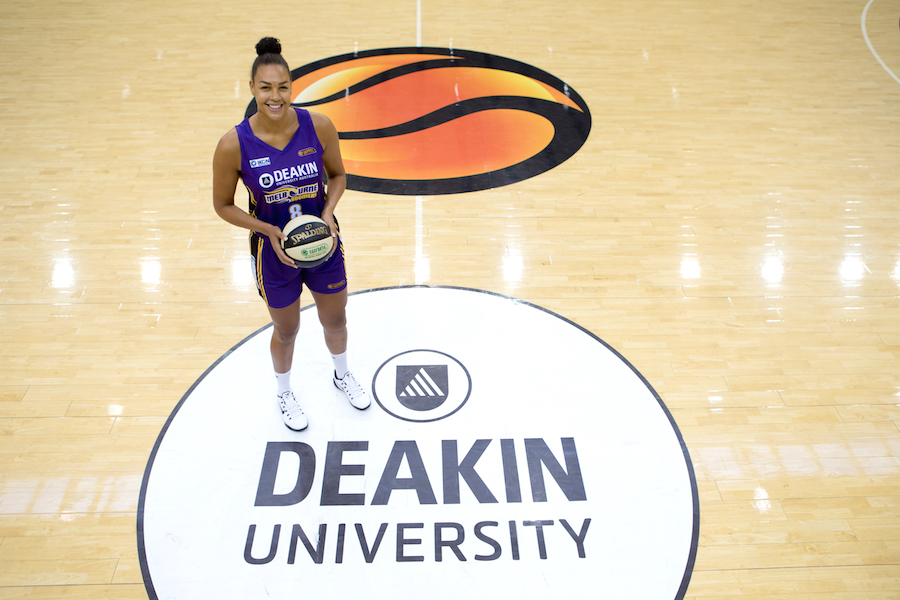 November 16, 2017 | Melbourne Boomers news
Deakin University has extended its successful naming rights partnership with the Melbourne Boomers for a further two years – until at least the end of the 2019-20 WNBL season.
The partnership is multi-faceted and includes Deakin students undertaking internships with the WNBL Club; active interest and participation from the University's Exercise Nutrition and Sport Science School.
Deakin University Vice-Chancellor Professor Jane den Hollander said both sport and education had the power to transform lives and unite communities, and in this case the support for women to keep active remain healthy and get educated for the jobs of the future.
"We are passionate about supporting women to achieve their goals, and that's why Deakin University is a part of Melbourne's WNBL team – a team which aligns strongly with our passion for inspiring women to achieve at the highest possible level in whatever they choose to do," Professor den Hollander said.
"Sport brings people together in a way few other activities can. You see this at every Deakin Melbourne Boomers game, where girls are lining up to meet the elite WNBL players who inspire them to achieve their ambitions.
"Deakin University's continued sponsorship of the Melbourne Boomers cements our commitment to supporting women's sport while giving the whole Deakin family a sensational WNBL team that we can follow with pride."
The Chair of the Melbourne Boomers, Tony Hallam, said the partnership, which started in 2015, was based on common values.
"The Melbourne Boomers and Deakin University are strong supporters of women in all walks of life, including sport – and we are thrilled to announce that our partnership will continue with Deakin continuing to be a major part of the Boomers' family," he said.
"Deakin University is also one of the world's best when it comes to sports faculties, including Sports Exercise, Nutrition and Science, along with Sports Management.
"Deakin's support has been a key underpinning for the turnaround we're driving both on and off the court. With crowd sizes growing, membership numbers on the rise and a growing presence in the community, the Deakin Melbourne Boomers are a club that not only has a proud heritage as Australia's longest-running elite women's sporting team but is going places.
"If you never been to the basketball, or if it's been a long time since you went, I'd encourage you to bring the family and see a match. It's an exciting, entertaining and affordable outing the entire family can enjoy."
Media inquiries:
Justin Nelson, Deakin Melbourne Boomers, 0413 453 257, justin@melbourneboomers.org.au
Bryan Allchin, Deakin University, 0428 597 468, bryan.allchin@deakin.edu.au