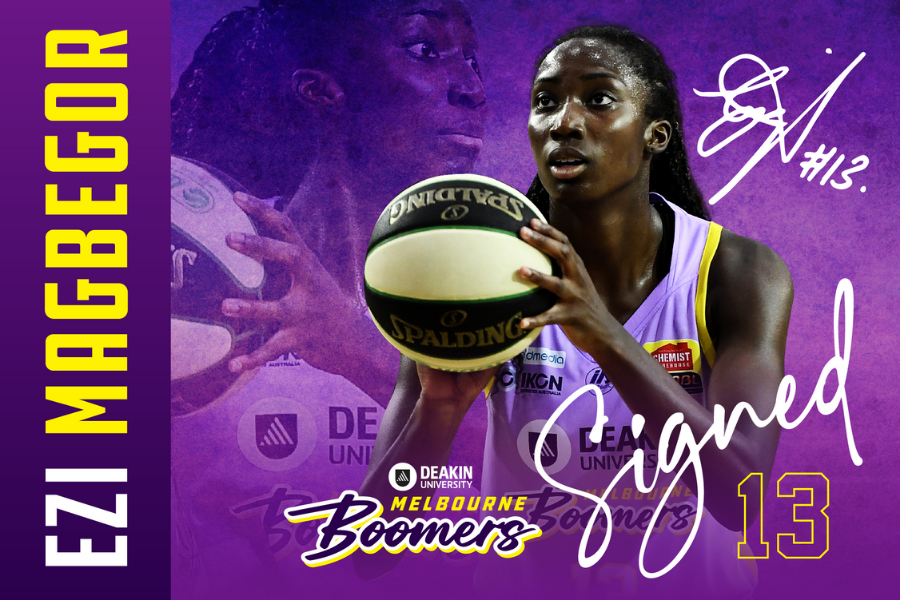 April 21, 2021 | Melbourne Boomers news
The Deakin Melbourne Boomers are thrilled to re-sign Ezi Magbegor for her fourth consecutive season.
The Boomers slim defeat in the WNBL Preliminary Finals keeps the sense of unfinished business burning for Magbegor who remains determined to help bring home the championship for the club.
"I'm looking forward to playing with the Boomers again. I think what it comes down to is unfinished business.
"I'm grateful for the opportunity to play with a great club, with the aim to win a championship next season."
2021 is set to be a Jam-packed year for Magbegor. She has just returned to the US in preparation to kick-off her second WNBA season – off the back of a rookie season that saw her team, Seattle Storm, walk away with the championship.
Magbegor impressed in her short time with the Storm last year. In 22 games she averaged 13.3 minutes on court, 6.5 points, a 56.9 field goal percentage, 2.5 rebounds, and 0.5 blocks.
She is also a strong prospect to be chosen for the final Australian Opals squad headed to compete in the Tokyo Olympics, after the games were postponed in 2020 due to COVID-19.
Magbegor admits that nothing will quite beat coming home to tie off the year with the Boomers family.
"I'll be looking forward to coming home to Melbourne after a potentially big year. It's always nice coming back home to play in front of family and friends."
The WNBL20 Hub season wrapped up with Magbegor listed in the All WNBL Second Team and finishing runner-up by one vote in the WNBL's Betty Watson Australian Youth Player of the Year Award, after taking it home the previous season. She also took fourth place in the WNBL's Suzy Batkovic Most Valuable Player Award.
As well as Magbegor looking forward to capping off the year back home, it is also exciting think there may be a possibility of playing in front of a home crowd once again.
"The hub was great, however, I think a lot of us have missed playing in front of our fans.
"They're the ones who provide energy day in and day out, so it will be nice for them to see us live again."
As one of the most exciting talents in women's basketball worldwide, she only keeps getting better and we can't wait to see Ezi back in purple!
Join us for the journey – Register your interest in a Boomers Membership for the 21/22 season now!