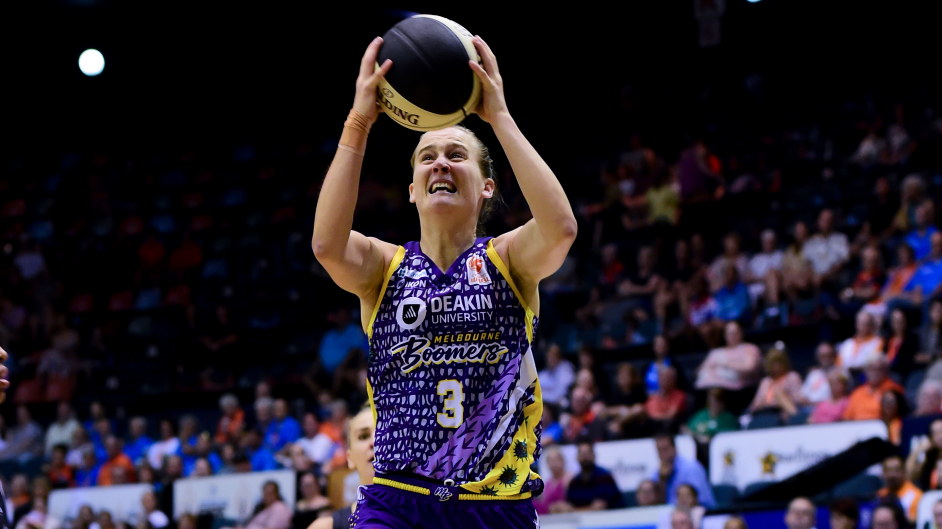 February 19, 2023 | Melbourne Boomers news

The Sydney Flames hosted the Deakin Melbourne Boomers at Quaycentre in a crucial matchup with top four and finals implications as the Cygnett WNBL heads towards the business end of the season. The Boomers came into the contest on the back of a loss, after given up top spot to the Townsville Fire last Wednesday in double overtime, and having won only one of their previous four games.
Both teams struggled offensively at the outset, however Cayla George broke the drought with two threes to give the Boomers an early lead. Mia Murray joined the three-point party and looked comfortable in her second game back from injury, and the Boomers kept the Flames at arm's length to lead after one – 21-13.
Tiffany Mitchell was characteristically aggressive to set the tone early in the second, however the Flames were able to put their offense into gear and make slight inroads into the lead. The Boomers withstood an awakened Sydney team through key plays by Mitchell, George, and recent addition, Taylor Ortelpp and eventually went into halftime up 12 – 42-30.
The Flames were aggressive to start the second half, getting to the free-throw line as well as stringing stops together on the defensive end. The lead was reduced to six, however Ortlepp responded with a deep three to wrestle back momentum. Mitchell crossed-over Kiera Rowe in the most disrespectful fashion to glide to the hoop for two, and it was clear that the Boomers were the back in control. They ended the third up 10 – 58-48.
The Boomers offense moved up a gear in the fourth, with George, Ortlepp, Wallace and Mitchell helping extend the lead to 20 midway through the final quarter. The Boomers were never tested, and benches were emptied as things got away from the Flames. Final score – 87-57.
George was Player of the Game with 22 points, 13 rebounds and 4 blocks. Mitchell led all scorers with 24 points, and also contributed 5 rebounds and 3 assists, while Kristy Wallace and Taylor Ortlepp each scored 11.
The Deakin Melbourne Boomers head home to Melbourne for their third game in seven days as they play the Southside Flyers next Wednesday, February 22 at 6.30pm at the State Basketball Centre. This is an away game, however we encourage all supporters to grab their tickets and cheer on the team in a game which will be pivotal in the bid to leap over the Flyers and claim a top two spot for the upcoming WNBL Finals. Tickets can be purchased here.