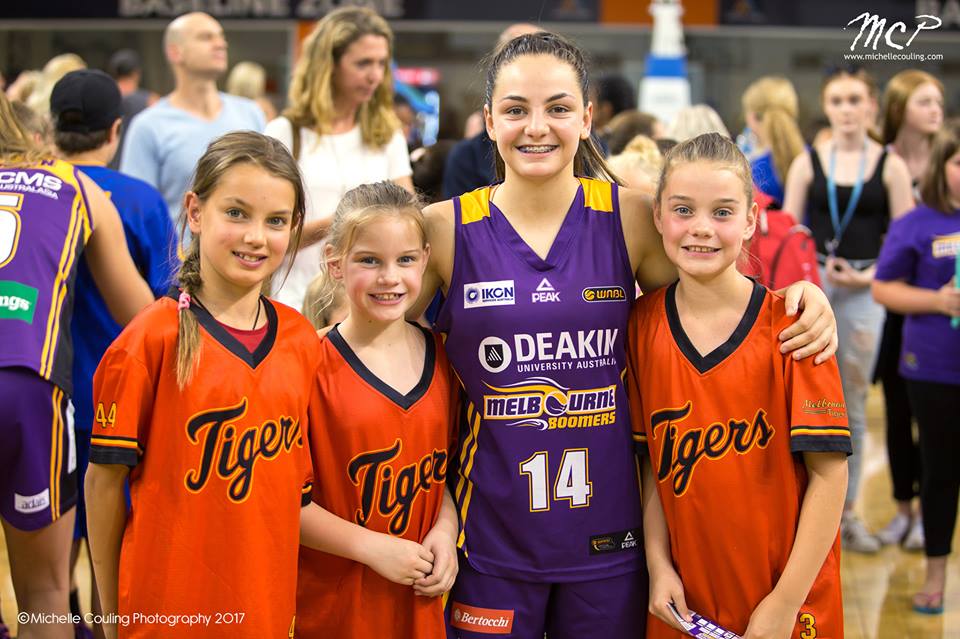 September 18, 2017 | Melbourne Boomers news
The Deakin Melbourne Boomers have taken the ground-breaking step of signing young dynamo Monique Conti for the next four years in an agreement that will see the reigning WNBL Rookie of the Year stay in Melbourne, complete her VCE and aspire to study at Deakin University.
The announcement coincides with the launch of 600X3MC – which stands for the 600 x 3-game membership passes that have just gone on sale, all of which feature Monique Conti on the membership card and have been personally signed by the young star.
Only 600 passes have been made available. A 3-game pass costs just $40 (adults) and $20 (juniors) and are available
HERE
.
Swamped with offers to attend college in the United States, the second-year player with the Boomers is excited to be staying home and is excited at the prospect of continuing her tertiary studies at home near her family, and if all goes to plan at Deakin University.
"I'm so thankful for this opportunity, I love the Boomers, the great partnership the club has with Deakin University has filled me with the drive and desire to aim for the very best tertiary education," said a beaming Conti.
"Playing for Melbourne's WNBL team is a dream come true and I can't wait to get back out there and keep building my basketball career. For the club to show the faith in me with a four-year contract is fantastic, I have a great opportunity now to stay at home and do what I love at my home club."
The strong partnership between the Boomers and Deakin University and the potential pathways that relationship create, is one that Club Chair Tony Hallam hopes will lead to more elite-level young players considering the option to stay at home, play in the WNBL and attend one of the world's very best universities.
"Monique is forging new ground and it's an opportunity we are really excited about," said Hallam, adding "Deakin is a world-class university and we are extremely proud that one of our talented young players will get to develop the skills she also needs to help her forge a successful career off the court."
Monique has also confirmed she will be nominating for the coming AFLW draft, where she is expected to be a top selection, and is thankful for the support being shown by the Boomers to help her be a dual athlete.
"I love both sports equally and to be given the chance to play both is a dream come true," said Monique, adding "Everyone at the Boomers has been really supportive to help me explore and follow my passion for both sports, but I can assure you that during the WNBL season it will be all basketball."
To celebrate Monique's 4-year commitment to Melbourne get one of the limited edition Monique Conti 3-Game Memberships, go to 
www.trybooking.com/BOOMERS