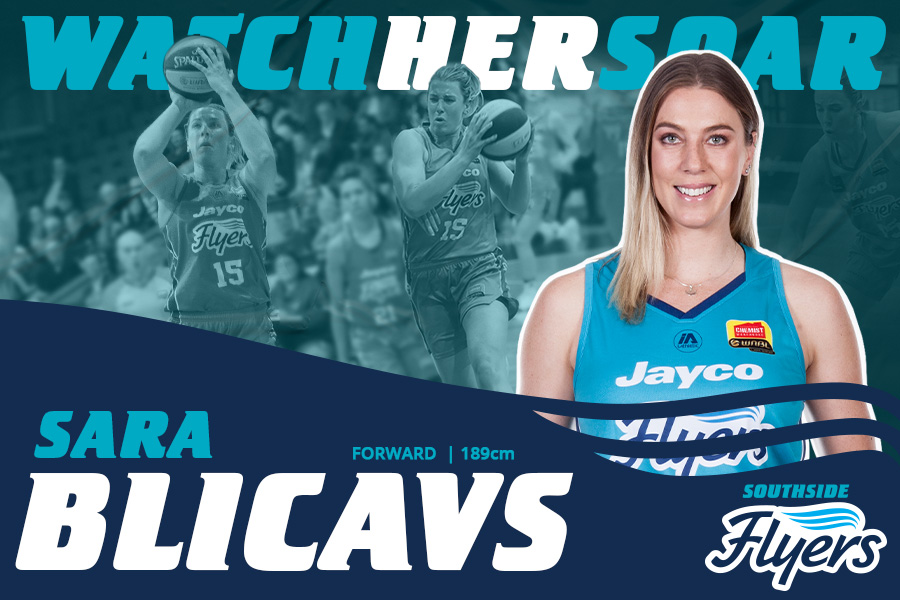 July 10, 2020 | Southside Flyers news
Sara Blicavs has recommitted to the Southside Flyers for the upcoming season and is looking forward to being part of the team that strives to go one better after a Grand Final appearance in the team's inaugural year.
"Signing with the Flyers again was a 'no-brainer'. The culture and the professionalism this team brings, mixed with the happiness, joy and fun I get from being involved with this wonderful club just made my decision so easy.
"I'm super excited to get things going with Southside and hopefully this year you'll see us go one better and win the championship. I was incredibly disappointed in the loss of the grand final, as we all were, which if anything, has only made us hungrier," Sara said.
Flyers Coach Cheryl Chambers is thrilled that Sara is staying with the Flyers and believes, even after a successful 2019/20 season, we are yet to see the best of her and she will become an even more important player for the team.
"Sara had a fantastic 2019/20 season, but we really think her best is still to come. She can knock the 3, shoots the pull up and is also improving her get to the rack options. I'm delighted to have her playing for the Flyers in the upcoming season. She's a vibrant, happy person as well as an extremely hard worker and a pleasure to coach," said Cheryl.
Sara made her Australian debut with the Under 17 team and then progressed to be part of the Australian Gems (Under 19) and made her debut for the Australian Opals in 2015. She made a successful return to the game following a serious knee injury in 2017 that kept her off the court for 13-months and is once again a member of the Opals squad preparing for the Tokyo Olympics.
"Personally, I feel as this off season has been an absolute blessing. My body and more importantly my knee feels stronger than it ever has. I feel incredibly ready to play and continue to get better and help the club in any way I can.
"Being a part of this team with one of my favourite coaches, Cheryl and also my favourite and most organised team manager Jenni, alongside the rest of the amazing support staff just makes for a great environment and like I said previously, a great culture," Sara said with of her trademark smiling face.
While her official basketball career started in Sunbury before joining the Melbourne Tigers junior program, her unofficial career started in the backyard playing against her two elder brothers from around five year of age. Prior to joining the Flyers Sara played with the Dandenong Rangers having previously played with the AIS and Bendigo where she was a member of their 2016 WNBL Championship team.