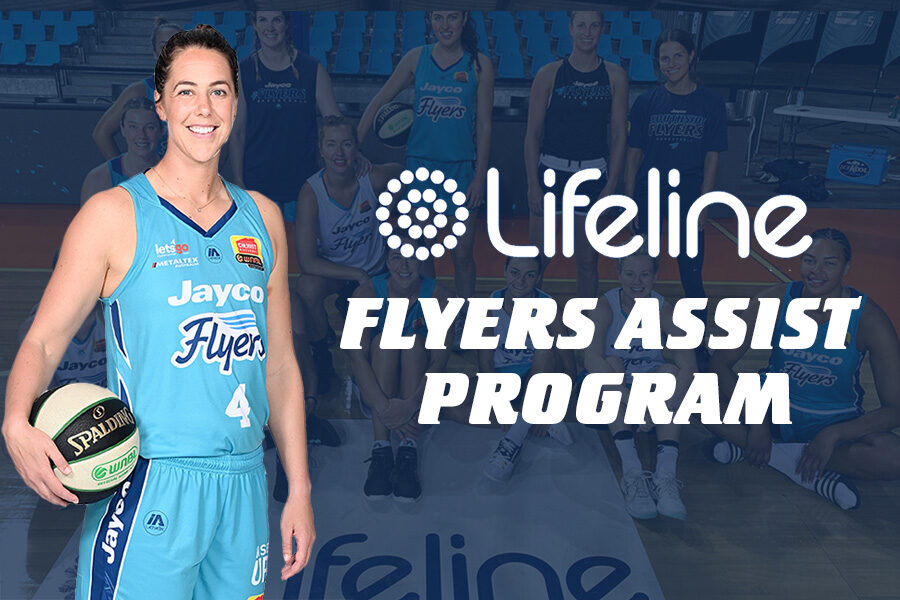 December 4, 2020 | Southside Flyers news
We know what an inspirational leader our captain Jenna O'Hea is on and off the court and she continues to be an inspiration for everyone in the community through her work with Lifeline.
An ambassador in the AIS Lifeline Community Custodians program, Jenna was the inspiration behind the creation of the Flyers Assist Program, bringing the Flyers family (players, officials, sponsors, members and supporters) together to raise funds for Lifeline Australia.
"All the players and staff in Queensland are donating money for every assist we make in the games against Lightning and the Boomers this week with Round 4 of the WNBL season being renamed the Lifeline Round," O'Hea said.
"We are inviting everyone to assist Lifeline and that is why we decide to make donations based on our assists and create the Flyers Assist Program."
While supporters have already started making donations direct to Lifeline Australia, our corporate partners Jayco, Let's Go Motorhomes, Mitchelton and Metaltex have become part of the Flyers Assist Program and each will match the player/official donations.
"It is fantastic to have our corporate partners join the program and work with Lifeline to make a real difference. I really want to thank them and also the players and other teams who have given their support through donations and publicity.
"I hope other organisations and individuals continue to donate," O'Hea added. 
To donate text "wnbl" to 0428 519 716 or Click Here 
For Sunday's game against the Boomers, both teams will wear the special Lifeline warm up shirts to further promote the partnership with Lifeline.
The Flyers Assist Program highlights the Flyers leadership in the WNBL's partnership with Lifeline Australia which commenced during the 2019/20 season and was the initiative and driven by O'Hea following the tragic loss of a family member.
Jenna on how it started:
Initially I couldn't talk about Uncle Fergus taking his own life. I then started doing some research and was really stunned to see how common it was, that eight people each day take their own lives across the country and more than 30 try to. 
I was really shocked by those numbers. And I thought that if I was shocked, others probably would be too. I felt like, with the platform that I had, I needed to do something to help others and share what I was going through. 
No surprise to those who know Jenna, she certainly did something about it
After the first Lifeline round, which was a little over a month after we lost 'Ferg', I became involved in a partnership between the Australian Institute of Sport and Lifeline, called the Community Custodians program, which has brought together 21 athletes, each of us sharing our own personal story and getting involved in community events around the country, supported by Lifeline.
Click Here for Jenna's own story on Athletes Voice on the AIS website
Lifeline encourages anyone who is struggling or who is caring for someone who is in emotional distress, to please reach out for support and remember that Lifeline is available 24 hours a day for a confidential chat, just call 13 11 14; or chat to a crisis supporter online at www.lifeline.org.au from 7pm to midnight every night (AEDT).
Find out how these services can help you, a friend or loved one here. If you can give, please donate to Lifeline by texting "wnbl" to 0428 519 716 and help Lifeline answer more lifesaving calls from Australians in their darkest moments.
Don't miss the Flyers in action on Sunday against the Boomers in Cairns in our official Lifeline Game live on ABC, Foxtel and Kayo at 3pm (Victorian Time).