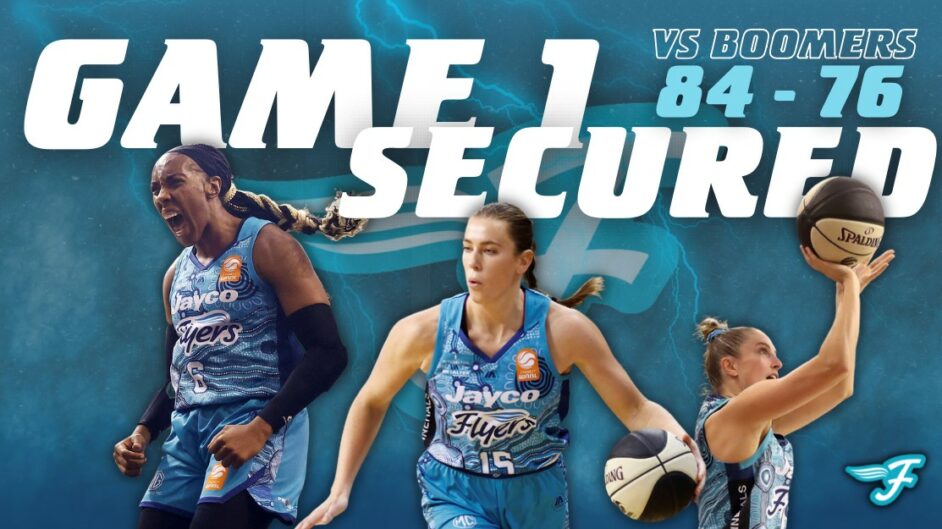 March 8, 2023 | Southside Flyers news
Flyers Take Out Game One – Job is Half Done
The Southside Flyers kicked off their finals campaign by claiming game one in the best-of-three semi-final series against the Melbourne Boomers.
The 84-76 win means they are still yet to lose to their cross-town rivals this season, putting them in good stead for a potential run into the finals, needing one more victory over the Boomers to advance.
The night was full of intensity, with some heavy collisions and a big chase of the Southside lead till the very end, which was ultimately buried by some clutch plays from almost every Flyer on the court.
Sarah Blicavs was the MVP of the game, leading from the front with 18 points, 6 rebounds and 4/8 shooting from deep – 3 of which coming at the most important times in the last quarter.
Other standouts were Bec Cole with 17 points and 2 steals, Kayla Thornton with 14 points and 7 rebounds, and Maddy Rocci did a bit of everything with 13 points, six rebounds and seven assists.
The Flyers' supreme defensive efforts forced Melbourne into committing 18 turnovers and kept Cayla George and Kristy Wallace to a combined total of 11 points on 4-of-22 shooting.
Although Tiffany Mitchell single-handedly kept the Boomers in the game with 36 points of her own, who will be on hard watch coming into the next game at the Melbourne Sports Centre.
"It's going to be a tough game, especially after our win tonight they're going to have something to lose, so they're going to give it their all but we're prepared for that. Hopefully we will be prepared for Tiff (Mitchell) as well but both teams will be ready and it'll be a great game," said Blicavs.
A win on Saturday will put the Flyers in their third Grand Final appearance in four years.