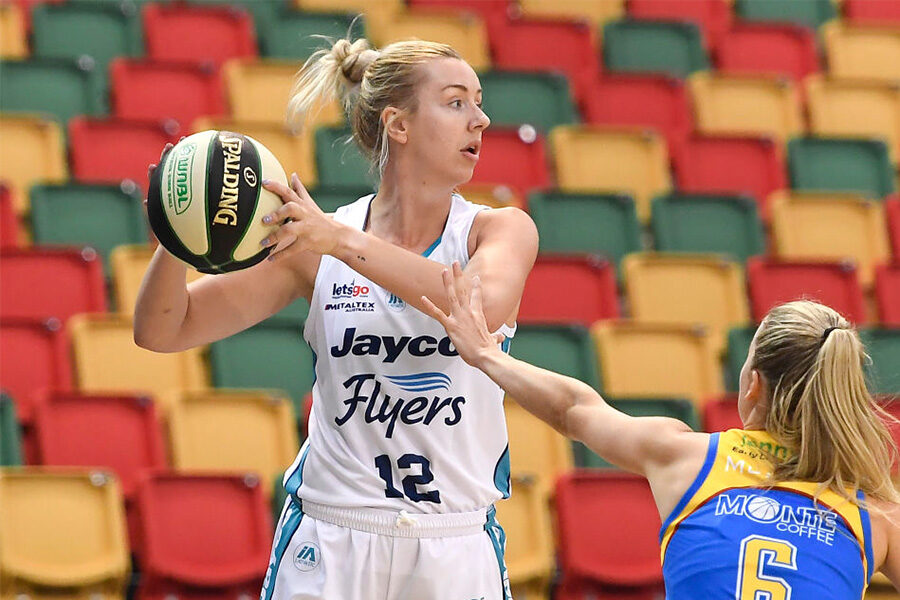 November 13, 2020 | Southside Flyers news
They were the talk of the 2020 Chemist Warehouse WNBL season coming into it and they lived up to the hype as Liz Cambage set the tone and received plenty of help in a dominant 102-60 first up win for the Jayco Southside Flyers against the Villawood Properties Bendigo Spirit.
The Flyers and Spirit opened their Chemist Warehouse WNBL campaigns on Thursday night at Townsville Stadium, and while Bendigo battled bravely led by Carley Ernst, the Flyers simply had too much firepower over the 40 minutes.
Southside set the tone early by going inside to returning superstar Cambage who established her inside presence, and then her teammates around her fed off that as the night went on.
Cambage scored seven points in the game's first four minutes and then Sara Blicavs got rolling as the Flyers blew the game open midway through the second term going on a 14-0 run.
That saw them lead the Spirit 56-30 by half-time on the back of hot shooting of 63 per cent from the field and going 7/11 from deep. Bendigo fought hard but only went 27 per cent overall and 2/13 from beyond the arc.
Bendigo didn't give up the fight through the second half and had their moments, but another 10-0 Flyers run just before three quarter-time blew it open again and they cruised to the 42-point win.
All 12 Southside players hit the floor and played at least four minutes with 11 of them scoring with Cambage imposing with 19 points and five rebounds in just 20 minutes.
The support around her was ominous too with Sara Blicavs brilliant with 17 points and 12 rebounds.
Bec Cole added 12 points and four assists, Leilani Mitchell 10 points and four assists, Monique Conti nine points, Rachel Jarry eight and Stephanie Blicavs eight to go with six boards and five assists.
The Flyers still shot 53 per cent and hit 13/25 from downtown to go with 26 assists on 38 made field goals to leave coach Cheryl Chambers understandably happy post-match.
"Because we haven't played for so long we really weren't sure what to expect, but we're rapt to get 100 points," Chambers said.
"There's still lots of areas we can get better in and we really don't know where we are going at the moment. We are trying to work together but we haven't really learnt to work together yet especially down the defensive end."
SUPPORT THE FLYERS AT HOME – BECOME A BEYOND THE COURT MEMBER TODAY
The Spirit were strongly led inside by Ernst who took up the challenge of battling Cambage. She finished with 16 points and seven rebounds while Jennie Rintala gave good minutes off the bench with seven points and four boards.
Tessa Lavey became the focus of Southside's defence but still had eight points and three rebounds for Bendigo with coach Tracy York already looking ahead to facing the Sydney Uni Flames on Saturday.
"I think in parts we did well but obviously Southside are a very talented roster," York said.
"They shot the ball well and in parts we didn't have enough ball pressure, but we did need to roll the minutes through our group. It's now about focusing on the next game.
"It was good that we didn't give up and we fought hard, and always had energy and effort which is what we want to do against other teams who we think we match up well with where we'll definitely need to have that."
Chris Pike is a freelance journalist for WNBL.com.au 
Jayco Southside Flyers – 102 (Cambage 19, Sara Blicavs 17, Cole 12)
Villawood Properties Bendigo Spirit – 60 (Ernst 16, Lavey 8, Rintala 7)
UPCOMING ROUND 1 GAMES
Southside Flyers vs. Melbourne Boomers
5:00PM AEST – Townsville Stadium
Live on ABC, Fox Sports & Kayo Sports!
Southside Flyers vs. Sydney Uni Flames
3:00PM AEST – Townsville Stadium
Live on ABC, Fox Sports & Kayo Sports!