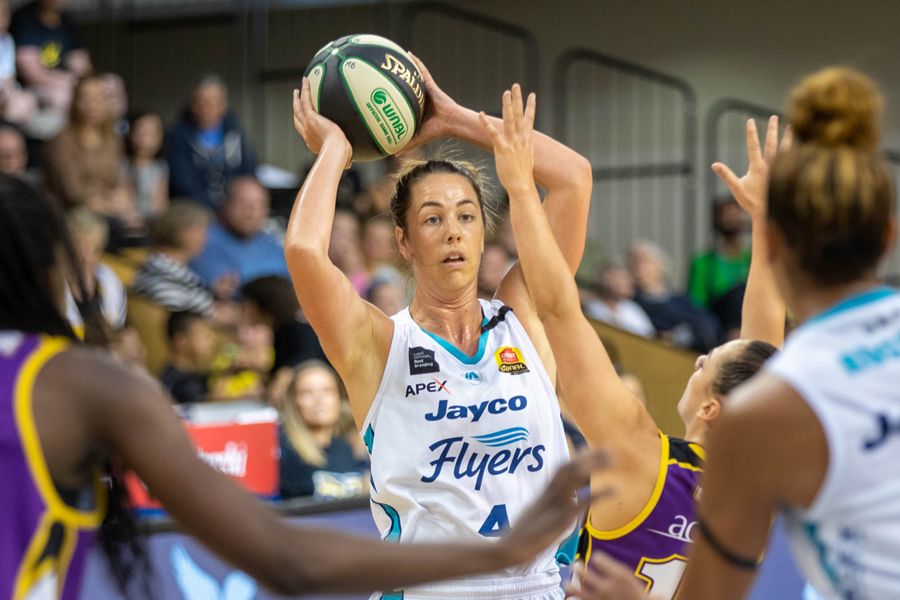 January 14, 2020 | Southside Flyers news
The Jayco Southside Flyers regret to announce that Flyers captain Jenna O'Hea has suffered a season-ending wrist injury, sustained during last Sunday's win over the Melbourne Boomers.
Post-injury scans on Monday revealed that O'Hea had broken her wrist during a fall on the court and will require surgery to fix, sidelining our captain for 10-12 weeks.
While this will bring her WNBL campaign to an end the surgery process will give the Opals captain enough time to heal and prepare for a 2020 Olympics campaign, with a medal firmly in the sights of both Jenna and the team.
Flyers Head Coach Cheryl Chambers stated that this news has shocked and saddened the team but will not stop their resolve to be the 2019-20 WNBL champions, and they will welcome Jenna's assistance on the training track and on the sidelines.
"We are really disappointed for Jenna – but we will rally around her with our full support", said Chambers.
These circumstances give an opportunity for some of our younger players to step up and help fill the void left by Jenna, something I know they are ready to do."
Jenna will also miss the upcoming Olympic qualifiers in France this February as she begins her surgery rehab, but we are happy to announce that she will be replaced by a teammate with Sara Blicavs set to join the Opals this February.
Sara has previously represented Australia at the 2017 & 2019 FIBA Asia Cup tournaments and we have no doubt that she will do Jenna proud in her place with our Opals.