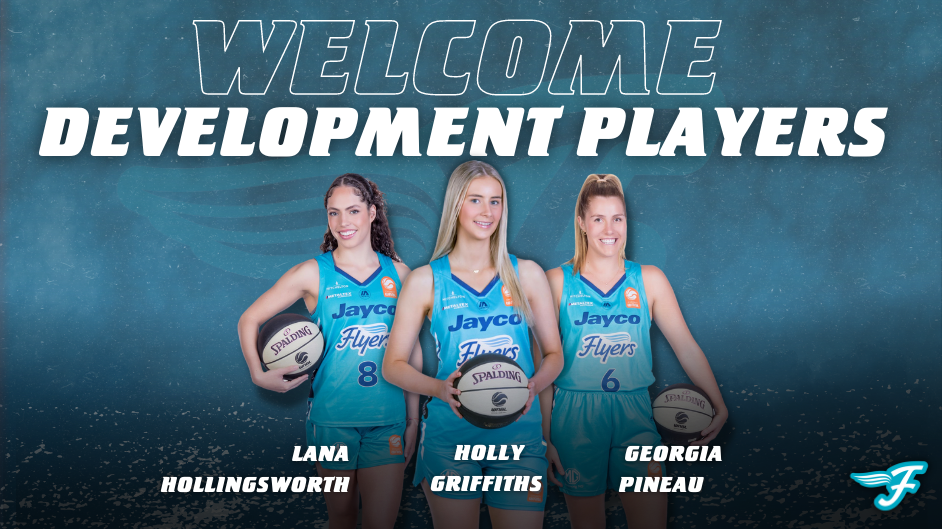 November 2, 2022 | Southside Flyers news
The Flyers Squad for the 2022/23 WNBL season was finalised with the confirmation of the three players on the Development list, bringing the Flyers squad to 13.
Georgia Pineau, Holly Griffiths and Lana Hollingsworth have joined the Flyers and will play important roles during the season, commencing on Saturday night in the Flyers opening game of the season at the State Basketball Centre.
Click here for tickets to the Flyers opening game. All tickets must be pre-purchased online.
While officially known in the WNBL as Development Players, Flyers coach Cheryl Chambers said all three are important members of the Flyers squad.
"It is an exciting for young players who have worked hard to get the opportunity to be part of the WNBL and we are very fortunate to welcome these young players to the Flyers squad for the upcoming season," Cheryl said.
Georgia Pineau is a 185cm forward and will wear number 5 for the Flyers. A Melbourne junior who spent four years playing with Boston College, she was with Bendigo Spirit last season but missed the entire WNBL season after injuring her knee in the final practice game prior to the season.
Holly Griffiths is a 190cm centre and at just 18- years of age is sure to be hanging on every word from the Flyers tall players. Holly played for Bulleen Boomers in the Big V Women's Competition this year and was a representative in the NBA Academy Virtual Program in 2021. She will wear number 12.
Lana Hollingsworth is a 178cm guard who will wear number 22 for the Flyers. Lana played junior basketball with Sandringham and Frankston and then played College basketball in the USA at Boston University and more recently at Santa Clara University in California.
Purchase Tickets to all Flyers Home Games Here

Don't miss the Flyers season opening game this Saturday night at the State Basketball Centre, tip-off at 7:00pm. Remember all tickets must be pre-purchased online for all Flyers home games this season.
Join Georgia, Holly and Lana at the Flyers. For the best seats at all nine home games at the State Basketball Centre become a Member and join the Flyers Family.