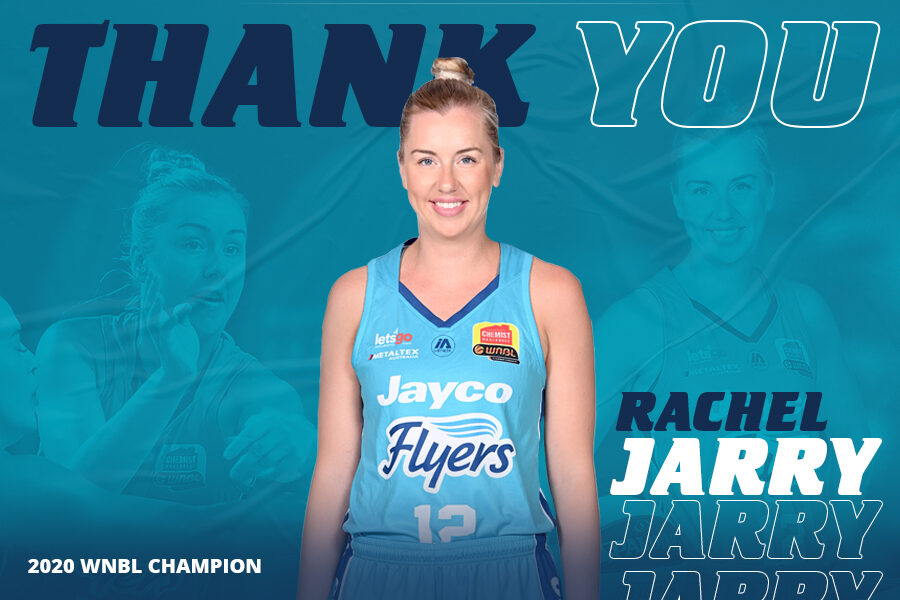 August 2, 2022 | Southside Flyers news
Thank you, Rachel Jarry
After a highly successful playing career, Southside Flyers Championship player, Rachel Jarry has announced her retirement from the WNBL.
Jarry returned to the WNBL in 2020, having last played in the 2018/19 season for Dandenong Rangers, and was an important member of the Flyers Championship team in her return to 'the big time'. The 2020 victory gave her a second WNBL Championship, after having enjoyed success with the Boomers in the 2010-11 season.
The two WNBL Championships are part of an impressive basketball resume which includes a bronze medal with the Opals on Olympic Games debut in 2012 and a WNBA championship with the Minnesota Lynx in 2013.
For Jarry, coming back to finish her elite career with the Flyers was a great way to complete her basketball career at the top level.
"Being able to finish off my WNBL Career with the Flyers was amazing. Playing with great people and under Cheryl Chambers is something I will cherish," Jarry said.
Flyers coach Cheryl Chambers said Jarry's basketball career is one she will be able to look back on with great pride.
"Rach has had a wonderful basketball career, with success all over the world, and she played such an important part in our 2020 Championship victory. She made a significant contribution and provided our team with experience and grunt. Importantly, with her great basketball IQ, she made the players around her better," Cheryl said.
In July 2020 Jarry graduated from Victoria Police Academy and was able to combine her work as a Police Officer with playing basketball at the elite level, making her return to the WNBL in late 2020 even more impressive.
"Her work ethic was incredible throughout her distinguished career and was certainly highlighted on her return to the WNBL, combining her role with Victoria Police and playing basketball. That alone required real commitment and set a fantastic example for the team and everyone at the Flyers," added Cheryl.
A WNBL All-Star in 2012, Rachel Jarry's basketball journey started as a 5-year-old in Altona in Melbourne's western suburbs and she was involved in the Dandenong junior program before a wonderful national and international career:
A WNBA Championship, two WNBL Championships, two Olympic Games – including a bronze medal with the Opals in 2012, a World Championship bronze medal with the Opals in 2014, and playing in France, as well as with the Boomers, Canberra, Dandenong, and of course Southside Flyers in the WNBL.
As for the highlight of her career, Jarry said playing for Australia was a huge thrill.
"The most memorable moments of my career were every time I got to play for Australia – something incredibly special."
And what she will miss the most?
"I will miss being in the locker room with my teammates having a laugh and being part of the team."
Thank you, Rachel Jarry and congratulations, on a wonderful career.
 A Southside Flyers Championship player.