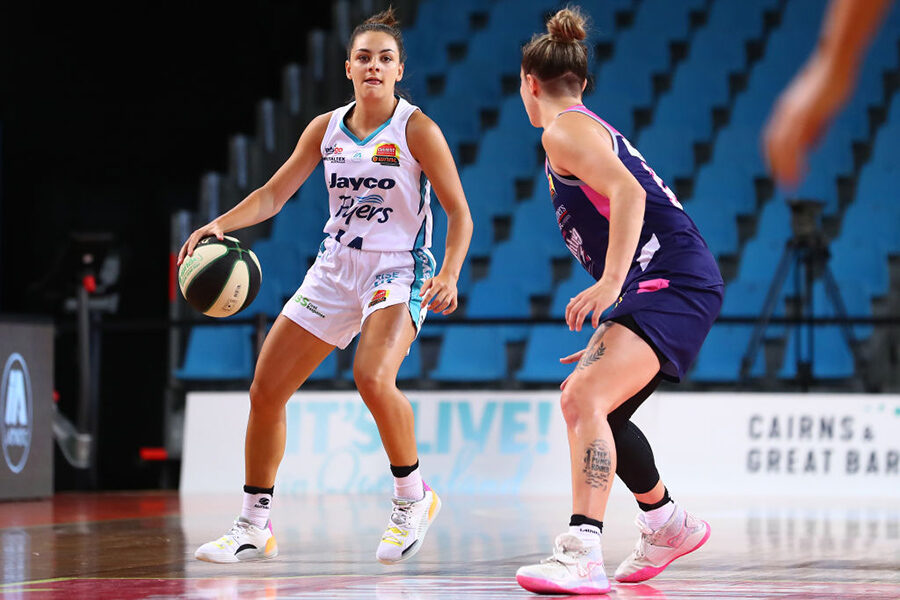 November 29, 2020 | Southside Flyers news
With Sara Blicavs setting the tone for another imposing all-round performance, the Jayco Southside Flyers made it three wins on the trot taking advantage of a shorthanded Adelaide Lightning to 110-79 win in Cairns on Sunday.
The Flyers had some questions to answer after losing by 23 points in the Grand Final rematch to the UC Capitals back on Monday. They have responded well to now beat Perth Lynx by 40 points, JCU Townsville Fire by 24 and the Lightning by 31 at Cairns Pop-Up Arena on Sunday.
Match Report via wnbl.com.au
Liz Cambage again produced a dominant and efficient performance with 25 points and seven rebounds on 10/13 shooting in just 18 minutes for Southside, but again their great strength was the all-round performance.
That was further highlighted with the Lightning minus key trio Ally Wilson, Taylor Ortlepp and Chelsea Brook after Saturday's win against Brydens Sydney Uni Flames. That took 25.4 points, 7.0 assists and 10.8 rebounds out of their line-up.
Steph Talbot came in as the league leading scorer and loomed as the player to stop for the Flyers.
That job was given to Sara Blicavs and not only did she limit Talbot to six points and seven assists on just six shots for Adelaide, but delivered 21 points, five rebounds and four assists herself while nailing 4/5 from three-point land.
All 12 Flyers players hit the court and scored as they went at 50 per cent shooting from the field, made 18/35 at 51 per cent from deep and had 32 assists and just six turnovers.
Jenna O'Hea also had 15 points on 5/10 from beyond the arc with Aimie Clydesdale adding 12 points and four assists, nailing all four of her three-point attempts. Leilani Mitchell led the Flyers well with another nine points and 10 assists.
Coach Cheryl Chambers likes the momentum Southside is now starting to build.
"We are just trying to build on our team work because we didn't have a pre-season or play together," she said.
"So the idea of us moving the ball and sharing the ball, and playing for each other is starting to move through the group."
The Lightning started well but just couldn't keep it going after quarter-time. There were still some impressive performances highlighted by Abi Wehrung's 21 points with 4/5 from three-point land.
"I just took what they gave me and obviously hit some shots. It's always nice when they go down but I was running the point today too with Ally out and we all just had to step up," Wehrung said.
"Ally is obviously huge for us and she brings a lot offensively and defensively. With Chelsea out too that's two of our starts, but people stepped up and we should have everyone back for next game. There's a lot we can take away from it."
Marena Whittle battled hard for 15 points and eight rebounds with Brooke Basham contributing 13 points and Louella Tomlinson nine points to go with five rebounds, four assists and four blocks.
Adelaide started on fire and Wehrung set the tone with two early threes for 10 first quarter points. The Lightning went a scorching 66 per cent from the field by quarter-time to put up 30 points and lead by three.
Southside quickly turned it around starting the second quarter with a 15-3 run with Cambage establishing her dominance with a couple of and-one plays. Late triples to Mitchell and Sara Blicavs saw the Flyers turn a three-point deficit into a 10-point lead at the half.
Cambage already had 21 and six by the break, and wasn't really needed during the second half as the Flyers' depth allowed them to continue to build on their advantage.
O'Hea drilled three triples in the opening four minutes of the second half, Clydesdale then added three in the space of four minutes. Monique Conti got a good roll on the buzzer as the lead grew to 22, and was 31 by the final buzzer on the back of 17-0 run late in the fourth from Southside.
Both teams do it all again against one another still in Cairns on Wednesday.
Chris Pike is a freelance contributor to WNBL.basketball
Jayco Southside Flyers – 110 (Cambage 25, Sara Blicavs 21, O'Hea 15)
Adelaide Lightning – 79 (Wehrung 21, Whittle 15, Basham 13)
NEXT SOUTHSIDE FLYERS GAME
Southside Flyers vs. Adelaide Lightning
Wednesday December 2nd – 7:00PM AEST – Cairns Pop-Up Arena
Live on Kayo Sports!