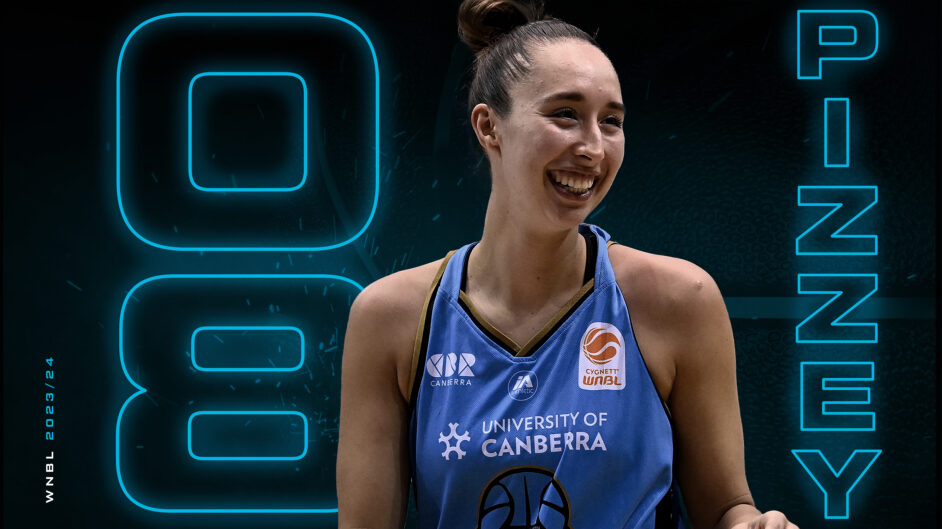 March 21, 2023 | UC Capitals news
The UC Capitals have secured a fifth signing for the 23/24 Cygnett WNBL season, with Bec Pizzey putting pen to paper.
The UC Capitals Defensive Player of the Year made 55 rebounds, 19 assists and 16 blocks in her 21 games, shining on and off the court.
"I had an amazing time last season all the girls were great," Pizzey told media.
"Vealy was great, I learned so much and it was such a great culture, so it was kind of an easy decision for me to want to come back."
Playing as a centre in place of an injured Alex Bunton for much of the season, the 24-year-old has used the experience to gain confidence on the court.
"This past season definitely made me believe in myself a lot more," she said.
"I have never learned so much in a season and had as much fun as we did last season considering our win loss record.
"I can't speak highly enough of how everybody acted and the culture we created."
Off the court and Pizzey was a clear favourite among her teammates but it was on the court where fans started to see some real magic between her and point guard Jade Melbourne.
"I love playing with all the girls, especially Jade, we play really well together. Her passes are amazing, and she finds me really well. I'm really excited to get back out on the court with her and hopefully she has a good year at Seattle and comes back and kills it."
Head Coach Kristen Veal said we're in for a bigger and better Pizzey in 23/24.
"I think we've started to see what we knew she was capable of shine through a little bit more," Vealy said
"She's a different style of athlete, she's hyper mobile, she's undersized. She needs to maximize that element of her athleticism and continue to diversify how she plays defense. She does that she'll continue to be really disruptive."
Pizzey will spend the WNBL off-season in Melbourne, playing with the Eltham Wildcats in NBL1 South.