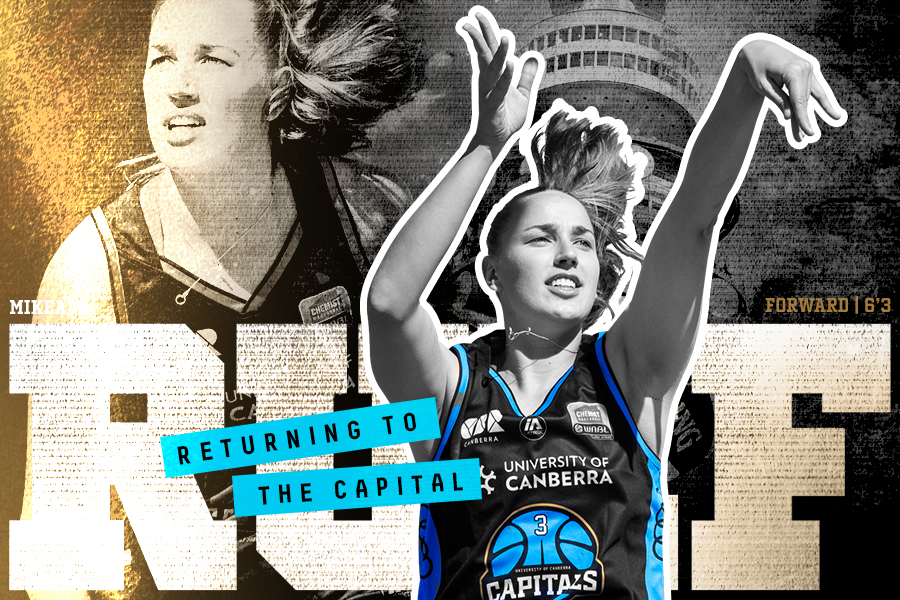 August 4, 2020 | UC Capitals news
Mikaela Ruef has re-signed with the UC Capitals for the next two seasons after securing permanent residency just last week.
Ruef, born in the US, played an integral part in the UC Capitals' behind-the-scenes work last season but was ineligible to play due to delays in her immigration paperwork. As the team neared finals while still bound to the sideline, Ruef left Canberra to play in the French league.
With the WNBL's no import ruling this season, Ruef's permanent residency was key to being able to play with the UC Capitals once again.
Ruef said that it felt amazing to receive the final stamp of approval from Australian officials.
"I was so happy, I nearly cried. After the disappointment of not being able to play with the Caps last season, when I got the email saying it had finally been approved, I was just so relieved that I didn't have to stress about it anymore.
"It's something I've wanted for a while, and now that it's finally complete, I feel like I can just relax and work on my game knowing there are no more barriers to me playing.
"One of the biggest reasons I wanted to re-sign with the Caps was because most of the team was coming back.
"Last year, I practiced with the girls every day, and I enjoyed playing with everyone and built some great chemistry with the girls in training that we never got to explore in games. So, when I had the chance to re-sign and play with most of the team from last year, I had to take it knowing that this time I was definitely going to get on the court in games," said Ruef.
Head Coach Paul Goriss is excited to welcome back Ruef knowing what she will contribute to the team.
"Ruef gives us depth in the front court with Tolo, Griffin and Froling. She is work horse, a terrific rebounder and will play hard every possession.
"Having Mikaela gives us flexibility with our line ups which is exciting for us as a team with how we want to play this season. She knows the WNBL very well and is a great student of the game. She is high energy and will fit in seamlessly with our team.
"Having her practice with us for most of the last season last year, she has an understanding of our system, style and has built chemistry with some of our returning players," said Goriss.
Ruef is about to play in the Queensland State League before returning to Canberra for pre-season, due to begin on October 5.
She is one of the last pieces of the puzzle for Goriss who is still waiting on the outcome of Gemma Potter's overseas college pursuit before he can close recruitment for the season.