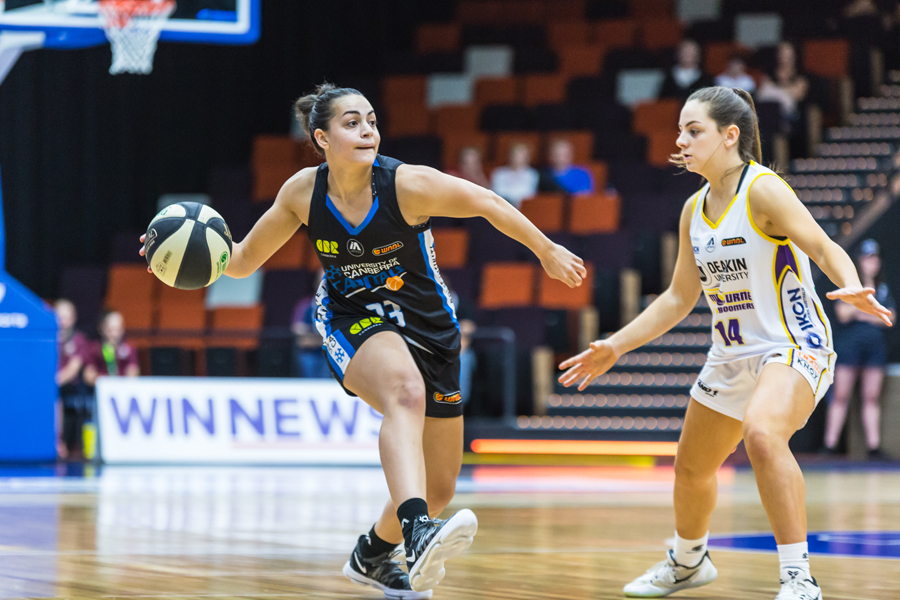 April 17, 2018 | UC Capitals news
Rising star Maddison Rocci will take the court again in 2018/19 with the University of Canberra Capitals, after signing a new one-year contract with the club.
Rocci joined the UC Capitals in 2017/18 and dazzled in her rookie WNBL season following two impressive seasons with Basketball Australia's Centre of Excellence (COE) program.
The 19-year-old was handed two starts at point guard last season and repaid the faith head coach Paul Goriss showed in her, leading the side to wins in both fixtures.
Rocci said she was ecstatic to re-sign with the UC Capitals and continue her progression in Canberra.
"Joining the University of Canberra Capitals last year was a dream come true and I'm so excited that dream will continue in 2018/19," Rocci said.
"Securing a new contract means the world to me," Rocci added. "I'm thrilled to have the chance to come back and continue working hard to help this club reach its potential.
"I feel like my game really developed last season and I want to continue growing as a player at the UC Capitals. We have a great team environment here and I can't wait to be part of that again."
Rocci moved from her home in Werribee to Canberra in 2016 to join the COE program at the Australian Institute of Sport (AIS).
The move ignited her career. In addition to securing her first WNBL contract, she represented Australia at the under-19 World Cup in Italy last year and added her name to the AIS' wall of honour. Rocci is currently in Melbourne having signed with Diamond Valley to contest the 2018 SEABL season.
Goriss, who had tracked Rocci's progress since coaching her briefly at the AIS, said she exceeded expectations during her debut season and was ready to take on an expanded role in 2018/19.
"We are thrilled to have Maddi back for another season," Goriss said. "She had a terrific debut season, finishing second in the Rookie of the Year votes to Eziyoda Magbegor.
"Maddi is a fearless competitor and brings speed to our team when she is on the floor. She attacks the basket aggressively and will continue to improve her game and grow as a leader on the court."
Rocci is the club's fifth signing ahead of the 2018/19 WNBL season and joins Leilani Mitchell, Kelsey Griffin, Keely Froling and Lauren Scherf who signed a two-year deal last season.
Photo credit: 5 foot Photography