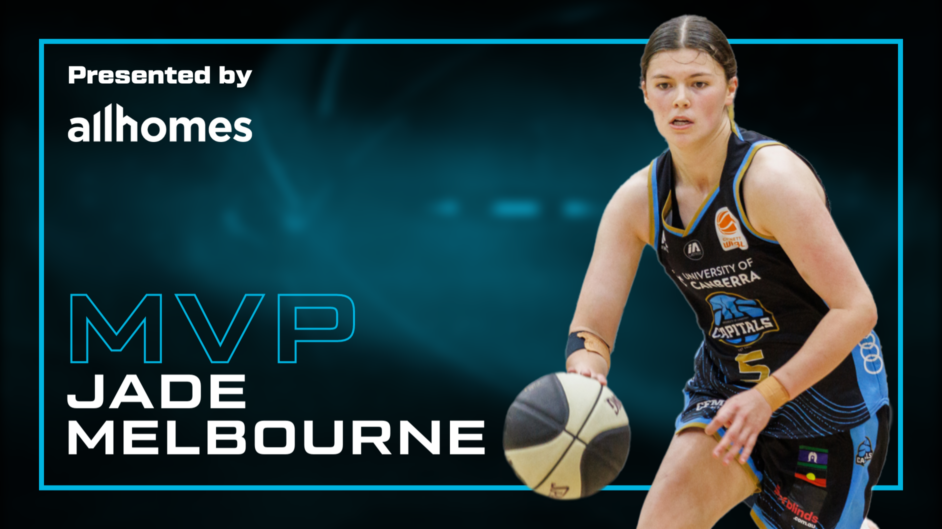 March 4, 2023 | UC Capitals news
The UC Capitals' Shaneice Swain, Nicole Munger, Bec Pizzey and Jade Melbourne have tonight taken out top honours at the UC Capitals End of Season Awards Night, presented by Allhomes.
20-year-old guard Jade Melbourne was named the club's Most Valuable Player, following a standout year with the club. Jade is being recognised for her significant positive impact on the team's performance this season.  She consistently demonstrated exceptional skill, leadership, integrity and have been a driving force behind the team's achievements.
Speaking to the accolades, Head Coach Kristen Veal said Jade was extremely deserving of the award.
"This is wonderfully deserved through consistent performances, amazing personal moments, leadership, growth, toughness and her innate, infectious joy," Veal said.
Nicole Munger's mid-season entry to the UC Capitals saw her slot into the team like she'd always been there all along. Voted by her peers, this award is one of the highest honours a play can receive, with Munger's teammates regarding her as one who provides leadership, dedication, commitment both on and off the court, and setting the benchmark with regard to work ethic, and team attitude and values.
Head Coach Kristen Veal was full of praise of Munger, describing the import as "a true teammate who shows up every day with kindness, gratitude, dedication, hard work and selflessness – exacts what the Player's player is all about."
Stepping up when her team needed her the most, Bec Pizzey was named the Kelly Abrams Best Defensive Player, making the league's top ten in average blocks, often standing up against bigger and far more experienced players, to calmly pull off clutch blocks and steals – all the while with a smile on her face.
"Week in, week out, Pizzey battled the leagues giants," Veal said. "She did it with discipline, assertiveness, mobility, smarts and a subtly large amount of grit. She is incredibly deserving of this accolade."
Shaneice Swain was identified as being a Capital on the Rise for a season which saw her stand up against the greatest in the league with confidence. With 261 points, 37 assists and 35 steals for the Caps as well as earning selection into the Opals extended squad, the 19-year-old is on track for huge things in 23/24.
"This season showed more than a glimpse of what's to come for Shaneice Swain," Veal said,
"She's had huge growth as a person and player through managing personal struggles, youthful nerves, all whilst taking it up to many of the league's best players."
A new award was created this season to recognise the person or group who made the most impact off the court, towards the team's success. This 6th player award was presented to the fans who packed out the National Convention Centre Canberra this season, turning up to every home game to cheer, support and meet the team.
Veal spoke of how valued the 6th player was to the UC Capitals, adding "the true testament of one's character is how one shows up through change, adversity and disappointment. Our 6th player showed up on time, every time, all the time. To our fans – thank you."