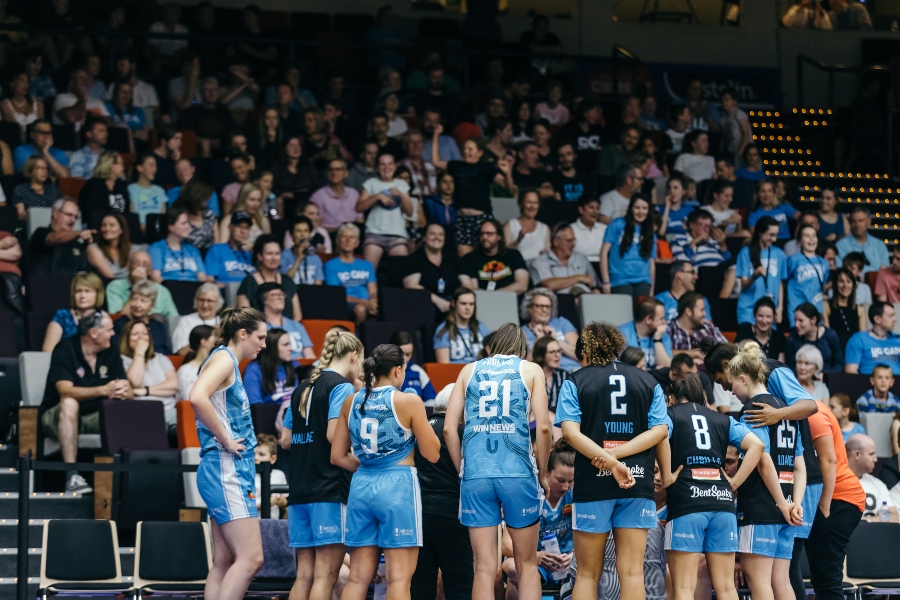 January 22, 2019 | UC Capitals news
The University of Canberra Capitals' home game attendance from the 2018/19 season has more than doubled from the previous season.
The UC Capitals have seen an average home game attendance of 1,200 for the 10 home games they hosted at the National Convention Centre Canberra and the AIS Arena, with more than 12,000 fans coming through the gates throughout the season. This is a major spike from the previous season and places the UC Capitals' attendance as third highest in the league.
With the possibility of hosting up to four finals games after winning the minor premiership, General Manager of the UC Capitals and former Championship Captain, Lucille Bailie, says that this result reflects the club's promise to deliver big results both on-court and in terms of a world-class product.
"The peak in this season's attendance echoes the Capital's glory days with a League leading 7 WNBL Championship titles.
This season, we went in with a fresh outlook and an unbelievably talented team which went from strength to strength. With the new approach came a flood of support from the Canberra community which has taken the UC Capitals to new heights," said Ms Bailie.
"We know Canberra loves a winning team and we know that come finals time, people come out to be part of a special experience. Winning Championships in front of 5,000 fans at the AIS Arena in 2002 and 2003 was something special – personally, for the team and for the community – and we're well down that path again now.
The UC Capitals semi-finals tickets are currently on sale and are expected to be in high demand as the club is in reach of their first championship since 2011.
With the finals home games to be played at the AIS Arena which holds a capacity close to 5,000, the UC Capitals are expecting bumper crowds for all games.
"We have witnessed unprecedented interest from Canberra and we don't doubt the community will turn up to support Canberra's most successful national sporting team," said Ms Bailie.
Chemist Warehouse WNBL Semi Final 1 – Game 1 – UC Capitals v Perth Lynx 7pm, Friday 25 Jan, AIS Arena. Tickets available here.