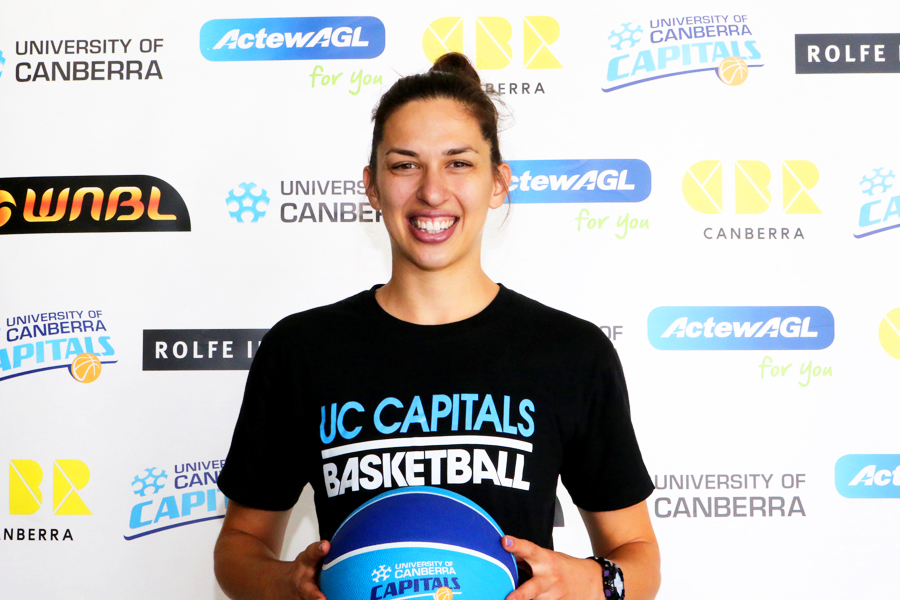 April 19, 2018 | UC Capitals news
The University of Canberra Capitals have secured a third Australian Opal for the 2018/19 WNBL season, luring Marianna Tolo back to the nation's capital.
Tolo has inked a one-year contract to link up with fellow Opals stars Leilani Mitchell and Kelsey Griffin.
It will be Tolo's sixth campaign with the club and she is poised to pick up where she left off when she co-captained the UC Capitals in 2016/17.
The 196cm centre averaged 18 points and eight rebounds a game that season on her way to being named the UC Capitals' most valuable player. She was also named the WNBL and club's defensive player of the year.
She is also a proud University of Canberra alumna graduating with a Bachelor of Sports Coaching and Exercise Science in 2012.
"I'm very excited to return to the UC Capitals for a sixth season," Tolo said. "There's no club I'd rather play for. It's shaping up to be a really good team and I can't wait to start preseason in September."
Tolo is currently undergoing rehabilitation at the Australian Institute of Sport after tearing her anterior cruciate ligament at an Opals training camp in Italy earlier this year, cutting short her season with Turkish club Abdullah Gul Universitesi.
Head coach Paul Goriss said he was ecstatic to have Tolo back at the UC Capitals.
"I cannot speak highly enough of Marianna," he said. "She is a fierce competitor and scorer and has a huge defensive presence. She is the complete package and an excellent addition to our line-up.
"She will complement Kelsey Griffin and form a formidable front court for the UC Capitals. She will also pair nicely with Leilani Mitchell; they both have a great understanding of each other's game after playing together with the Opals."
Tolo joins Mitchell, Griffin, Maddi Rocci, Keely Froling and Lauren Scherf on the UC Capitals 2018/19 roster.