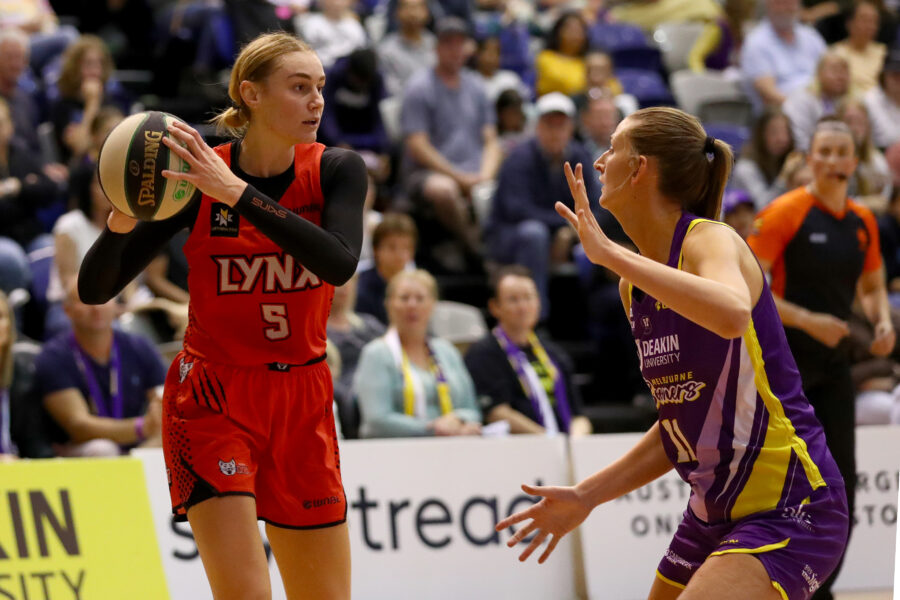 June 15, 2022 | WNBL news
There's been plenty of movement in the WNBL over the past fortnight, but perhaps the biggest news being that Perth Lynx Captain and Australian Opal, Darcee Garbin, will be sitting out the upcoming season as she heads over to Hungary to play in the EuroLeague.
While no doubt disappointing for the Lynx fans, Perth have been active in locking away their talented roster for the season ahead.
Exciting news for the WNBL and the Red Army is that local product and WNBA (LA Sparks) rookie, Amy Atwell, will be lacing up the boots on home soil this season. Atwell had a great college career at University of Hawaii and went pick #27 in this years WNBA draft.
Joining her is Lauren Scherf, who had an outstanding 21-22 season with the Lynx, averaging 11.8 points and 10.2 rebounds per game. Scherf is also part of the 3×3 Australian Squad for the upcoming Commonwealth Games.
The Lynx also formally announced that captain and all-round superstar Sami Whitcomb would be back. Whitcomb is currently plying her trade with the New York Liberty in the WNBA, and looks set for an important role with the Opals in the FIBA Women's World Cup in Sydney later this year.
More great news for Lynx fans was the resigning of young gun Alex Sharp. Sharp is also a member of the Australian 3×3 squad, and has proven to be a game-changer for Perth.
Rounding out the Lynx announcements in the last fortnight is the signing of power centre, Jessie Edwards, who is having a standout season in NBL1 West.
Along with Tayah Burrows, the Lynx now have six contracted athletes for the upcoming season.
Townsville Fire have landed a big signing in Mikaela Ruef, making the move up the coast from the UC Capitals. Ruef, now a permanent resident of Australia, had a strong 21-22 season, averaging 9.6 points and 8 rebounds per game, and will no doubt provide a strong presence in the paint for the Fire this season. Ruef joins Lauren Nicholson, Steph Reid, Courtney Woods, Zitina Aokuso and Lara  McSpadden on the Fire roster.
The UC Capitals did have a player announcement in the last fortnight, which was that of fan favourite, Alex Bunton. A former Opal, the 21-22 WNBL season was a comeback for Bunton after two years away from the game. Not that you'd know it, as her form was incredible, and no doubt the Caps are thrilled to have a player of her calibre back on board.
Some notable names still on the free agency list include Alannah Smith (Adelaide), Kristy Wallace (Southside), Maddie Garrick (Bendigo), Carley Ernst (Melbourne), Funda Nakkasoglu (Sydney), Nadeen Payne (Townsville), and Kelsey Griffin (Canberra). Where will these athletes land for the upcoming 22-23 WNBL season?
Resources