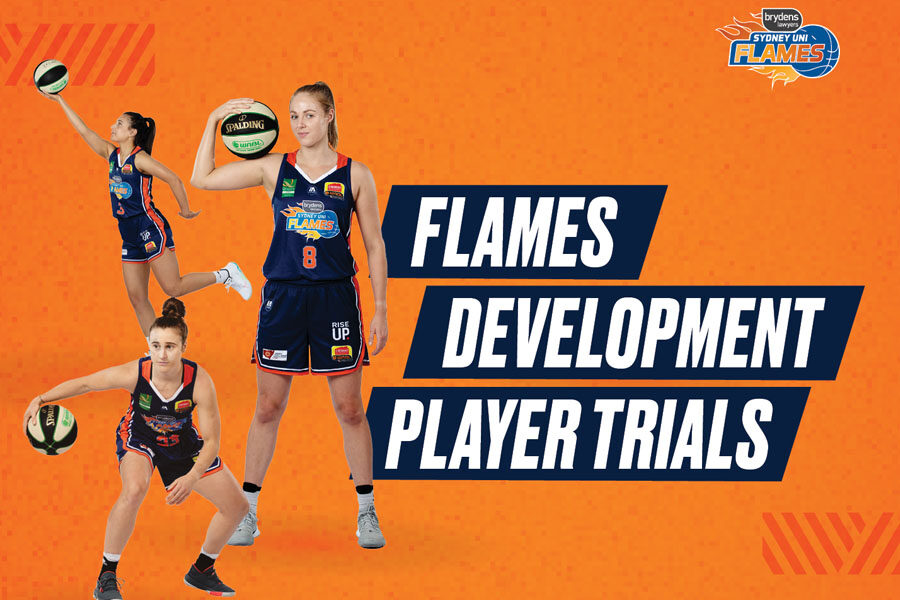 July 1, 2021 | Sydney Flames news
The Brydens Lawyers Sydney Uni Flames are thrilled to announce the launch of their open player trials for Development Player positions for the upcoming WNBL season.
Under the guidance of new Flames Head Coach Shane Heal, the trials will provide an opportunity for up-and-coming talent in NSW to be identified early on, with several lucky players earning a spot on the Flames roster.
Register for the open player trials, here. 
With an impressive coaching and playing resume behind him, it is Heal's work in discovering and developing elite female basketballers that he is most proud of, and he is looking forward to welcoming some new additions into the Flames group.
"We are excited about the Flames trials with a view to discover the best talent NSW has to offer in our search for Development Players. We are looking for hard working and talented players that have a passion for the game and a desire to get better" Heal said.
"I'm excited about the roster we have assembled for the upcoming season, and I value the roles development players play for us day-to-day. We want DP's that we believe have all the traits to become contracted players and stars of the future" he added.
Despite the year being impacted by COVID, the Flames have been active in the community and regional NSW with their 'Her Flame Burns Bright' (HFBB) program over recent months. The program which is supported by the NSW Government, features a junior clinic, a coaches' clinic, and leadership program.
HFBB has been a great opportunity not only for regional basketballers to learn some new skills from Australia's best female athletes, but also allows the Flames to foster positive and strong connections in the community and identify new young talent in areas they may not typically be able to visit during the season.
The Flames currently have nine contracted players announced for the upcoming WNBL season in Shyla Heal, Lauren Mansfield, Keely Frolling, Steph Watts, Leaonna Odom, Bec Pizzey, Kiera Rowe, Kalani Purcell and Funda Nakkasoglu with remaining player announcements still to come.
Open player trial details:
Venue: Brydens Stadium Sydney University
Date: Wednesday 21st July
Time: 5pm – 6:30pm
Link to registration: ClICK HERE
All players who wish to trial must register.