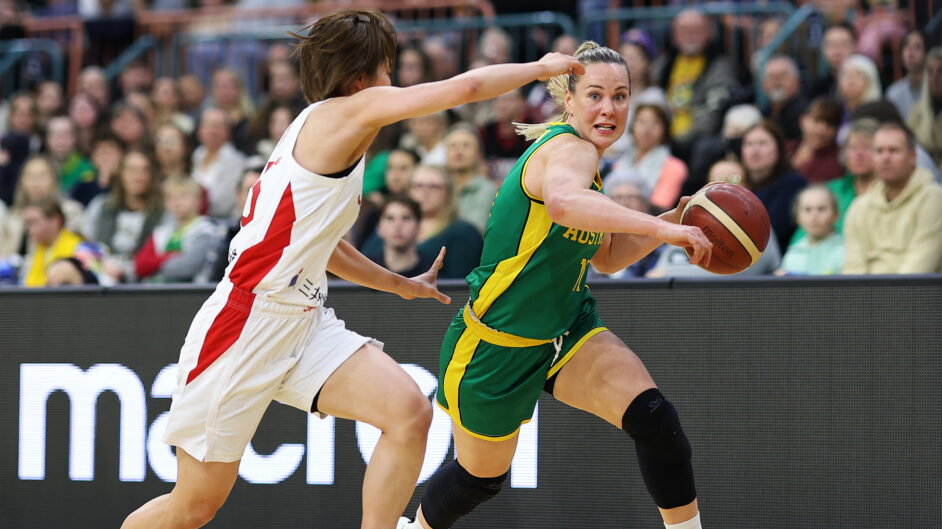 May 23, 2023 | Sydney Flames news
Basketball Australia is pleased to unveil its 19-strong Australian Opals extended squad, headlined by Flames trio Tess Madgen, Tiana Mangakahia and Keely Froling, ahead of the 2023 FIBA Women's Asia Cup.
Combining a mix of both youth and experience, six debutants have been named including young 18-year-old Adelaide guard, Isobel Borlase, 2023 WNBA draftee, Shaneice Swain, as well as Chloe Bibby, Amy Atwell, Nyadiew Puoch and Chantel Horvat. T
The extended squad also features four members of the 2022 FIBA Women's World Cup bronze medal-winning team including Madgen, Darcee Garbin, Anneli Maley and Marianna Tolo.
Three members of Townsville Fire's WBL23 championship team have also been selected including Stephanie Reid, Lauren Nicholson and Shyla Heal, in addition to Lauren Scherf, who also had a strong season for the Perth Lynx.
Fresh from European campaigns, Alice Kunek, who won a championship with Sopron Basket in Hungary and Horvat (Poland), who played alongside Alanna Smith, have been included in the squad.
Meanwhile, Alex Bunton returns to the Opals squad for the first time since the 2018 silver medal-winning World Cup campaign.
REGISTER YOUR WNBL24 MEMBERSHIP INTEREST NOW
The FIBA Women's Asia Cup will be hosted in Australia for the first time between June 26 – July 2, with the best teams across the Asia region converging in Sydney to compete at the Quaycentre.
The unfortunate clash of timings with the WNBA calendar means a number of experienced Opals were unavailable for selection in the extended squad.
These include Cayla George (Las Vegas Aces), Jade Melbourne (Seattle Storm), Sami Whitcomb (Seattle Storm), Bec Allen (Connecticut Sun), Ezi Magbegor (Seattle Storm), Kristy Wallace (Indiana Fever) and Alanna Smith (Chicago Sky), while Steph Talbot (LA Sparks) is recovering from an ACL injury.
With these players showcasing the depth and strength of Australian talent on the international stage, it opens up the opportunity for the next generation to step up and immerse themselves in the Opals' environment, benefitting their development.
The conflict with the WNBA season also means Opals' head coach, Sandy Brondello – who coaches the New York Liberty – has passed head coaching duties for the Asia Cup to Shannon Seebohm.
A highly touted coach, Seebohm steered the Townsville Fire to championship glory this season and collected his third WNBL Coach of the Year award.
He will be supported by a trio of Assistant Coaches including Cheryl Chambers, Kristi Harrower and Renae Garlepp.
Congrats to Flames trio @Tianamanga, @tessmadgen and @KeelyFroling for their selection in the extended Opals squad for the upcoming @FIBA Women's Asia Cup 💚💛#FlameOn https://t.co/soIkQ44v7n

— Sydney Flames (@TheSydneyFlames) May 23, 2023
Brondello congratulated the athletes who made the team and welcomed Seebohm into the head coach role.
"I'd like to congratulate all the players who have made the Asia Cup squad, it's an important event on our calendar as we work towards qualifying for the Olympics," Brondello said.
"There is some great young talent coming through who will debut in Sydney and I'm excited to see how they will perform on the international stage.
"I also welcome Shannon into the Head Coach position for this event, he's had an incredible season with Townsville Fire winning the WNBL championship and I know he is really motivated to put us on the podium.
"I wish the players and coaches all the very best and encourage all the fans to get down to the Quaycentre to watch international basketball at its best."
Seebohm said he was looking forward to the opportunity to take the reins of the Opals.
"I'm extremely honoured to be given the chance to coach the Opals, they are one of Australia's most loved and decorated sporting teams with such a rich history so it's an amazing opportunity," Seebohm said.
"It's also a privilege to host the Asia Cup in Australia for the first time and while it's going to be a wonderful event, it will also provide plenty of challenges for our group, with some really strong teams set to compete."
Sitting in Group B, the Opals will battle it out in the group phase against the Philippines on Monday's opening night, followed by Chinese Taipei on Tuesday evening and third-ranked Japan on Wednesday, before the final phase gets underway on Friday, June 30.
The decision to name a squad of 19 was made due to a number of players coming back from injury, ensuring all athletes have the best possible chance to recover and prove their fitness.
The final team of 12 will be named closer to the event.