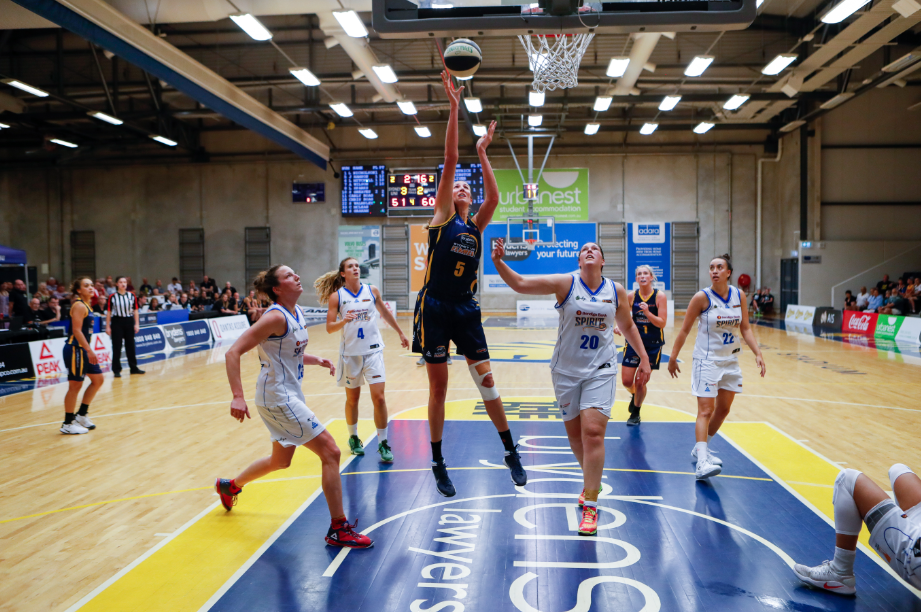 May 9, 2017 | Sydney Flames news
By Lachy France
The reconvention of the Brydens Sydney Uni Flames 2016/17 WNBL championship winning side continues with today's announcement that the club has re-signed import centre Jennifer Hamson for a second season. Hamson's signing brings the number of returning players from last season to seven, with Hamson joining Belinda Snell and Alex Wilson as returning members of the starting lineup.
Coming into the league with a swag of college awards and WNBA experience with the Los Angeles Sparks, Hamson added a point of difference to the Flames as her height of 201cm made her the tallest player in the WNBL. Her background as a volleyball player also clearly added to her basketball skillset and this combination allowed her to average over two blocks per game throughout the season.
As well as being an expert shot blocker, Hamson was also outstanding in the more conventional facets of basketball. The American shot 50% from the field for the season to average 11.0 points per game, and also collected 8.3 rebounds per contest to impose herself as a force at both ends during the Flames' march to the championship. Hamson's improvement throughout the campaign was marked as her touch around the rim became more and more reliable as the season progressed. Hamson's performances this season also garnered her an invitation to training camp with the WNBA's Connecticut Sun earlier this month.
Clearly her time in Australia had a positive effect, with Hamson quick to put pen to paper on a new deal. "I'm excited to come back to Sydney to a team I know and love," Hamson remarked. "Australia has a talented league and I'm excited to compete in it again."
It is certainly gratifying for all involved with both the Sydney Uni Flames program and the WNBL to see a player so enamoured with both the club and the league as both seek to grow in the wake of the Flames' championship and the league's announcement of a new 3 year television deal with Fox Sports.
Flames coach Cheryl Chambers has certainly recognised how important Hamson's impact was to the team's success last year, and is grateful to see the American return to the club. "We are rapt to have Jen back. She was an intricate part of our success last year," Chambers explained.
"She gives us a big presence inside the paint at both ends."
In a league that has seen the return of such big-name post players as Liz Cambage, Louella Tomlinson, and Cayla George in recent weeks, Hamson's re-signing will ensure that the Flames remain amongst the teams with a strong presence around the basket for the 2017/18 season. With much of the core of last season's side now slated to return to the club, the pieces are falling into place for the Flames' tilt at defending their championship.