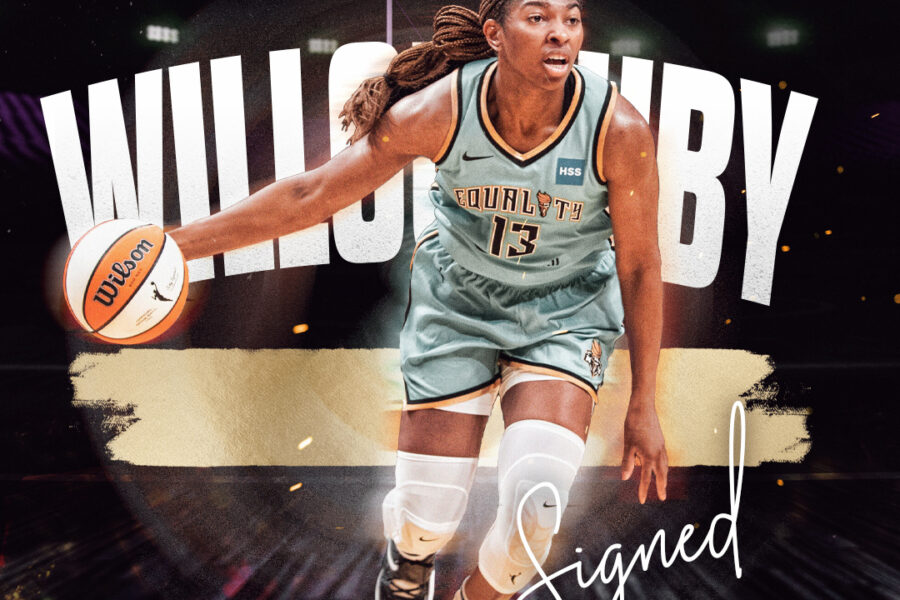 July 1, 2022 | Sydney Flames news
One of the WNBA's rising stars has signed to play with the Sydney Flames for the 2022-23 WNBL season. 
New York Liberty wing Jocelyn Willoughby, who was pick 10 in the 2020 WNBA Draft, will be a critical piece of the young, talented and exciting Flames outfit. 
"I've always heard great things about the WNBL … namely that it's a highly competitive league, a great place to develop between WNBA seasons, and that Australia is a great place to live," the 24-year-old said from the US this week. 
"I'm excited to experience it for myself.  
"Another appealing aspect is the high level of support that I understand the team's front office has invested in the Flames. I believe this is important for success and I am up for the challenge of building a championship-calibre team with young talent." 
Willoughby was a star with the University of Virginia Cavaliers, starting each of her 127 games, before being drafted by the Liberty. 
Regarded as a high IQ player, Willoughby said Flames fans can "expect consistent effort and high energy from me on both ends of the floor". 
"I take great pride in stopping my opponents and believe that my defensive aggressiveness will be a strength and asset for the Flames," the 183 cm player said. 
"Offensively, I am a big guard with a physical presence. My size and versatility will be a strength, as I am good at getting downhill to score and/or create for others.  I am also very confident in stretching the floor and shooting the three." 
In her rookie WNBA season with the Liberty in 2020, Willoughby started in five of her 22 games and led the Liberty with a three-point percentage of 40 per cent. 
In 2021, she suffered a torn left Achilles during a pre-season scrimmage and didn't play at all that season. Willoughby has averaged over 19 minutes per game in four games with the Liberty this season, including a season-high of 13 points, but has been sidelined with a quad injury. 
Flames coach Shane Heal said he was excited at the opportunity of coaching Willoughby. 
"She is an incredible talent and dominated the college scene," he said. 
"Jocelyn brings a great allround game and her athleticism will fit our style of play in both offence and defence.  
"Her ability to hit the three in the WNBA has been elite. She will be really good fit between our small guards and mobile bigs.  
"I think Jocelyn is ready to show she is one of the best imports in the WNBL after knocking back European offers to play in Sydney. Flames fans will be excited when they see her hit the court." 
Aside from her on court talents, Jocelyn launched her own WNBA book club Read What You Sow which has a focus on educating fans on inequality and discrimination. 
Willoughby joins young US big Hannah Sjerven as the import combination for the WNBL season. 
They join Opals stars Shyla Heal and Keely Froling, Defensive Player of the Year Kalani Purcell, Kiera Rowe, and new signings Tiana Mangakahia and Emma Clarke on the Flames roster. 
Pre-season for the WNBL starts in late September with the season proper to start on November 3.