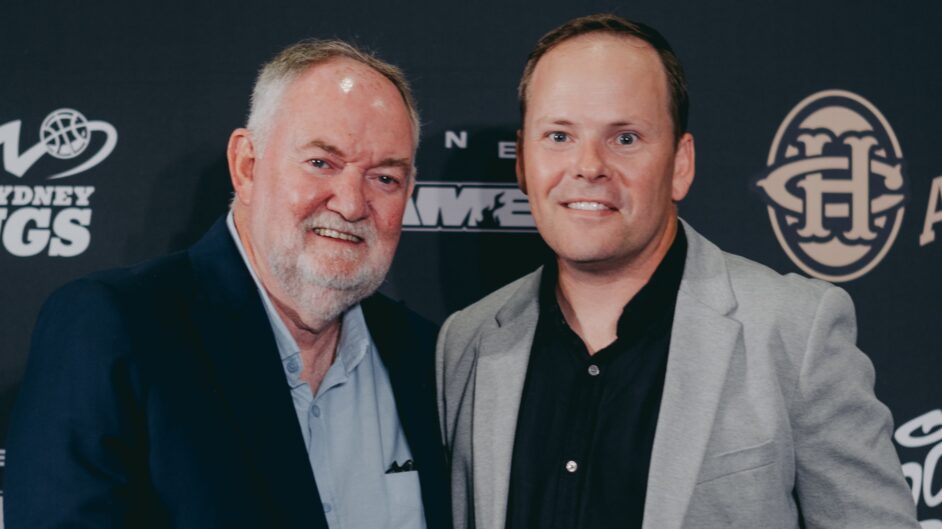 March 9, 2023 | Sydney Flames news
To make any organisation successful, there are countless individuals that work hard behind the scenes to make it all possible.
Hoops Capital is no different.
And one of those tirelessly working people Chris Ohlback was recently recognised at the 2022-23 Hoops Capital awards evening, by taking out the prestigious Laurie Watterson Club Person of the Year.
"To be honest, I was shocked and lost for words to be named as the recipient of this prestigious award," Ohlback said.
"There are so many people that give so much to the Hoops Capital organisation and who make valuable contributions, so to be chosen as the Laurie Watterson Club Person of the Year was a surprise, but I was extremely honoured.
READ MORE: SLAM DUNK FOR HOOPS CAPITAL WITH NEW CENTRE OF EXCELLENCE
"I would have never thought that a young fella from Goulburn would ever have had a chance to be involved with such an organization, let alone receive such an honour.
"[Making it more special was the fact] I had the pleasure of working with Laurie, when I was the operations manager of the Kings (from 2010-12) and know just what an integral role he played in the Kings organisation over multiple decades and the genuine love and passion that he had – so to receive the award from such an icon of the Sydney Kings was very, very special."
Ohlback was particularly moved to receive the award from his mentor Laurie on the night at The Waterview.
"The award means a great deal to me on the back of what it stands for, who it was named after and the fact that there are a number of people who make valued contributions to the Hoops Capital organisation," he said.
"Laurie Watterson was dedicated, passionate, loyal, hard-working and selfless in his approach – all qualities that I try to live by, so to be acknowledged as the Club Person of the Year is very humbling and something that I will treasure for a very long time."
Ohlback first joined the purple and gold back in 2010 when they reentered the NBL, under the direction of Sydney Kings legend, Bob Turner.
"Both Bob Turner and Ian 'Moose' Robilliard took a chance on me being the operations manager and I am extremely grateful for the belief they had in me and the opportunity that they gave me at that time in my sports administration career," he said,
" At the end of 2012, I had a young family and decided that I needed to be closer to home in Terrigal and stepped down from my full-time role.
"Luckily enough, the Kings organisation offered me a contractual role as their game day operations manager, which I accepted and have been fortunate enough to remain in that role – while juggling my other working commitments and family life.
"I love being involved with the Hoops Capital family and appreciate the support that I have had from all of Kings and Flames ownership, management, staff, volunteers and my wife Alie and children Zali and Levi – I never take this role and my involvement for granted."
Check out the Hoops Capital awards night recap video above, via our Sydney Flames' YouTube channel. While you're there, be sure to hit subscribe, to ensure you never miss out on any of our great videos.
Having been a part of the organisation for more than a decade now, he has seen first-hand its growth and how it has established itself as the top hoops brand in the country.
"The club has grown significantly since I started back in 2010 and has undergone significant change," said Ohlback, who acknowledges everyone within the club from the ownership through to the volunteers wants the organization to be successful, so everyone is committed to always giving their best, no matter what their role.
"In 2010, the Kings were starting from scratch – no court, no backboards, no scoreboard, no training facility, no office space and it was tough going for a number of years, but it was about rebuilding the Sydney Kings.
"Over time, even though things have changed – venues, owners, staff, players – everyone has played a part in getting the Kings back to where they are today and now with the involvement of the current ownership group, their visionary and willingness to invest is ensuring that the future is very bright for both the Sydney Kings and Sydney Flames, which is exciting for the sport of basketball as a whole.
"The Kings and Flames organisations are now trenched in history and constantly striving to be the best and be the industry leaders – their brands are some of the most recognisable across the Australian sporting landscape and because of that they have some of the best administrators, players, coaches, officials, volunteers and entertainers that I am lucky enough to be able to work with and learn from all of the time.
"[Combined with] a number of new initiatives by the club, such as the Hoops Academy and a new purpose-built training facility, is reflective of the state of the NBL and WNBL right now and this can only enhance the status of the Kings and Flames not just nationally but internationally."
The Flames' fellow Hoops Capital club, the Kings play the New Zealand Breakers on Friday, in game three of their NBL23 Championship Grand Final Series at Qudos Bank Arena from 7.15pm AEDT – with tickets still available here.