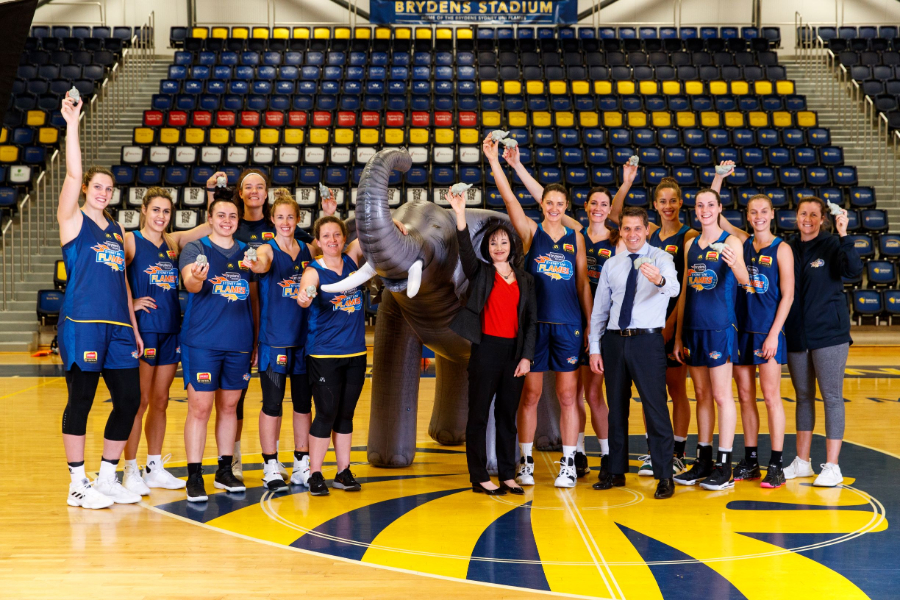 October 3, 2019 | Sydney Flames news
To mark the beginning of Mental Health Month (1 October 2019), Wesley Hospital teamed up with the Brydens Sydney Uni Flames to drive awareness of the demands professional sport can have on the mental health of elite athletes.
Wesley Hospital is a Wesley Mission-run mental health hospital network in Sydney's Ashfield and Kogarah that has provided world-class treatment to Australians suffering from mental health conditions for more than 60 years.
On 1 October, Wesley Hospital brought 'Wesley' – a giant inflatable elephant – to Brydens Staidum and were joined by NSW Shadow Minister for Health Ryan Park MP, Wesley Hospital's Director of Nursing Sara Kenna, former Opals star, two-time Olympian and Brydens Sydney Uni Flames General Manager Karen Dalton and Head Coach Katrina Hibbert, with the Brydens Sydney Uni Flames shooting hoops and donning their colours.
This was the third consecutive year Wesley Hospital has brought Wesley the Elephant – and gifted Wesley 'stress elephants' – to the public, to raise awareness of, and facilitate open discussions about, the importance of good mental health among elite sportspeople.
The figures of professional sportspeople experiencing common mental health disorders (CMDs) – such as stress, anxiety and depression – are alarming: up to 45 per cent of athletes experience these conditions, including depressive episodes.[1] Studies show that many also have concerns about their mental or emotional wellbeing, after retiring.[2]
Alice Kunek, 28, recently returned from a nine-month stint of playing basketball in Europe to join the Brydens Sydney Uni Flames. Having played more than 200 WNBL games and winning a gold medal with the Opals at the 2018 Commonwealth Games, she knows first-hand the toll professional sport can have on your psyche, as well as the feelings of isolation that often go with it. Alice says Wesley Hospital's Elephant in the Room initiative was an important way of facilitating open discussions around mental health for professional women in sport.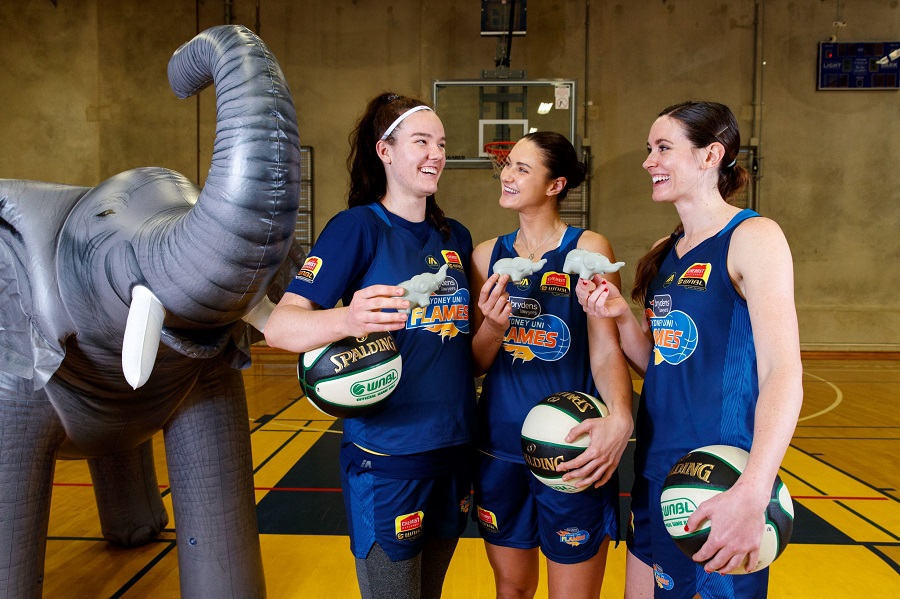 "Being away from home for an extended period was tough on my game – both physically and mentally. Maintaining a positive mindset can often be a struggle when your game is repeatedly being scrutinised and you're trying to overcome expectations, especially around finals time. Personally, I knew that if I wanted to continue playing good basketball, I needed to return home and refresh my mind and body. I believe that good mental health is crucial for the success of all professional athletes, so we need to ensure that we have a great support system around us. We have so much opportunity, but it can come at a cost if we don't look after our mind and body. When the sport is eventually taken away from us and we switch off, I know that many can be knocked back to earth pretty quickly if they don't have something to fall back on. I've just started a job in a property investment company to build my experience in the workplace, and I'm enjoying the challenge of balancing it with my basketball."
Wesley Hospital clinical psychologist Dr John Kearney has a special interest in Sport and Exercise psychology. He says the pressure that surrounds today's professional athletes who are constantly in the spotlight makes them particularly susceptible to mental health issues and is aware of the importance of providing support for them. "For many years, the stigma attached to mental health issues among athletes has, unfortunately, often been equated to mental weakness, with the only acceptable injuries being a broken arm or fractured eye socket. This has made it especially difficult for elite athletes, many of whom are high-achieving perfectionists, as the toll can be tough when they don't achieve the results that match their expectations.
"By joining with the Brydens Sydney Uni Flames, our aim was to encourage young women to talk more openly about the 'elephant in the room' in sport and increase the appreciation of the demands professional sport can have among high-profile athletes."
[1] Gulliver A, Griffiths KM, et. al, 'The mental health of Australian elite athletes' (May 2015), 18(3): 255-61. See: https://www.ncbi.nlm.nih.gov/pubmed/24882147
[2] Souter, Gary et al. "Men, Mental Health and Elite Sport: a Narrative Review." Sports medicine – open vol. 4,1 57. 19 Dec. 2018, doi:10.1186/s40798-018-0175-7 https://www.ncbi.nlm.nih.gov/pmc/articles/PMC6300449/