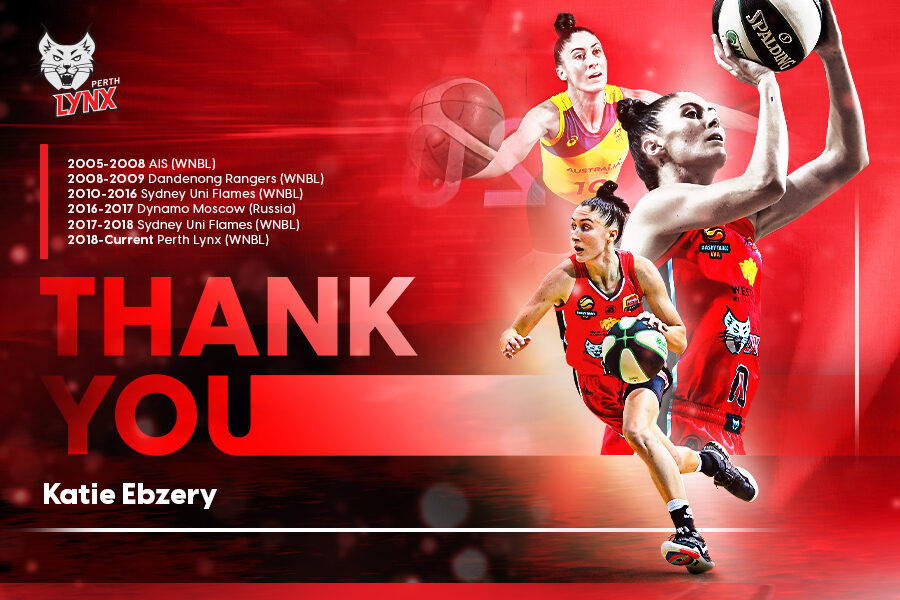 October 7, 2021 | Perth Lynx news
An incredible career that has spanned 15 years comes to an end. A true champion of our game, Katie, thank you for your passion and dedication. Our Perth Lynx family are forever grateful for the contributions you made to our club.
𝟓𝟔 𝐠𝐚𝐦𝐞𝐬 𝐟𝐨𝐫 𝐏𝐞𝐫𝐭𝐡
𝐓𝐨𝐭𝐚𝐥 𝐜𝐚𝐫𝐞𝐞𝐫 𝐠𝐚𝐦𝐞𝐬:𝟑𝟎𝟒
𝐓𝐨𝐭𝐚𝐥 𝐜𝐚𝐫𝐞𝐞𝐫 𝐩𝐨𝐢𝐧𝐭𝐬: 𝟑𝟕𝟒𝟓
𝐂𝐚𝐫𝐞𝐞𝐫 𝐑𝐞𝐛𝐨𝐮𝐧𝐝𝐬: 𝟏𝟎𝟒𝟗
𝐂𝐚𝐫𝐞𝐞𝐫 𝐀𝐬𝐬𝐢𝐬𝐭𝐬: 𝟖𝟕𝟑
In her own words, Katie said "I often get upset writing or reflecting on my career and basketball memories. I have had to discuss them a lot over the years and often give short, stock-standard answers showered in positivity and #gratefulness because, one; they are answers that are easy to give, and two, the truth in the struggle and challenges was, for a long time, not what people wanted to hear about an elite athlete's life"
Read more about Katie's decision to retire and her reflections on her playing career here.